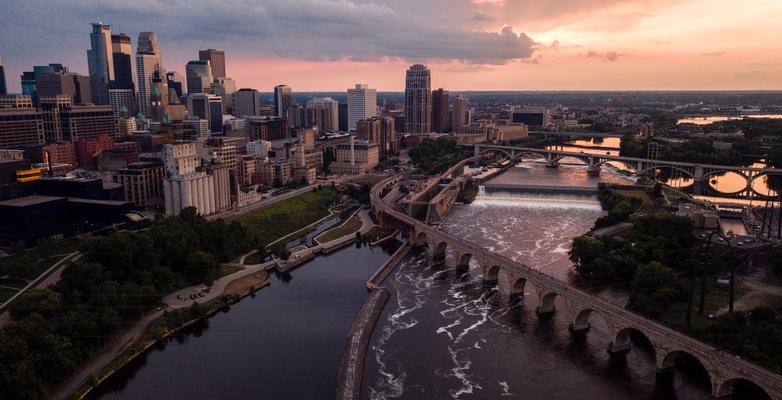 What New Climate Laws Could Mean for Minnesota
Join us for our Power Up Training: From Acts to Action in April and learn how new climate laws can help you.
First, the bad news.
Like so many other Midwestern US states, Minnesota is already feeling the effects of the climate crisis.
Across the state, communities are seeing higher temperatures and more extreme weather. And these effects will only become more pronounced unless we act boldly to slash greenhouse gas emissions.
Now, the good news.
Amazing new climate laws like the Inflation Reduction Act (IRA) and Bipartisan Infrastructure Law have made billions of dollars in incentives available for individuals, families, businesses, and communities to embrace clean energy and other practical climate solutions in our homes, workplaces, and more.
A Cleaner Energy Future
The IRA offers numerous rebates, tax credits, and grant opportunities to electrify the lives and improve the homes of those living in the Land of 10,000 Lakes.
The laws include rebate opportunities to install new electric appliances and more, covering 50-100% of the cost of super-efficient heat pumps, water heaters, clothes dryers, and electric stoves and ovens.
There are also tax credits to cover as much as 30% of the costs to install solar panels and battery storage systems in homes just like yours. Similarly, community solar projects will see as much as a 30% credit.
"For solar, uptake projections estimate that 180,000 additional Minnesota households will install rooftop panels as a result," according to the White House.
The IRA is also here to help Minnesotans who are ready to make the switch to electric vehicles. With upfront discounts up to $7,500 for new EVs and $4,000 for used EVs, the legislation helps make these newer, cleaner technologies available to all – all the while saving even more money on gas and other expenses down the line.
Rural Rebirth
Rural communities across the state are set to benefit from targeted investments in both the IRA and Bipartisan Infrastructure Law.
"The Inflation Reduction Act supports climate-smart agriculture practices, which will help Minnesota's 67,400 farms lead on climate solutions and reward their stewardship. Electric cooperatives, which serve about 860,000 homes, businesses, and other customers in Minnesota, will for the first time be eligible for direct-pay clean energy tax credits," the White House announced. "And this legislation dedicates investments for rural electric cooperatives to boost resiliency, reliability, and affordability, including through clean energy and energy efficiency upgrades."
At the same time, the Bipartisan Infrastructure Law is set to  expand internet access across the state.
Nearly 19% of Minnesotans do not have access to high-speed internet. The Bipartisan Infrastructure Framework is looking to change that with a $65 billion investment to "bring universal, reliable, highspeed, and affordable coverage to every family in America."
Minnesota will receive a minimum allocation of at least $100 million to help make that dream a reality.
Better, Safer Roads and Bridges
The American Society of Civil Engineers gave Minnesota a C grade on its Infrastructure Report Card – not surprising given there are 661 bridges and over 4,986 miles of highway in poor condition across the state. The Bipartisan Infrastructure Law is looking to change that.
Over a five-year period, Minnesota is expected to receive approximately $4.8 billion in federal funding for its highways and bridges.
"To date, $2 billion has been announced in Minnesota for roads, bridges, roadway safety, and major projects," the White House reports. "This includes $1.7 billion in highway formula funding and $130 million in dedicated formula funding for bridges in 2022 and 2023."
Additionally, the state is expected to receive more than $850 million over five years under the Bipartisan Infrastructure Law to improve public transit across the state.
Jobs, Jobs, Jobs
The 57,931 Minnesota workers employed in clean energy jobs should expect to see an influx of new colleagues thanks to the IRA.
The laws are set to bring $8.5 billion of investment in large-scale clean power generation and storage to Minnesota between now and 2030.
That means jobs. Lots of them. Good-paying ones too. The IRA also includes bonuses for businesses that pay a prevailing wage!
Make Climate Laws Work For You
While the climate crisis affects some places more acutely than others, the writing's on the wall everywhere: We need to accelerate the global shift from the dirty fossil fuels driving climate change to clean energy so we can power our lives and economies without destroying our planet.
That's why the IRA and Bipartisan Infrastructure Law are so important. They put us on a path to a better, cleaner energy future.
But it's not just going to happen on its own.
If you're ready to learn how you can take advantage of the funding opportunities offered by these laws, join us this April for our free online training, Power Up: From Acts to Action.
Attending the training will help take the guesswork out of these historic laws and make them work for you, so you can bring real climate solutions to your family and neighborhood.
Ready to take the next step in your advocacy journey? Learn more and register today.