August 02, 2019 | 12:00 PM
24 Hours of Reality: Truth In Action
On November 20-21, we're organizing 24 Hours of Reality: Truth in Action, a day that will mobilize a worldwide conversation about the climate crisis and celebrate the grassroots activists leading today's climate movement.
Over the course of 24 hours, Vice President Gore will be joined by members of Climate Reality's global network of more than 20,000 Climate Reality Leaders to give updated versions of the slideshow made famous by An Inconvenient Truth. In community centers, places of worship, homes, schools, businesses, and even on social media, Climate Reality Leaders will put truth into action and bring the hopeful message about today's climate solutions directly to their friends, family, and neighbors.
24 Hours of Reality: Truth in Action marks an exciting evolution in The Climate Reality Project's 24 Hours of Reality program. Since 2011, Climate Reality has produced the award-winning 24 Hours of Reality broadcast to sound the alarm on the climate crisis and spotlight the solutions to solve it. Reaching more than 500 million households in 220-plus countries, previous broadcasts have explored different sides of both the crisis and the movement for solutions.
This year's theme will take the action from the screen to communities around the world, allowing Climate Reality Leaders to collectively lead a global conversation about climate action.
How You Can Be Part of 24 Hours of Reality
With the world talking about the crisis, we need you to be part of the conversation.
We need you to join us by hosting a presentation in your community with your friends, neighbors, or colleagues.
We'll send a trained Climate Reality Leader to talk about what the climate crisis means for you and how together we can solve it. Climate Reality Leaders aren't just great speakers – they also know how to make complex science understandable to anyone and will leave your audiences feeling inspired and ready to act.
Millions of people around the world are fed up and demanding urgent action on the climate crisis. This year's 24 Hours of Reality will lift up the voices of the incredible inspiring people carrying the climate movement on their shoulders.
We hope you will join us for this exciting day of grassroots action and education. Click here to learn how.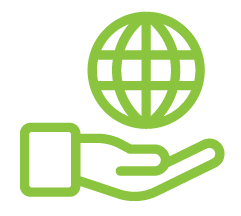 Before You Go
At Climate Reality, we work hard to create high-quality educational content like blogs, e-books, videos, and more to empower people all over the world to fight for climate solutions and stand together to drive the change we need. We are a nonprofit organization that believes there is hope in unity, and that together, we can build a safe, sustainable future.
But we can't do it without your help.
If you enjoyed what you've just read and would like to see more, please consider making a generous gift to support our ongoing work to fight climate denial and support solutions.