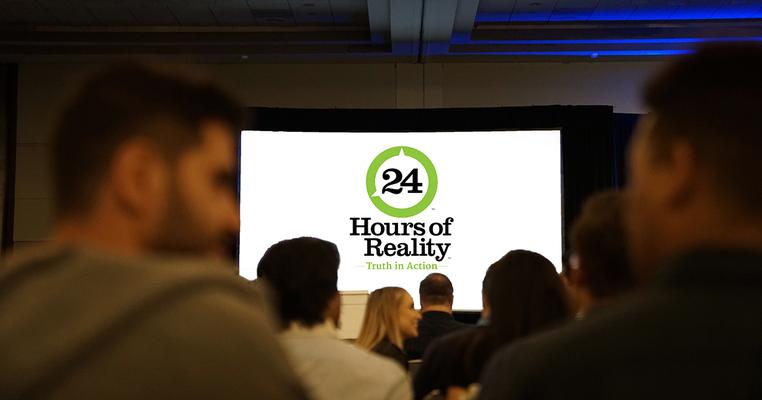 24 Hours of Reality: Truth In Action
Today at our Minneapolis training, our founder and chairman, former Vice President Al Gore, is announcing something big.
On November 20-21, we're organizing 24 Hours of Reality: Truth in Action, a day that will mobilize a worldwide conversation about the climate crisis and celebrate the grassroots activists leading today's climate movement.
Over the course of 24 hours, Vice President Gore will be joined by members of Climate Reality's global network of more than 20,000 Climate Reality Leaders to give updated versions of the slideshow made famous by An Inconvenient Truth. In community centers, places of worship, homes, schools, businesses, and even on social media, Climate Reality Leaders will put truth into action and bring the hopeful message about today's climate solutions directly to their friends, family, and neighbors.
24 Hours of Reality: Truth in Action marks an exciting evolution in The Climate Reality Project's 24 Hours of Reality program. Since 2011, Climate Reality has produced the award-winning 24 Hours of Reality broadcast to sound the alarm on the climate crisis and spotlight the solutions to solve it. Reaching more than 500 million households in 220-plus countries, previous broadcasts have explored different sides of both the crisis and the movement for solutions.
This year's theme will take the action from the screen to communities around the world, allowing Climate Reality Leaders to collectively lead a global conversation about climate action.