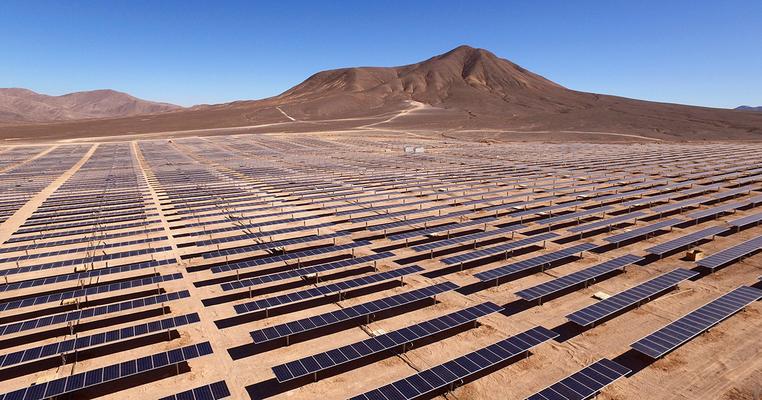 3 Native American Tribes Leading the Way on Clean Energy
While some policymakers were throwing up their hands on the climate crisis, several Native communities were doubling down on an obvious solution: Go all in on renewables.
If there's a silver lining in all the terrifying climate headlines recently, it's the fact that the world finally seems to get the gravity of the crisis. But when the conversation turns to solutions here in the US, one prominent voice seems to be consistently left out.
Indigenous peoples of America.
Not only is the oversight insensitive (at best) – it's also just plain dumb. Why? Well, just look at history.
When European colonizers came to the United States, Native American tribes helped them adapt to the new and often hostile environment they faced. Without their help, who knows how the nation would have grown or what it would have become? Centuries later, as the climate crisis upends communities across the US, Native Americans once again have something to teach the country.
In contrast to some of the super high-tech, super high-cost, super unproven ideas emerging from some quarters, the climate solutions some Native communities are embracing are effective. They're cheap. They're restorative. And they somehow continue to mystify too many office-holders today.
Native Communities to the US: It's the Renewable Sector, Stupid
Last fall, the IPCC (aka, the world's top climate science body) came out with a devastating report highlighting the catastrophe waiting just around the corner if the world doesn't slash fossil fuel emissions by 2030.
While some policymakers were throwing up their hands, for some Native communities, the answer couldn't be more obvious: Go all in on renewables.
As Cody Two Bears, a tribal council member on the Standing Rock reservation, told Rolling Stone:

"'When Europeans first came to Turtle Island 500 years ago, we knew how to take care of this land and taught them how to live,' says Two Bears, referring to a name for North America used by many Native Americans. 'Now the world is falling apart, so it's time when us as Native people have to use our ancient wisdom to show this country how to live sustainably. And what better way to do that than with renewable energy?'"
You Don't Need a Weatherman to Know Which Way the Wind Blows
It's not just what renewables like solar, wind, and geothermal can do to help cut emissions fast that makes them so attractive. It's also the way that – more and more – they can do it and power our lives at the same cost or cheaper than fossil fuels.
As the Bloomberg New Energy Outlook 2019 report notes, "wind and solar are now cheapest across more than two-thirds of the world." In the US, the market is responding, with experts projecting we'll see at least 3 million solar panels furnish energy by 2021. Meanwhile, 50 US coal plants have closed since January 2017 alone – and you don't need a crystal ball to see the future of the energy market from here.
This growth in renewables also brings jobs. Lots of them, with renewable jobs expected to soar in the coming years. The US Bureau of Labor Statistics, for example, predicts a 96 percent growth rate for wind turbine service technicians between 2016 and 2026. For solar photovoltaic installers, that number climbs to 105 percent in that same period.
Across the US, many Native communities are doing the math and turning to renewables. To help fight the climate crisis. To save money. To bring jobs to their communities and create a prosperous future. Listen and watch, and the rest of the country might learn something.
The Standing Rock Sioux Tribe of North Dakota
Back in 2016 – 2017, the Standing Rock Sioux Tribe rocked the conscience of a nation with its heroic fight to stop the Dakota Access oil pipeline crossing tribal lands.
Even as the pipeline was ultimately approved, the tribe's struggle against fossil fuels goes on. In 2019, the tribe made a statement by building solar farms that produce energy sufficient for powering its Cannonball Youth Activity Center and the Veterans Memorial Building.
The solar farm will save the tribe between $7,000 – 10,000 in annual energy costs while powering two beloved landmarks directly tied to locals' sense of community. Tellingly, the savings will be invested into the community and other projects in the future.
Thanks to Standing Rock leaders, in North Dakota, a state dead last in US solar energy users prior to the farm, this counts as a triumph – and the beginning of many to come.
The Winnebago Tribe of Nebraska
For the Winnebago Tribe in Nebraska, sustainability, self-sufficiency, and saving money all go hand in hand – thanks to renewable energy.
Beginning in 2008, the tribe began installing nearly 1,000 solar panels everywhere it could, filling roofs and even a field with panels.
Through this push, the tribe installed about 400kW of capacity. Solar proved so successful that in 2018, the tribe decided to invest in even more panels and projects, taking its total capacity to 720kW. With this level of solar on the reservation, the tribe projects these new panels will save an additional $47,000 each year on energy costs.
Moapa River Indian Reservation
In 2019, Nevada lawmakers passed a law requiring utilities to reach 50 percent renewables by 2030. Reaching that target is a big ask by any measure, but the Moapa Band of Paiutes is doing its part to help.
In 2017, the tribe partnered with the state utility and developers to open the Moapa Southern Paiute Solar Project. The project is the first utility-scale project built on tribal land, with 250MW of capacity, enough to power an estimated 111,000 homes without fossil fuel pollution.
The tribe wasn't done there, either, recently announcing plans to build two more facilities on its land. One, the Southern Bighorn Solar & Storage, will feature 300MW of solar with 135MW of energy storage to help provide clean energy to consumers when the panels aren't producing. The second project will produce 200MW of clean energy and feature 75MW of storage.
Perhaps the most exciting part is that developers project that the Southern Bighorn project will produce clean energy cheaper than electricity from gas or coal projects.
Together, these projects are helping create what Peter Meisen, founder of the Global Energy Network Institute, calls the "bandwagon effect," with tribes turning to renewables to create new revenues and jumpstart local economies. Which is a bandwagon we can get behind.
Why Now?
Right now, atmospheric carbon dioxide levels stand at over 400 parts per million. What does that mean in layperson's terms? The atmosphere is holding way more heat than the Earth can handle – and we're seeing the results in stronger hurricanes, more and more lethal heatwaves, spreading diseases, and on and on. Plus, it's only going to worsen if we don't act.
It's clear we have to change. At all levels of society. To do it right, we need to invest in resources and engage with the people most directly affected by the climate crisis.
Transitioning to a zero-carbon economy is going to take a lot of work, but we're capable of it. We have the solutions. We have the public support. We can start now – and start by learning from the Native tribes leaving fossil fuels behind and creating jobs and saving members money along the way.
Join the Global Climate Conversation November 20–21
Concerned about the crisis and ready to talk about solutions? You're not alone.
On November 20–21, join 24 Hours of Reality: Truth in Action, a global conversation on the truth of the climate crisis and how we solve it.
For one full day, Climate Reality Leader volunteers trained by former Vice President Al Gore will lead conversations and presentations on the crisis and the solutions in our hands. In all 50 US states and countries around the world.
It's a conversation about the future of our planet – and your voice needs to be part of it. Learn how you can be part of this historic, global event at 24HoursofReality.org.