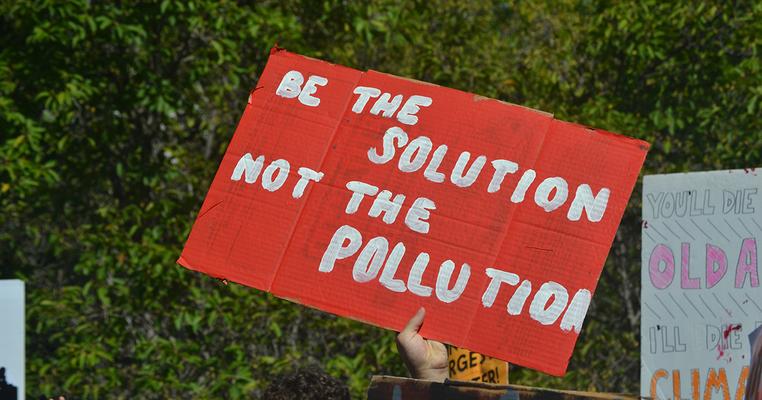 5 Youth Climate Activists Leading the Climate Fight This Earth Day
As youth and adult activists come together for a three-day live stream to celebrate Earth Day and demonstrate our collective power, we're taking a look at some of the incredible young Climate Reality Leaders working to make a difference in their communities around the world – and getting some tips on how to take action in a digital environment.
As we near the 50th anniversary of Earth Day, it's important to highlight not only how far we've come, but the continuing fight to solve the climate crisis. Normally this would mean gathering together in cities across the country to demand climate action. This year, however, is anything but normal – but the climate fight persists.
This year, Earth Day Live marks the historic anniversary with a three-day global digital mobilization of activists coming together to celebrate our accomplishments and plan what's next, streamed live for millions around the world.
In the lead-up to Earth Day Live, we're taking a look at some of the incredible young Climate Reality Leaders on the front lines of this movement – and getting some tips on how to take action in a digital environment.
Nicole Sophia Phocas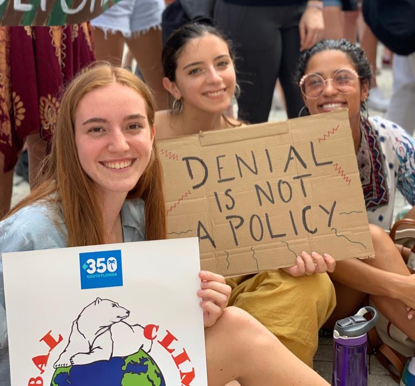 Nicole Sophia Phocas is leading the climate fight down in Miami, Florida as the co-chair of the University of Miami Climate Reality Campus Corps Chapter.
For the 50th anniversary of Earth Day, Nicole and the rest of the University of Miami Campus Corps Executive Board have launched an online challenge to share the chapter's petition calling on the university to divest from fossil fuels. To add a little friendly competition, whoever gets the most people to sign the petition will receive a reusable water bottle!
Additionally, Nicole's school is hosting a variety of webinars and online events that she hopes to attend these next few days to stay informed about activism in a time of social distancing.
"Celebrating the 50th Anniversary of Earth Day means the 50th Anniversary of putting environmental issues on the forefront of many people's political priorities…It also reminds me in a less positive way that even 50 years after Earth Day's inception, the need for an environmental movement is more crucial than ever and there are still so many changes that need to be made before we can halt or hopefully reverse the damage we've caused to our environment."
It's not too late to make a difference, though. Nicole gave us an idea of how she's going to continue the climate fight while also helping to flatten the curve.
As part of the University of Miami Campus Corps, Nicole has worked to transition the chapter's divestment campaign to a digital effort spreading the word and building support through social media and an online petition anyone can support safely from anywhere.
Karida Niode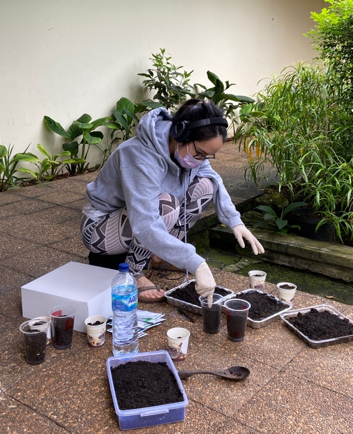 Karida Niode is a young Climate Reality Leader in Jakarta, Indonesia who lives near an urban low-income community.
As the holy month of Ramadan is approaching and in conjunction with Earth Day, Karida launched the Grains & Seedlings for Neighbors initiative. She's been growing some vegetable seeds into seedlings, including pea shoots, amaranth, morning glory, bean sprouts, and basil.
Once the seedlings are ready and while maintaining social distancing, she plans to distribute packages to selected households in the low-income community. These care packages will include local rice, beans, nuts, and dried fruits, the vegetable seedlings that she's been growing, and several washable fabric face masks.
Karida's aim for Grains & Seedlings for Neighbors is to help neighbors in need feed themselves with nutritious and healthy food. She also hopes to increase the awareness of minimizing food mileage and reducing carbon emissions.
Karida hopes actions like this will continue around the world and that Earth Day inspires others to act.
"Earth Day is the oldest environmental movement and it has become the largest that invigorates actions by all ages. I would like people to know that youth can come up with innovative climate actions that reach people from all walks of life globally, including those who do not have access to the internet."
Haven Coleman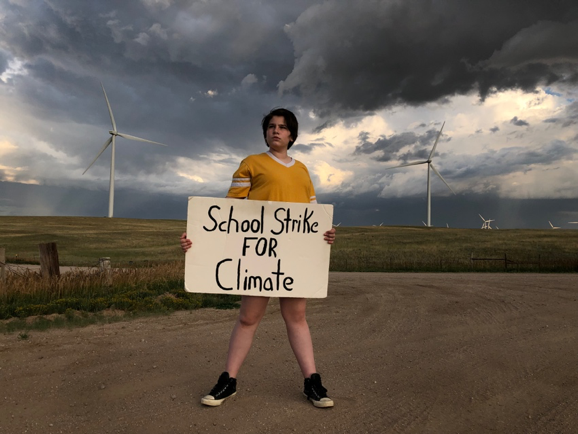 Haven Coleman is a co-founder of the US Youth Climate Strike, founder and executive director of ARID Agency, and has been school striking for the climate on weekly basis since January 4, 2019.
This year, she's celebrating Earth Day virtually with her activist family. Like most other holidays, this day brings joy and hope, and reminds Haven of all the hard work the climate community has accomplished.
"Earth Day's 50th Anniversary means we made it 50 years as a community, fighting for the world that we live on and love. It combines the energy felt that first day with the power of 50 years' worth of voices fighting for the Earth. We will be buoyed up by the progress of activists who've celebrated Earth Day for decades before us. It's going to be pretty amazing."
Instead of striking for the climate in public, Haven has been taking time to post on social media more often. Seeing her success, we asked her how do we interact with people online and communicate the urgency of continuing to fight the climate crisis during COVID-19?
Haven suggests that we need to be connecting the hardships many of us are already facing with the climate crisis to what we are dealing with right now during the global pandemic.
"It's also a good time on social media to remind people why it's important to ALWAYS listen to scientists. Use this time to connect the dots for people."
Shivam Singh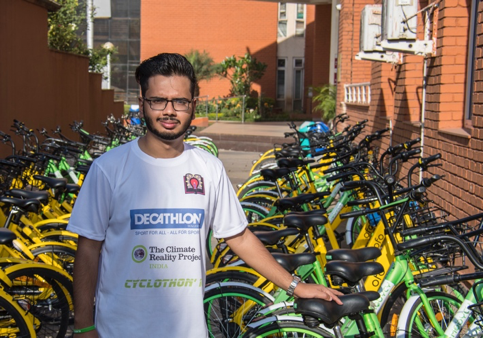 Shivam Singh, is a young Climate Reality Leader with our India branch who is working to mobilize his community to take climate action on large scale. He has led workshops, marathons, cleanup drives, and more actions on a weekly and monthly basis.
Currently, Shivam is organizing an online competition, Youth4Earth, where he is asking the global youth community to take climate action from the safety of their own homes by sharing short videos about why they are serious about climate crisis. These videos and submissions can be in any medium – whether it's creating art, singing, dancing, or taking a pledge – all to share the message of climate action around the world.
Along with taking climate action in his own community, Shivam has represented youth climate activists at the global UN Climate Change Summit, COP 21, and served as youth advisor for India's Ministry of Environment, Forest and Climate Change (MoEFCC.)
Keziah Gerosano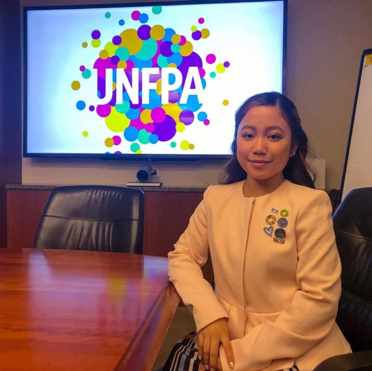 Kezia Gerosano is a Climate Reality Leader and Chair of the Northern Virginia Community College Campus Corps Chapter. Along with her work in college, Kezia is a part of the UN Youth Assembly on climate change, and gave a Truth in 10 presentation to global youth in November at the UN Youth Assembly.
For this year's 50th Earth Day celebration, she will be joining Earth Day Live and organizing a virtual Earth Day discussion together with other Climate Reality Leaders.
Coming from a country like the Philippines, where the effects of climate change are incredibly clear, she hopes to advocate for the country's indigenous groups who are greatly affected by the climate crisis and inspire her fellow Filipino youth to join the movement.
"The 50th Anniversary of Earth Day to me will be a historical event remembered where at least 1 billion people from different cultural backgrounds and age groups rose towards a carbon-free future. I am taking action on Earth Day because I want to join other activists in being a voice for mother Earth and ensure a safer planet for animals and human beings."
So, what digital tactics and platforms can we use to take action while social distancing? Kezia gave us a few ideas of what she's been doing:
Utilize virtual meeting discussions and video calls
Signing or creating online petitions to continue climate action
Sharing content that promotes inclusivity because the climate crisis can only be won if all countries work collaboratively
"I want them to know that our generation WILL WIN this climate justice movement and ensure a safer, greener, and more sustainable future!"
Take Action and Join Earth Day Live
Inspired by these incredible young Climate Reality Leaders? We definitely are.
Take action and join millions of people around the world by RSVPing for Earth Day Live. After all, social distancing doesn't mean disengaging from collective action! Join us on April 22 for the start of the three-day live stream that will include training sessions, performances, and appearances to keep people engaged, informed, and inspired, with speakers including celebrities, politicians, scientists, and youth activists.