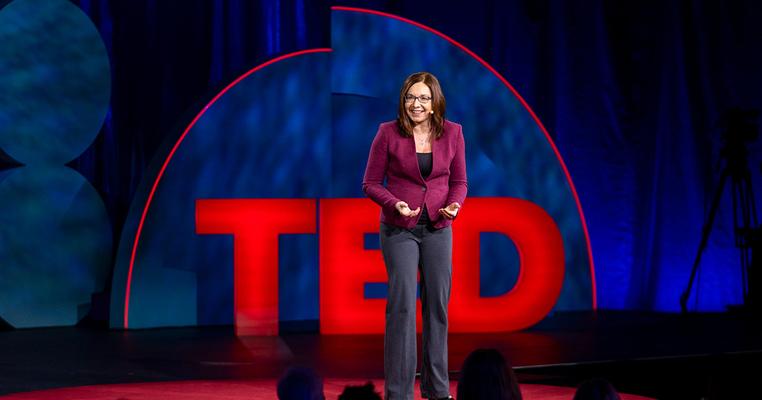 7 of the Best TED Talks about Climate Change
These are definitely "ideas worth spreading."
Imagine being able to invite some of the leading minds of the climate movement over for dinner. You could pick anyone from anywhere. Who would be sitting around your table?
It's hard to narrow down when there are so many amazing people out there fighting for solutions. (This must have been how Nick Fury felt while he was assembling the Avengers, right?) But, for us, we would try to pick people who are taking on the climate crisis in totally different – but equally incredible – ways.
Think of this collection of TED Talks as our guest list for the world's most inspiring dinner party on climate. Read on to hear from the leader of the student strike movement, climate scientists, a former president, a trained meteorologist and more.
Greta Thunberg: "Save the World by Changing the Rules"

Quotable Moment: "The year 2078, I will celebrate my 75th birthday. If I have children or grandchildren, maybe they will spend that day with me. Maybe they will ask me about you, the people who were around, back in 2018. Maybe they will ask why you didn't do anything while there still was time to act."
Dr. Katharine Hayhoe: "The Most Important Thing You Can Do to Fight Climate Change: Talk About It"

Quotable Moment: "I truly believe, after thousands of conversations that I've had over the past decade and more, that just about every single person in the world already has the values they need to care about a changing climate. They just haven't connected the dots. And that's what we can do through our conversation with them."
Dr. J. Marshall Shepherd: "Three Kinds of Bias that Shape Your Worldview"

Quotable Moment: "Take an inventory of your own biases. Where do they come from? Your upbringing, your political perspective, your faith – what shapes your own biases? Then, evaluate your sources – where do you get your information on science? What do you read, what do you listen to, to consume your information on science? And then, it's important to speak out. Talk about how you evaluated your biases and evaluated your sources."
Former President of Ireland Mary Robinson: "Why Climate Change Is a Threat to Human Rights"

Quotable Moment: "Climate justice responds to the moral argument – both sides of the moral argument – to address climate change. First of all, to be on the side of those who are suffering most and are most effected. And secondly, to make sure that they're not left behind again, when we start to move and start to address climate change with climate action, as we are doing."
Dr. Katharine Wilkinson: "How Empowering Women and Girls Can Help Stop Global Warming"

Quotable Moment: "Another empowering truth begs to be seen. If we gain ground on gender equity, we also gain ground on addressing global warming… we can secure the rights of women and girls, shore up resilience, and avert emissions at the same time."
Sean Davis: "Lessons from How We Protected the Ozone Layer"

Quotable Moment: "We don't need absolute certainty to act. When Montreal was signed, we were less certain then of the risks from CFCs than we are now of the risks from greenhouse gas emissions… You know, I'll bet those of you who drove here tonight, you probably wore your seat belt. And so, ask yourself, did you wear your seat belt because someone told you with a hundred percent [certainty] that you would get in a car crash on the way here? Probably not."
Former US Vice President Al Gore: "The Case for Optimism on Climate Change"

Quotable Moment: "We have everything we need. Some still doubt that we have the will to act, but I say the will to act is itself a renewable resource."
Feeling Inspired?
It's not exactly a dinner party, but we do often pull together some of the leading minds in the climate movement – including former Vice President Gore himself – for our Climate Reality Leaderships Corps trainings. (In fact, we've had Dr. Hayhoe and Dr. Wilkinson at recent trainings, too!)
Consider this your official invite to our next training. At these events, people ready to make a difference in our planet's future spend three days working with former Vice President Gore and world-renowned scientists and communicators learning about the climate crisis and how together we can solve it.
Join us and walk away knowing you have the skills, network, and resources to push the needle on climate change where you live. Better yet, you'll be part of a global, twenty-first century movement for solutions. Learn more and apply to join us today!
Header Image: © 2018 TED Conference/Flickr CC BY NC-ND 2.0