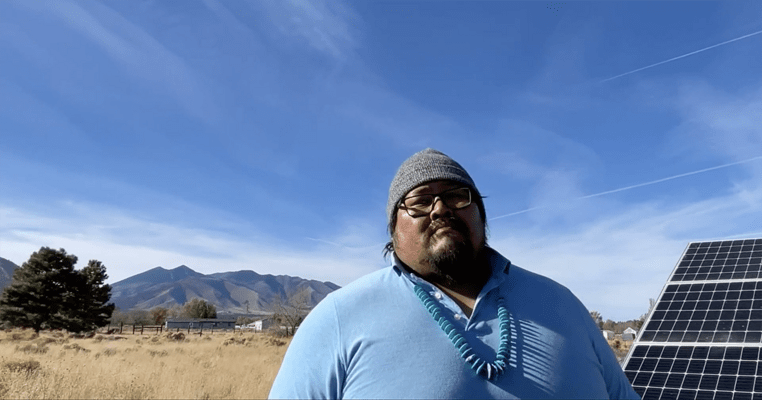 Bootstrapping Clean Energy on the Navajo Nation
How Navajo Power is rethinking the business of clean energy.
For decades, Indigenous communities and tribal nations have been playing the "resource banks" for the US, providing the energy, metals, and other raw materials that power economic growth far beyond their lands. To really flip that trend and be part of the energy solution, Brett Isaac founded Navajo Power, an Indigenous-led organization to maximize the economic benefits of clean energy for tribal and impacted communities.


As a public benefit corporation, Navajo Power develops utility-scale clean energy projects on tribal lands and uses the revenue to support local communities. As a majority Native-owned organization, the company focuses not only on renewable energy but also the larger question of energy access on reservations.
On the Navajo Nation, there are an estimated 15,000 homes without reliable access to electricity. Isaac put his bootstrapping instincts from growing up here into developing solutions, with Navajo Power supplying solar and battery-powered technologies that provide reliable electricity to many who wouldn't otherwise have options.
A big part of making sure these solutions are viable is making sure the numbers worked: "Up until now a lot of the technology was a little bit behind, early stage or expensive so only a select few could afford it, and pilots were inefficient. Nowadays, groups like ours have access to things we've never had access to before – affordable technology and affordable financial solutions."
The Navajo Nation is off the grid, primarily because its more than 27,000 square miles has limited power, water, and broadband infrastructure. As a result, bringing electricity to tribal homes requires concerted effort and investment. In addition, working with communities, municipalities, tribal entities, and governments on the reservation requires a unique approach for each because of the land status, federal connection, and historical trauma that still affect many. "Although renewables have a positive notion, there's still a skepticism whether it will bring the type of economic benefits that the communities need to remain stable and healthy," Isaac adds, "Working with these different stakeholders requires a unique approach."
Part of that is a focus on equity and reinvestment: at Native Power, executive compensation is capped at five times that of the lowest-paid employee. For comparison, in 2020, CEOs of the top 350 US companies received an average of 351 times more compensation than the average employee. Plus, a minimum of 80% of Navajo Power's profits are reinvested in new projects and community benefits.
Native Power is currently working on an economic upgrade from coal to renewables for Navajo communities through developing solar and storage projects as the imminent closure of local coal plants accelerates. Once the company expands its model with Navajo communities, it will replicate this strategy with tribes in the Southwest and beyond.
As one example, Navajo Power has established Painted Desert Power, LLC (PDP) to develop the Painted Desert Solar Project as a model for renewable energy development that promotes community engagement and benefits to the Navajo Nation and the local Cameron and Coalmine Canyon chapters. The project is a proposed 750-megawatt (MW) photovoltaic (PV) solar-generating and battery energy storage system (BESS) facility in the Cameron and Coalmine Canyon chapters of the Navajo Nation Reservation, approximately four miles east of Cameron, Arizona.
The objectives of the Painted Desert Power solar project include providing job opportunities, supporting energy tradition as directed by the Navajo Nation leadership and promoted in the Navajo Háyoołkááł Proclamation, and providing electricity to any household in the area that needs it. Navajo Power selected the site with the guidance and direction of local residents to ensure that it avoided negative impacts on the local community, environment, and cultural and biological resources.
"If we want to bring climate justice to the forefront of our communities, we need to own part of the solutions. We need to be the ones creating the jobs to financing the deals to leveraging all the resources we have so we can be in a more equitable position moving forward. Our past decisions with energy have been traumatic with economic and health consequences. Those all happened because we weren't at the table. This is the moment to be at the frontrunners of changing our community," Isaac shared.
To read more stories from the fight for just climate solutions, sign up for our email list today
Ambika Samarthya-Howard is a multimedia journalist and producer covering social justice issues.