August 13, 2020 | 12:17 PM
Choose Your Lane: Focusing Your Climate Justice Fight
If you're like a lot of White climate activists, you know all about the horrendous killings of George Floyd, Breonna Taylor, Michael Brown, and countless other people of color by the police.
And because you're an activist, you do something about it. Maybe you joined a protest demanding justice. Maybe you've started speaking up when your cousin or that guy at work starts a sentence, "I'm not a racist but . . . "
But as important as these steps are – and they are – you also feel deep down inside there's more to do. You can see the media starting to move on from justice issues on the front page. And you know, even as we've made tremendous progress in the past months, there's still so much farther to go. Racism is still with us 24/7, 365, and you can already see the backlash is just beginning.
So you're asking yourself, "What can I do? How do I keep working to fight systemic racism when the protests have left the street and that's not what everyone is talking about?"
There's not an easy answer. But we can offer a path to getting started. Because getting started might be the most important thing you do today.
Step One: Look Inside

For a lot of White activists, it's hard to talk about race. Especially when it means us. If we're honest, we probably go through a good part of our days without thinking how race shapes our interaction with our neighbors, our colleagues, even the grocery store clerk. Because a culture built on White supremacy means we can.
For some, the recent turn to talking about Whiteness out in the open and everywhere is new and unsettling. You may have found yourself feeling defensive hearing the conversation on racial justice in recent weeks. Maybe you even said something in passing about being tired of all the condemnation of White silence on social media. They can't possibly be talking about you, right? You're one of the good guys. Right?
Well, it's more complicated than that.
If we're going to move forward in fighting racism, both in our work as climate activists and beyond, we've got to drop our defenses and make ourselves open to change. That means listening – really listening – to the critiques coming from people of color, demanding to be heard after decades of being ignored.
It also looking inside and asking ourselves the tough questions. To ask, when Black, Brown, and Indigenous people have been shouting from the rooftops for so long, why only now are we listening? The truth of racial injustice and inequity has been right in front of us for decades. Why did we look away?
The point isn't to get stuck in a guilt trap, but to see how pervasive racism and White supremacy are. To the point that we can glide through days without thinking about race while our colleagues of color never can. To learn from our mistakes, so that we don't repeat them – and then turn that into motivation.
Step Two: Start Small – But Start

It's easy to feel alarmed or exhausted when you start to understand the scale of systemic racism people of color live with. But instead of using that as an excuse and throwing your hands up in the air, make a commitment today to a single action you can take to start fighting racial injustice.
It can be difficult feeling like you don't know where to start. But like the fight against the climate crisis, you just need to start. Now.
Think about where you know you can make a difference. One place to begin is by defining your area of climate expertise or passion as an activist. Do you typically focus your work on a particular sector – i.e. renewables, petrochemical buildout, climate education, or carbon pricing? Do you work solely at the local level or are you a federal advocate?
Whatever it is, you likely have some sort of lane where you feel most comfortable. Maybe, it's where your commitment to climate action began.
Think back to the beginning of your climate story. What was the moment you knew you had to play an active role in this fight? What were the first actions you took?
We all started somewhere, and similarly, choosing a lane within the racial justice fight can be essential in avoiding activist burnout and feeling confident in your starting spot.
Step Three: Find Your Starting Place

As climate activists, for many of us, our lane might be climate and environmental justice fights.
The sad fact is that there are plenty of places to jump in. After all, 68 percent of Black Americans live within 30 miles of a coal-fired power plant, exposing families to dangerous pollutants like nitrogen oxides and particulate matter linked to asthma, heart attacks, and even premature death. Communities of color are 40 percent more likely than White communities to live with unsafe drinking water. The list goes on.
The good news is that there are many organizations actively fighting these fights who know the issues inside and out. Our challenge as White activists is to come in respectfully and ask where and how we can help. For a lot of us, there's a lot about lives and experience of people of color – think, for example, how recently many White Americans came to learn about Juneteenth or the massacre of Black Wall Street – and we can make a real difference if we're willing to listen to feedback and learn along the way.
National organizations like the Poor People's Campaign are mobilizing for system change. Many Climate Reality chapters across the US are working on climate and environmental justice issues in their back yard, from power plant pollution to clean energy alternatives. If there's not a chapter close to you, many other incredible grassroots groups like the Center for Earth Energy and Democracy or the North Carolina Climate Justice Collective (to name only a couple) are fighting for justice at the local level.
Because, as we know, there is no climate justice without racial justice. Choosing a lane within the anti-racist movement that you are more familiar with can align you with taking actions that feel authentic and more familiar to you.   
This lane can go beyond traditional climate issues.
Are you a frontline health care worker, dealing with COVID-19? Then, you've seen and know that Black Americans are three times more likely to die of this disease than White Americans.
Have you been working in the gun violence prevention movement? You will then know that Black Americans die 10 times more often due to gun violence than White Americans.  
You get the point. Choose your lane.
Step Four: Go

Whatever lane you choose, get there and start driving. Fast.
"I am only one; but still I am one. I cannot do everything but still I can do something; and because I cannot do everything, I will not refuse to do the something that I can do."
- Edward Everett Hale
We don't have the excuse of being overwhelmed at the possibilities of where to begin. Maybe choosing a single lane can feel limiting. With so many problems to choose from, isn't focusing on a single issue limiting the change I'm making?
Maybe, but it's also a start. No mountain-climber starts with Everest.
Your lane might be just your starting spot, and you may find you're eager to do more. Solidarity, after all, is not a limited resource. Or maybe being effective in a single lane is enough for now and instead you of branching out, you really focus your time and energy there.
Step Five: Vote

One of the challenges of being an activist is keeping your eye on both the challenges right outside your window and the big picture.
This November, Americans have the chance to choose leaders who will work for big-picture change and act to end systemic racism. It's your country and your future on the line – and you should have a say.
Click here to register to vote, check your registration status, and pledge to vote this November – and be sure to encourage your networks to join you at the polls.
This journey can feel overwhelming, we know. But it's essential. Choose your lane, and start driving today.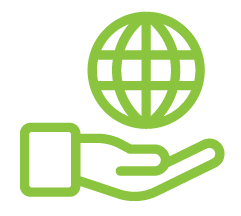 Before You Go
At Climate Reality, we work hard to create high-quality educational content like blogs, e-books, videos, and more to empower people all over the world to fight for climate solutions and stand together to drive the change we need. We are a nonprofit organization that believes there is hope in unity, and that together, we can build a safe, sustainable future.
But we can't do it without your help.
If you enjoyed what you've just read and would like to see more, please consider making a generous gift to support our ongoing work to fight climate denial and support solutions.