March 16, 2020 | 3:22 PM
Climate Reality and the Coronavirus
Here at Climate Reality, we live in the same world you do and face the same challenges with the coronavirus pandemic.
We recognize that for many, the existential threat of climate change has had to take a back seat for the moment, as people deal with immediate priorities like the health of their families, new economic anxiety, and massive disruptions to everything we knew as normal.
One of the many tragedies of this pandemic is how it deepens inequality across society, hitting poor families and frontline communities the hardest. For those facing very real hardships and struggles as a result and those waiting anxiously for a loved one in a hospital bed, our hearts are with you.
Our challenge now is to carry the gravity of the pandemic with us while continuing our work to solve the climate crisis and create a truly just and healthy future for all.
We are moving on from business as usual to follow public health recommendations and do our part to help flatten the curve. Our offices are closed, but our staff is working remotely so they can practice appropriate social distancing and be with their families during this time.
We've had to postpone two major events – our Climate Reality Leadership Corps activist trainings in Las Vegas and San Antonio – on the advice of health experts to protect thousands of attendees and staff. Our chapters and branches have canceled in-person meetings and moved to online events.
In this spirit, we'll also be rolling out new opportunities for people to remotely and safely join us in working for the change we need.
If the pandemic has anything approaching useful to give us, it's this: A reminder of what's really important. A not-so-gentle nudge to step back and see the big picture. To hug our children extra tight. To call our parents. To forgive our friends for that one time.
With the threat of coronavirus outside our doors, we are still working to give our children a better world to live in.
After all, our future depends on it.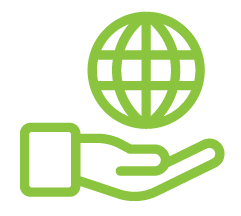 Before You Go
At Climate Reality, we work hard to create high-quality educational content like blogs, e-books, videos, and more to empower people all over the world to fight for climate solutions and stand together to drive the change we need. We are a nonprofit organization that believes there is hope in unity, and that together, we can build a safe, sustainable future.
But we can't do it without your help.
If you enjoyed what you've just read and would like to see more, please consider making a generous gift to support our ongoing work to fight climate denial and support solutions.