November 28, 2018 | 8:02 AM
Climate Science Belongs in the Classroom
It seems obvious, doesn't it?
Climate change is one of the greatest challenge of our time, and will have an even greater impact on future generations. So it easily stands to reason that we should teach young people everything we now know about this crisis – beginning with the fact that it's manmade, serious, and very solvable.
But even as clear majorities of Americans support both climate action and education, classrooms across the country have become yet another battleground for climate deniers.
"Teaching climate change in schools is a hot-button issue in a number of states, including Idaho and New Mexico, where lawmakers have tried to weaken or dismantle science standards crafted by educators and scientists," PBS writes. "Amid a climate-change skeptical Trump Administration, legislators cite a concern about one-sided arguments."
To wit, some lawmakers in Idaho argued that "students should not be taught that climate change is human-caused, but instead be given opposing arguments and allowed to decide for themselves."
The thing is, when it comes to climate science, there's no decision to make, no debate to be had. Two plus two is four. The sky is blue. The grass is green. And 97 percent of scientists agree that climate change is happening and largely caused by people.
That's scientific consensus, folks – and don't let anyone tell you different. In fact, it's about the same level of certainty with which medical researchers know that smoking causes cancer. Here's a child to explain:
 

And while climate science is far from the only charged subject to get the "let's just cut this" treatment from some schools, it's an especially worrisome one in light of recent Intergovernmental Panel on Climate Change (IPCC) and National Climate Assessment findings that indicate climate change is exacting a heavy toll right now – and the window to transition to a carbon-free economy to evade even worse impacts may be significantly shorter than many had hoped.
>> Learn more: 5 Key Takeaways from the IPCC Report <<
To put it mildly, climate change being presented as theory rather than fact or as ongoing scientific debate with two equal and opposing sides, when it is taught at all, is a great disservice to the leaders of tomorrow. Kids today will face the challenges of a warming world head-on. They have a right to understand the realities of the climate crisis and what it means for them.
And of course, the proverbial torch of the climate action movement will someday have to pass from one generation to the next – and we need them to be armed with the facts and ready to fight when that day comes.
Another – related and compounding – issue here is that undermining climate science in schools now also means kicking the can down the road in a couple ways. Most notably, when it comes to preparing science teachers to truly master the subject and teach it effectively.
"Climate science is a rigorous subject to teach, even in the absence of political or parental interference. The topic spans multiple scientific disciplines, and fewer than half of today's educators received formal training about climate science in college," Yale Climate Connections writes. "Given that cultural or personal values often interfere with acceptance of anthropogenic climate change, you have a recipe for uneven treatment of climate topics in the classroom."
You don't have to look far to see the results.
As recently as 2016, 70 percent of middle school science teachers and 55 percent of high school science teachers were not aware that the overwhelming majority of climate scientists had concluded that human activity is the primary driver of global climate change.
That's a real problem.
>> Read more: Why People Ignore the Science Behind the Climate Crisis <<
What You Can Do

Caregivers need to know what their children's school's approach to climate science education is. And if there isn't one, they're the most effective advocates for science instruction that includes robust, standards-based curricula on climate change.
"Parents can play a strong role, climate education advocates say, in facilitating the adoption of those standards and development of robust curricula in their states and states across the country," according to Yale Climate Connections. "Supportive parents also can stand up for teachers who may face political pressures or resistance from parents, the community, and even other teachers and administration, within the school."
Here are three easy ways you can work to make sure strong, evidence-based climate science is taught in your child's school:
1. Contact Your Representatives

Contacting your elected leaders' offices is a useful way to communicate your opinions on the climate crisis, especially when an action (such as a vote) is pending. Although it's unlikely you'll speak directly to the official, their staff tracks the number of calls they receive on various topics, and most legislators do pay attention to communications from their constituents.
In Idaho, this ended up being the winning strategy.
"[The] deletion of climate standards was a catalyst for more than 1,000 public comments and an overflowing public hearing at the state capitol in Boise," according to Yale Climate Connections. The outcome? State legislators ultimately restored – albeit, admittedly, in a weakened state – science standards that included sections on human-caused climate change.
2. Write a Letter to the Editor

The opinions section of a publication is one of the most valuable places to discuss the climate crisis. By writing a letter to the editor and sharing your belief that climate science belongs in the classroom, your insights on the topic will be out there for hundreds (perhaps thousands) of people to read. It's an incredible tool for reaching and educating the public. And many influencers – including school board members, area businesses, and local representatives – pay attention to opinion pieces, which function as a direct line to local voices.
Keep it short and sweet and make it personal, explaining why taking climate education is important to you.
There's no way around it: discussing the climate crisis with young children can be a major challenge. It's an issue so big many adults aren't able to comprehend its scope. One so serious the literal future of life as we know it is at stake. That's a lot to wrap your head around.
But kids today will face the challenges of a warming world head-on. And as a parent, guardian, and/or caregiver, you have a responsibility to do your best to make sure they're ready.
That's why we assembled a free guide to beginning the climate conversation. Download Beginning the Climate Conversation: A Family's Guide today to discover when and how to introduce your children to truth of the climate crisis.
An informed young child is an aware older child; one better positioned to understand if the climate curriculum on offer at their school is sufficient and scientifically accurate. Trust that they'll share this information with you – allowing you to follow up, if necessary, and take appropriate action.
4. Demand Climate Science Education Standards in Your State

We all know the Earth is warming at an unprecedented rate because of greenhouse gas emissions from our use of fossil fuels, and it will have dire consequences for all of us, especially for future generations, unless we act now to stop it.
We can't let powerful interests deprive our children of the knowledge and skills they need to navigate a warming world and help build a better, more sustainable future. Join us and tell your state's department of education that rigorous, fact-based climate science instruction should be the norm in every K–12 classroom.
Climate change is the greatest challenge of our time and a challenge that will shape the lives of future generations. We should teach young people everything we now know about this crisis – beginning with the fact that it's manmade, serious, and very solvable.
Tell your state department of education that you demand comprehensive, scientifically accurate climate science learning standards for K–12 instruction state-wide now.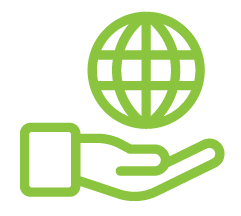 Before You Go
At Climate Reality, we work hard to create high-quality educational content like blogs, e-books, videos, and more to empower people all over the world to fight for climate solutions and stand together to drive the change we need. We are a nonprofit organization that believes there is hope in unity, and that together, we can build a safe, sustainable future.
But we can't do it without your help.
If you enjoyed what you've just read and would like to see more, please consider making a generous gift to support our ongoing work to fight climate denial and support solutions.