July 23, 2020 | 12:08 PM
Could COVID-19 Make Hurricane Season Worse
Hurricane season is here—but warming oceans and changing winds patterns are not the only concern for first responders and federal and state officials.
The current spread of COVID-19 is forcing emergency managers to anticipate how the pandemic will add to the complexity of preparing for hurricanes and recovering from the damage and destruction they leave behind. From how hurricanes are tracked and monitored from the skies to the ways communities will need to respond to evacuation orders and the lingering impacts of the storm itself, the coronavirus and the climate crisis are set to crash head-first into one another in troubling ways.
2020 Hurricane Season

The 2020 Atlantic hurricane season is expected to be busier than usual. Indeed, it's already off to an especially active start.
The National Oceanic and Atmospheric Administration's (NOAA) Climate Prediction Center is forecasting a likely range of 13 to 19 named storms (winds of 39 mph or higher), of which six to 10 could become hurricanes (winds of 74 mph or higher), including three to six major hurricanes (categories 3, 4 or 5; with winds of 111 mph or higher).
There are several climate factors at play driving the possibility of an above-average hurricane season: Stronger west African monsoons, weaker Atlantic winds, warmer-than-average sea surface temperatures, and neutral or no El Nino conditions, among others.
>> Learn more: Hurricanes and The Climate Crisis: What You Need to Know <<
The peak of the season tends to be in the early weeks of September. Mid-August to mid-October is when we can expect roughly 74 percent of tropical storms, 87 percent of category 1-2 hurricanes, and approximately 95 percent of category 3-5 (major) hurricanes in the Atlantic.
If this year does end up being an above-average season, it will be the fifth year in a row to be considered as such.
"In general, the consensus between seasonal hurricane forecasts this year is greater than it has been the past few years," says Phil Klotzbach, research scientist in the Department of Atmospheric Science at Colorado State University.
Changes to Hurricane Response

Federal and state emergency managers, private sector authorities, and nonprofit relief organizations need to re-analyze their traditional hurricane response plans to account for the COVID-19 pandemic.
Already, the Federal Emergency Management Agency (FEMA) plans to minimize the number of people that are sent to affected areas. Many aspects of disaster response will be done remotely, when possible.
This may include inspection processes, preliminary damage assessments, coordinating meetings with government officials, and increased public communications through internet and social media platforms.
State and local officials have been working hard to develop and communicate changes to their hurricane response.
"This is very uncharted territory," said Lauren Sauer, an assistant professor of emergency medicine at Johns Hopkins. "Almost everything we're doing is new."
One of the more challenging problems state and local officials face is the possible public confusion over whether to evacuate or stay at home. Authorities in hurricane-prone states are rethinking not only when and where to call for evacuations, but how to execute them.
To curb the risk of spreading the coronavirus, officials could be more selective with evacuations. They may need to adjust their criteria and look even more closely at factors like flood and storm surge zones, as well as the age and condition of homes before issuing evacuation orders.
"We will have to determine whether it is better to have somebody stay in place because they will be dry enough, or their homes are strong enough, or maybe they are in mobile homes or a storm surge zone and the risks are worse for staying in place so you send them somewhere else," says Bryan Koon, a vice president at IEM, an emergency management and security consulting firm.
Emergency planners are trying to maintain social distancing guidance by recruiting a greater number of shelters, allowing displaced people to spread out to more places, and instituting mask-wearing and regular handwashing requirements. Also, instead of using bus services for those fleeing evacuation zones, those routes may be replaced by contracts with individual ride hailing services such as Uber and Lyft. The trade-offs of such a move could be more traffic congestion and higher emissions during evacuations. 
Another concern states may have to contend with is less volunteer assistance both from out-of-state and within the state itself due to coronavirus.
"We're pretty much going to have to be aware that we're not going to be able to count on assets from other states like we would have in the past," said Mike Sprayberry, North Carolina's director of Emergency Management.
Changes are also taking place at hospitals, which are stocking up as best they can on personal protective equipment and other supplies. Others are changing how they'll manage non-essential staff and patients' families. If evacuations occur, they will likely happen earlier, to give more time for larger patient loads and additional precautions
FEMA has recommended that hospitals have an evacuation plan that includes moving PPE and life-saving ventilators and dialysis machines that could be in short supply if coronavirus continue to surge. Some hospitals also have been urged to identify additional medical facilities that could provide long-term care should evacuated areas sustain longer-term damage.
Hurricanes and Coronavirus Risk

COVID-19 has already placed an unprecedented strain on our disaster management, health care, and other systems.
Federal, state, and local officials are encouraging everyone to develop an emergency plan and understand the latest Centers for Disease Control (CDC) guidelines for COVID-19. Doing so will help families understand and prepare for a hurricane season marred by additional challenges.
The possibility of a busy hurricane season is already an annual concern for hospitals and health care providers across much for the US southeast and up and down the Atlantic coast. And with many hospitals already struggling to provide emergency care due to limited resources and strapped personnel, preparation has become even more critical.
Hospitals may even need to limit those sheltering on-site to essential people. "[If a hospital] lose[s] power or water, with supplies and food, you want to have less people to take care of in the hospital," especially with COVID-19, said Tom Patrias, the chief operating officer of Tulane Health System. In the past, family members have been allowed to shelter with patients in some cases.
At the same time, typical shelters may have to cut their numbers to make sure social distancing can be enforced. 
"This year is different because you can't put a bunch of people in an elementary school with a disease spreading. It's going to be challenging. We are having to redo all of our plans," said Steven Davis, president of All Hands Consulting, a disaster preparation firm.
To help mitigate the spread of COVID in shelters, FEMA is already encouraging people to bring cleaning items like soap, hand sanitizer, disinfecting wipes, or general household cleaning supplies with them if they are forced to evacuate.  
"States will most likely need to identify more sheltering capacity [than normal]," said Brant Mitchell, the director of the Louisiana State University's Stephenson Disaster Management Institute. "One potential solution may be contracting with hotels due to decline in hotel capacity resulting from stay-at-home orders. Typically during disasters that is not an option for the state but may be a consideration due to the circumstances of the lockdowns."
The American Red Cross is already lining up hotels or dormitories, and a higher number of large spaces so evacuees can be spread out. There will be health screenings and temperature checks to get into shelters, says Trevor Riggen, a Red Cross senior vice president.
Individuals who arrive with fevers or other virus risk factors will be accommodated in separate locations with medical access. Additionally, instead of having cafeteria-style meals, food will be served in boxes. 
Asides from hospitals and shelters, nursing home residents also face unusually high risks this season.
Typically nursing homes in low-lying areas have evacuation agreements with nursing homes on higher ground – but because of the ever-changing pandemic, these facilities will have to reexamine existing arrangements and potentially make alternative arrangements on the fly.
Kristen Knapp of the Florida Health Care Association says, "If you're a facility that is an evacuation zone and you have positive cases in your building, you may not be able to go to your typical facility that you would go to if they don't have positive cases in their building."
What Can You Do?

This much is true: While we can all do our part to slow the spread of COVID-19 by wearing masks and engaging in social distancing, very few of us are virologists, epidemiologists, public health experts, or medical doctors. These heroes are on the front lines of the fight against this terrible disease.
But you can be on the front lines of the fight against the climate crisis.
Learn how to get stated with our latest (free!) e-book, What Can You Do? Your Guide to Climate Action in 2020.
The impacts of the climate crisis, including more-powerful tropical storms, may be far-reaching, but the good news is, solutions exist right now that can help us improve quality of life and work toward a more sustainable future for all of us.
And you are key to making those solutions a reality. Download this free resource and learn how to shape climate action and drive change in your community today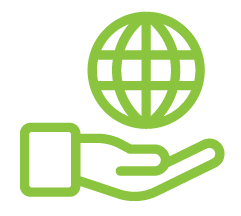 Before You Go
At Climate Reality, we work hard to create high-quality educational content like blogs, e-books, videos, and more to empower people all over the world to fight for climate solutions and stand together to drive the change we need. We are a nonprofit organization that believes there is hope in unity, and that together, we can build a safe, sustainable future.
But we can't do it without your help.
If you enjoyed what you've just read and would like to see more, please consider making a generous gift to support our ongoing work to fight climate denial and support solutions.