September 10, 2020 | 1:46 PM
Countdown to the Future Begins October 10
We're living in historic times.
We've seen the climate crisis send one of the strongest hurricanes in US history smashing into the gulf coast and turn California skies into apocalyptic haze. We've watched COVID-19 turn the world upside down and people everywhere finally begin to truly reckon with the racial injustice and systemic racism that plague our planet.
Together, these crises have shone a million-watt spotlight on the deep inequities at the heart of society and forced us to rethink everything we knew as normal, opening the door to truly transformative change.
Now it's time to talk about what comes next.
On October 10-11, The Climate Reality Project and TED are partnering for two incredible days of presentations and discussions exploring the future we want and how we get there.
It kicks off at 11am ET on October 10 with TED's Countdown, a five-hour program of livestreamed TED talks and discussions with world-changing innovators and thought leaders confronting the climate crisis head-on and showing the way to a just, zero-carbon future.
Then at 4pm ET, 24 Hours of Reality: Countdown to the Future continues the conversation with 24 full hours of digital presentations and discussions of how the climate crisis, COVID-19, and racial injustice shape our planet and this incredible moment. All led by former Vice President Al Gore and Climate Reality Leaders and happening all around the world.
Anyone can request a free Countdown to the Future presentation for their school, office, place of worship, or community. Plus, many presentations will be open to the public, allowing audiences anywhere to log in and join the conversation.
Together, these events are two days to face reality. Two days to explore the road forward. Two days to envision the future we want and act. Two days to change the world.
The Schedule

Where We Go from Here: Countdown
Kick-off: October 10
Five hours of live-streamed TED talks and discussions of the big ideas and solutions that can help us halve greenhouse gas emissions by 2030 in the race to a zero-carbon world. 
What It Means for Us: 24 Hours of Reality: Countdown to the Future
Kick-off: October 10–11 
Twenty-four hours of digital presentations and conversations on how the climate crisis, COVID-19, and racial injustice together shape our world and threaten our future, taking place in communities all across the Earth.
To learn more about 24 Hours of Reality: Countdown to the Future and request a presentation, visit www.24hoursofreality.org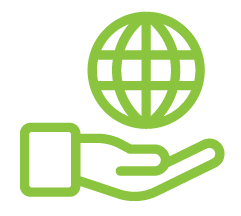 Before You Go
At Climate Reality, we work hard to create high-quality educational content like blogs, e-books, videos, and more to empower people all over the world to fight for climate solutions and stand together to drive the change we need. We are a nonprofit organization that believes there is hope in unity, and that together, we can build a safe, sustainable future.
But we can't do it without your help.
If you enjoyed what you've just read and would like to see more, please consider making a generous gift to support our ongoing work to fight climate denial and support solutions.