October 21, 2021 | 9:00 AM
Defusing a Ticking Time Bomb in the Great Lakes
I snapped this image (below) of the Mackinac Bridge, connecting the upper and lower Michigan peninsulas on Labor Day 2021. Tens of thousands of people walked the bridge, celebrating their families, Michigan, and the Great Lakes. 
Enbridge Energy, Inc.'s Line 5 pipelines, beneath the Straits of Mackinac, only 1.5 miles west of the bridge, are described as "the time bomb in the heart of the Great Lakes" by the National Wildlife Federation, due to the likelihood of a pipeline rupture. Oil and gas could easily leak into the Straits, as well as lakes Michigan and Huron.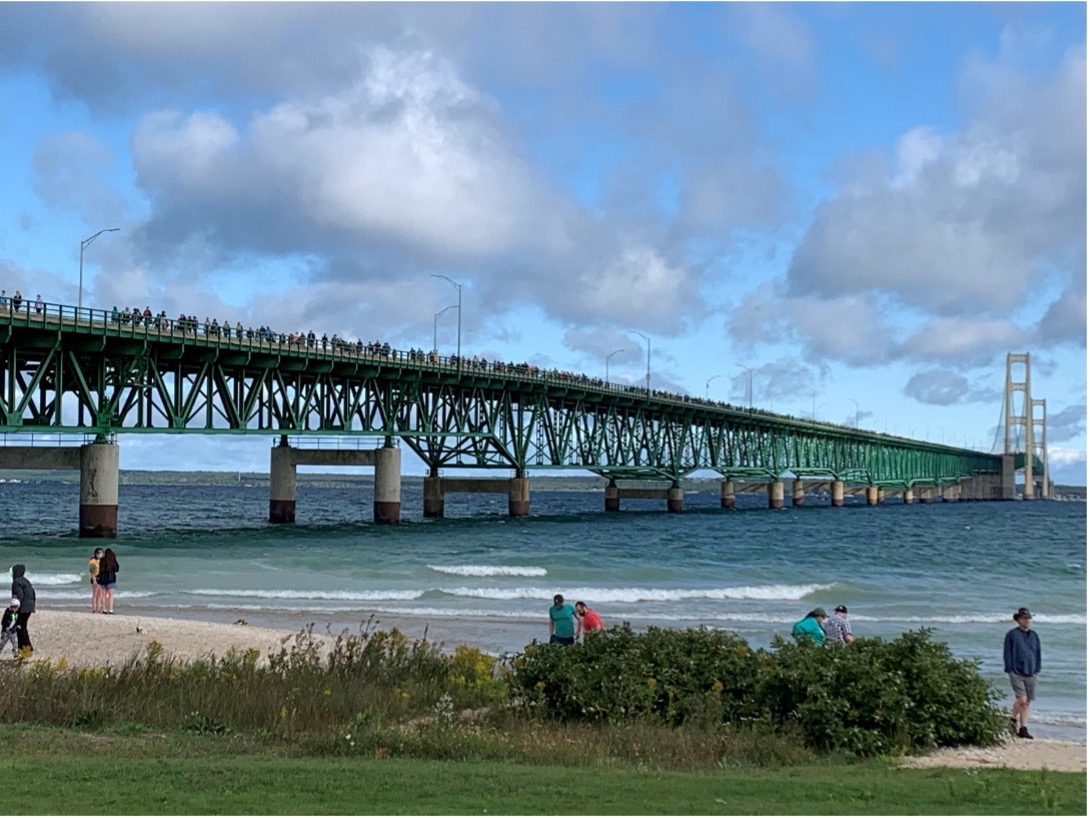 Imagine walking across the Mackinac Bridge, smelling petroleum, seeing oil slicks, and knowing the devasting environmental and economic impacts to Michigan and Great Lakes communities.
We love the Great Lakes, and as Michigan citizens are legally obligated to protect them based on the "public trust doctrine."
The Great Lakes are not property of the state; they are "a public good" and must be protected under the doctrine for the use and enjoyment of all. Based on the public trust doctrine, Governor Gretchen Whitmer rescinded and cancelled the land easement that permitted Enbridge, a foreign energy company, to operate Line 5 across the Mackinac Straits. But the story doesn't end there.
Why is Enbridge Line 5 a "Time bomb"? 

An oil spill in the Straits of Mackinac is an impending disaster due to the structurally integrity – or lack thereof – of Line 5's pipelines. The pipelines were not built to specifications and are not being maintained as per the original 1953 agreement with the State of Michigan.
The pipeline walls are thinning in some areas, the seams are rusting and corroding, and unsupported lengths of the pipeline experience pressure from the water currents that risk rupture. And the pipelines have been struck by ships' anchors a couple of times, too. 
An oil spill caused by a break in Enbridge Line 5 threatens our communities' health and economies, and the health of lakes Michigan and Huron and surrounding watersheds.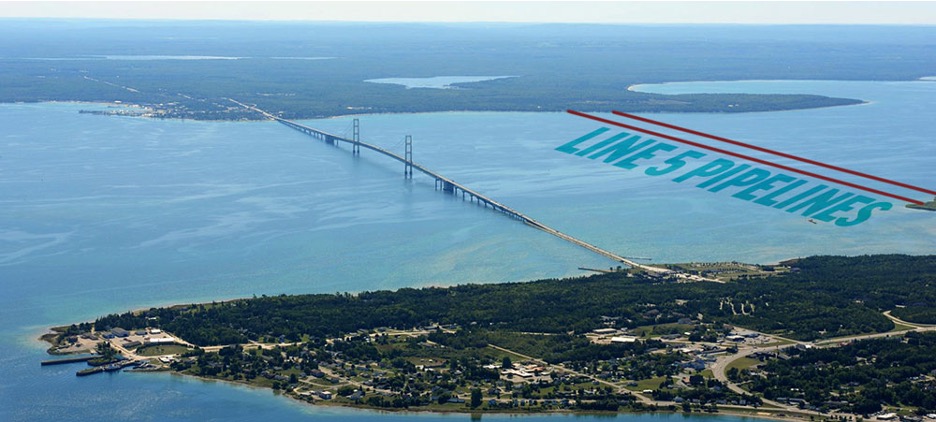 Enbridge Line 5 also impinges on Indigenous tribal land and fishing rights, and puts wildlife, Lake Michigan and Huron tourism, recreation, the lake and shoreline ecology, and freshwater resources at risk – not to mention more than 20% of the world's surface fresh water.
The estimated cost of an oil spill within the Straits is more than $6 billion and does not include the estimated $45 billion in shipping losses  if the Straits are closed during an oil spill cleanup. Due to the water currents through the Straits, only about 30% of the oil spilled could be recovered, leaving devastation along the shorelines and crippling island communities like Mackinac and Beaver Island. 
Enbridge is not responsible for any damages caused by a spill. The bills go to Michigan taxpayers. Enbridge gets to just walk away.
The 68-year-old structurally unsound Line 5 pipelines, part of the Enbridge Lakehead System, carry light crude oil, light synthetic crude, and natural gas liquids (NGLs) from Canada's Alberta tar sands to refineries in Sarnia, Ontario. The high-risk and outdated pipelines cross Michigan's upper peninsula, traverse the Straits of Mackinac, and head south, crossing over 200 tributaries in Michigan's lower peninsula, on its way to Sarnia, Ontario. The oil and gas transported through Line 5 then returns to Canada to be manufactured into gasoline, propane, and other commercial petroleum products.
A Line 5 breach in Michigan's lower peninsula would threaten surface water, agriculture, and sensitive wetlands, and could contaminate drinking water for thousands of Michiganders. Enbridge claims the pipeline is safe, but it has already leaked about 33 times, and Enbridge itself was responsible for the largest inland oil spill in US history, with over a million gallons of oil spilling into the Kalamazoo River in 2010.  
On November 13, 2020, Governor Whitmer withdrew and terminated the 1953 easement that allowed Enbridge to construct and operate dual pipelines in the Straits of Mackinac. The state revoked the lease because Enbridge was in violation of the easement's terms and conditions and the pipelines posed an unreasonable risk to the Great Lakes. 
"After spending more than 15 months reviewing Enbridge's record over the last 67 years, it is abundantly clear that today's action is necessary. Enbridge's historic failures and current non-compliance present too great a risk to our Great Lakes and the people who depend upon them," Dan Eichinger, director of Michigan's Department of Conservation of Natural Resources, said. "Our number one priority is protecting the Great Lakes and we will continue to work with our partners across Michigan in pursuit of that objective." 
Gov. Whitmer gave Enbridge six months to shut down Line 5, which should have meant an end to operations on May 13, 2021. 
What happened instead? Enbridge continued to pump oil and gas through Line 5.   Enbridge is a powerful Canadian energy company based in Alberta, Canada.  Its Line 5 revenue approaches $1.5-2 million per day.
Michigan filed suit to have Enbridge Line 5 shut down. The energy company then turned around and sued the State of Michigan in federal court. Judge Janet Neff, a federal judge in the United States District Court for the Western District of Michigan, is presiding. A closed arbitration period was set and ended on September 21, 2021. 
Judge Neff will determine if the State of Michigan vs. Enbridge should be heard in federal court (best for Enbridge due to existing federal pipeline treaties) or Michigan State court (best for the state).
Line 5 Puts Communities at Risk

The Enbridge Line 5 Pipeline needs to be shut down to protect communities across the Great Lakes region.
Alternative Enbridge pipelines can be used move fossil fuels from western Canada back to eastern Canada until we fully transition to clean energy and begin to truly mitigate climate change. Propane delivered by the pipeline to the Upper Peninsula can easily be obtained by overland transport, domestically. And a proposed new pipeline tunnel will generate minimal Michigan long-term employment.
And it is of deep concern that there is really no liability to Enbridge in the event of an oil spill. In fact, Enbridge is not a signatory to any agreements made to Michigan, meaning Enbridge also "is not obligated by contract to the State of Michigan to contribute any money to an oil spill in the Straits of Mackinac." Enbridge has no financial liability related to its clean up financial liability.
It's amazing that Michigan ever let this happen in the first place.  
Enbridge negotiated the design, construction, and operation of the new Line 5 tunnel with Michigan's former governor, Rick Snyder. The Snyder Administration agreed that Line 5 operations could continue during the tunnel planning and construction. 
The new tunnel would contain one 30-inch pipeline encased in concrete within a tunnel approximately 60 to 250 feet below the Straits' lakebed. Enbridge applied to the US Army Corps of Engineers for a permit to construct the pipeline; however, due to the high number of public concern letters and environmental risks, the Army Corps is now requiring a 3-4-year environmental impact study (EIS) to ensure all environmental risks are addressed.
And so the oil is still flowing – and the time bomb is still ticking.
Sign up now to receive the latest on the climate crisis and the solutions at-hand from Climate Reality.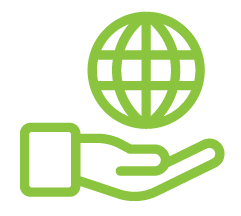 Before You Go
At Climate Reality, we work hard to create high-quality educational content like blogs, e-books, videos, and more to empower people all over the world to fight for climate solutions and stand together to drive the change we need. We are a nonprofit organization that believes there is hope in unity, and that together, we can build a safe, sustainable future.
But we can't do it without your help.
If you enjoyed what you've just read and would like to see more, please consider making a generous gift to support our ongoing work to fight climate denial and support solutions.