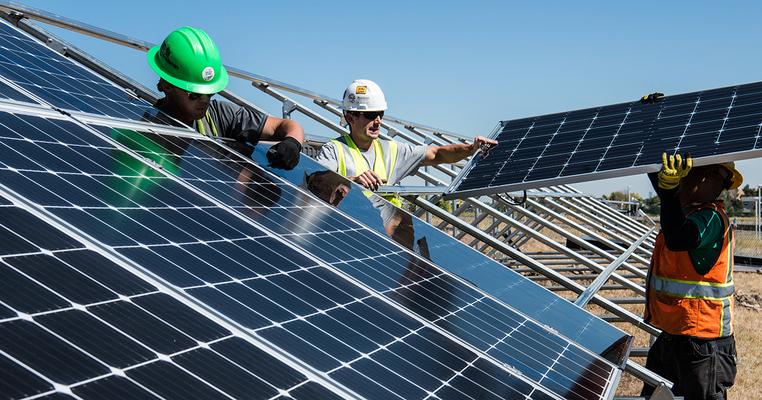 Energizing the Green Economy: The Growth of Clean Energy Jobs
Around the world and across the US, clean energy jobs not only put millions to work, but provide sustainable, affordable power to communities of all sizes.
This isn't looking ahead to the future – these jobs exist here and now, and they're already making a positive impact!
So, just how good are green energy jobs and how can they help us in the fight to solve the climate crisis? Here's a few interesting pieces of trivia about the power of green jobs!
1. In 2018, the renewable energy sector put approximately 11 million people to work worldwide.
As technologies improve and costs go down, jobs in the renewable energy sector will continue growing, giving communities access to clean energy and creating more opportunity for off-grid communities. If that incredible stat isn't enough, the US Bureau of Labor Statistics forecasts that America's two fastest-growing jobs through 20286 will be solar installers (projected to grow by 10563 percent) and wind technicians (projected to grow by 9657 percent)!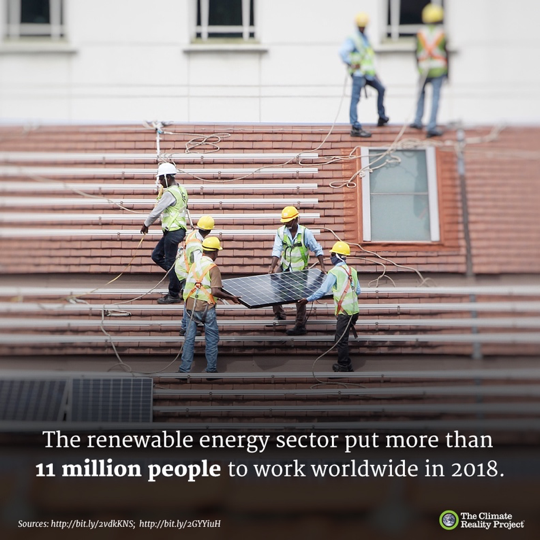 2. More Americans work in clean energy than as school teachers.
Shocking, right? Not only are there more Americans in clean energy jobs than teachers, but surprisingly, more Americans work in energy efficiency (2.3 million) than there are waiters and waitresses in America's bars and restaurants (2.25 million)! All of those positions are incredibly important to our planet's future and economy and as the renewable energy sector continues to grow, so will the jobs and supply chain.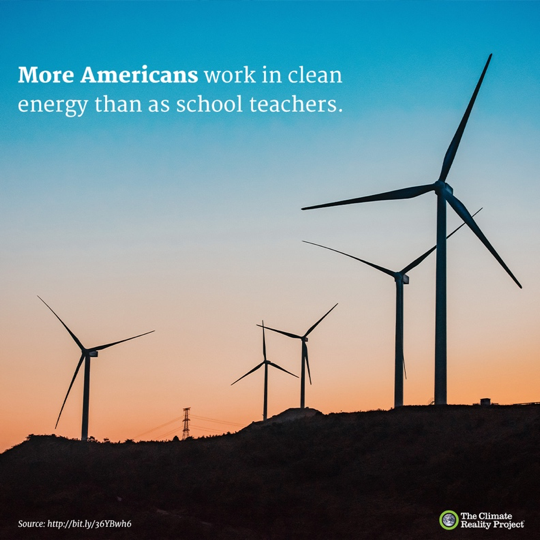 3. These green jobs are all across the country: 99.7 percent of counties across the United States have energy efficiency jobs.
No matter how red or blue the county you may live in, it's almost a guarantee that there are energy efficiency jobs nearby. So, what exactly does "energy efficiency" jobs mean? This title is used to describe positions where the employee is working to reduce energy use — from improving energy use in existing structures, making new buildings as efficient as possible, or incorporating renewable energy technologies when possible.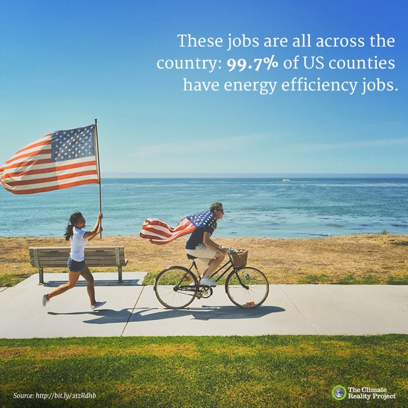 4. The growth of electric vehicles could add, on average, up to 108,000 net jobs per year through 2040.
Clean energy jobs are not just about solar panels and wind turbines – electric vehicles (EVs) are making an impact on the global economy and job market as well! Over the last 10 years, use of electric vehicles has increased rapidly with the global stock of electric passenger cars passing 5 million in 2018 – up 63 percent from the previous year. With various jobs like chemists, electrical engineers, and mechanics needed to build these vehicles, the EV job market will continue growing as charging stations and vehicle prices become even more accessible.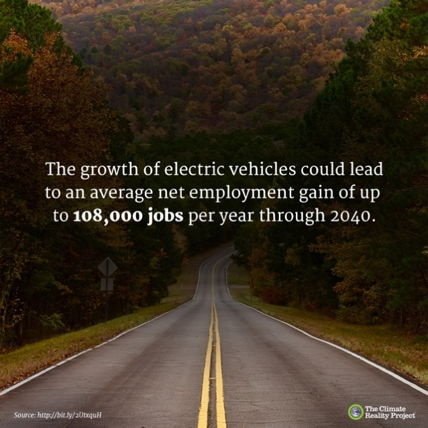 5. Clean, renewable energy like solar makes electricity accessible to off-grid communities around the world. Off-grid solar employment in parts of Sub-Saharan Africa and South Asia has reached up to 372,000 full-time equivalent jobs. Notably, 56 percent of these jobs are located in rural areas and 27 percent are filled by women.
Clean energy careers aren't only making positive impacts on the worldwide job market – they're also creating opportunities for communities around the world. By increasing off-grid solar access, communities in Sub-Saharan Africa and South Asia are now unlocking new livelihood opportunities and providing improved energy access with "pay-as-you-go" (PAYG) business models.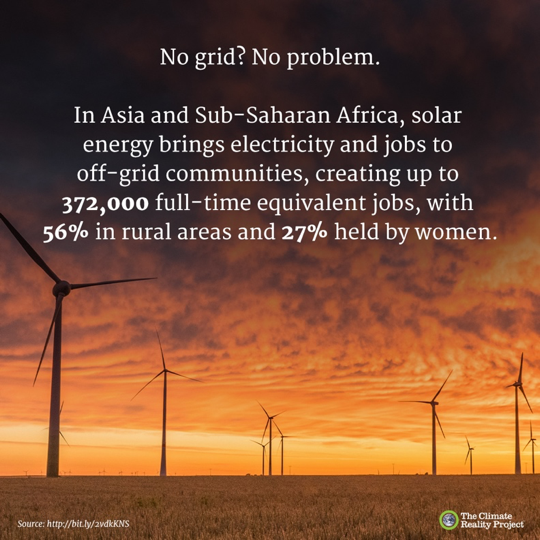 6. In the US, workers in clean energy earn higher and more equitable pay when compared to all workers nationally – with mean hourly wages exceeding the national average by 8–19 percent.
Jobs in the renewable energy industry benefit both the planet and workers. Clean energy jobs also tend to have fewer requirements for entry, making them more accessible to a wide range of workers. Some occupations in the industry include positions like electricians, carpenters, and plumbers. Around 50 percent of clean energy workers come to their jobs with a high-school diploma yet earn higher wages than peers with similar education levels in other industries.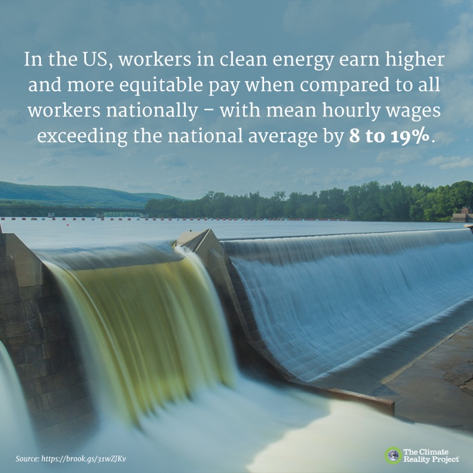 7. The benefits are more than just pocket change. Jobs created by renewables, energy efficiency, and other investments could boost the global economy by nearly $100 trillion by 2050.
The bottom line for our bottom line is this: investing in energy transition is great for the planet and great for the global economy. To put that into numbers, for every $1 (USD) spent transitioning to clean, renewable energy, there would be a payoff of between $3 and $7 or cumulatively, a payoff of between $65 trillion and $160 trillion by 2050.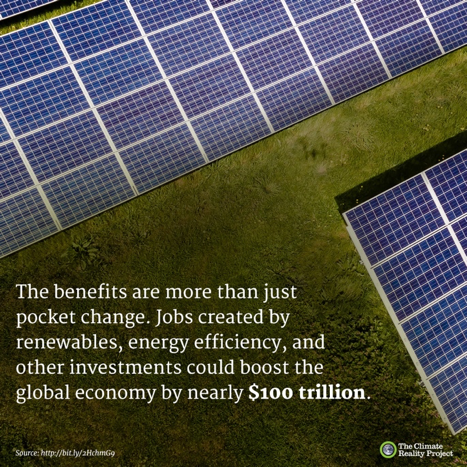 So what's the takeaway? Green jobs open the door to well-paying careers and a better future for a wide range of workers all around the planet. Just as important, they're a critical part of the just transition to clean energy we need to solve the climate crisis and create an equitable and healthy future for all.
Learn more and join the climate fight
To solve the climate crisis, we need everyone. Want to stay up to date on how you can make a difference for the planet? Join our email list and we'll keep you posted on the most important developments in the fight for a sustainable future and how you can help solve the climate crisis.