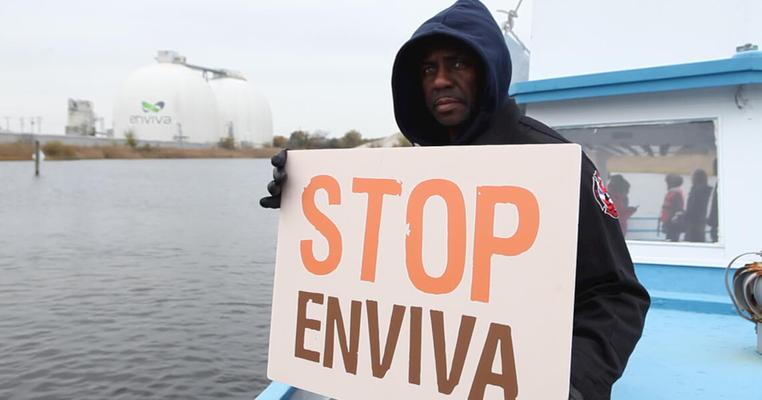 Europe's green energy is stripping US communities of green forests
Black neighborhoods in North Carolina were wearing masks years before the pandemic
By Lucy Sherriff
In 2011, Belinda Joyner heard rumors Enviva, the world's largest producer of wood pellets, was coming to Northampton County. A county of over 19,000 people in North Carolina that's tucked underneath the Virginia state line, Northampton is home to a population where 20% live below the poverty line, and Black Americans make up 64% of those living in poverty. "I remember thinking, 'Wow, that's where I live,'" Joyner, a 68-year-old local activist, remembers.
Having worked with a community in Ahoskie, where Enviva's flagship plant is located, and seen the impacts of the pellet factory on locals, Joyner felt a grave sense of foreboding at the news.
"I announced it in church and told everyone that this facility was going to be a lotta dust and a lotta noise, but it really just went over people's heads.
"Then, when all these trucks started rolling in, and construction workers turned up they realized. Long story short, we started organizing."
Joyner joined forces with Dogwood Alliance, a nonprofit working to protect forests in the area, and began rallying locals to speak out against the industry.
Across Europe, and particularly in the UK, biomass electricity has been hailed as a green, clean, sustainable source of energy. But it has a much darker side, with ramifications thousands of miles away, across the ocean – in Joyner's backyard.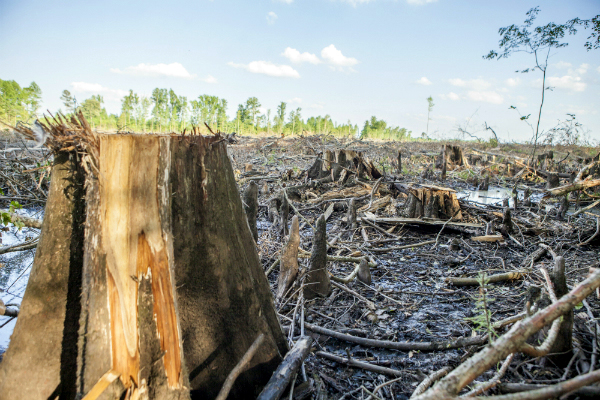 In the South, some of the poorest communities are battling not only to save precious forests that are felled to provide this fuel to Europe, but to protect their own lives.
Many of these communities, who are predominantly Black, have been wearing masks way before the pandemic, due to the noxious fumes that are emitted from the wood pellet production facilities. Some 164 acres of North Carolina forest are cut down by the industry every day.
The pellet production facilities are also twice as likely to be situated in ethnic minority and low-income communities.
"I use the term dumping ground to describe our area," Joyner says. "We're predominantly Black, and big industries just feel they can do what they want."
The noise, Joyner explains, is 24/7, from trucks driving in wood and transporting out pellets, and from the plan's machinery operations. Then, she adds, there's the dust, leaving many locals with no other choice but to mask up.
"The only thing that separates some of these people from Enviva is a chain link fence. And a chain link fence does not hold anything back."
Wood pellet mills release air pollution that can reach unsafe levels, violating US law. Another producer, Drax Biomass, was recently fined $2.5 million over serious air quality breaches at its Mississippi facility.
A study released earlier this year highlighted the increasing role of biomass and wood emissions in the health burden communities face from exposure to the tiny particles known as PM2.5 released by the industry. Meanwhile, research from 2017 found exposure to wood dust and monoterpenes, another byproduct of the pellet industry, are hazardous to airways.
Joyner also points out the mental health toll living next to such a facility takes on individuals. "Think about it, you lay down at night and you try to sleep but the shifting gears on the trucks and the churning of machinery, how are you going to sleep? These people literally cannot get a nights' sleep, and think about what that does to a person."
With the help of Dogwood Alliance, Joyner – alongside other community campaigners – has been organizing public rallies, and tirelessly petitioning local and state officials to pay attention to their plight, including the former county commissioner over incentives given out to the industry.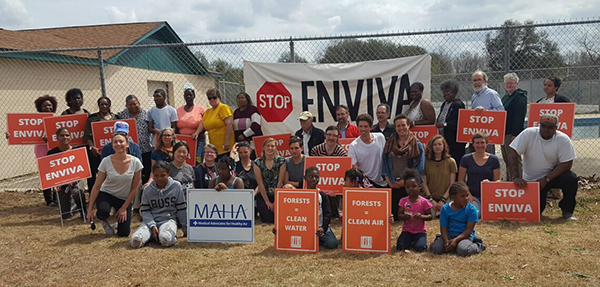 The Alliance, which is based in Ashville, tries to play the in-between role of community leadership and policymaker advocacy "so that it's not just the well-resourced that have access to policymakers", campaigns director Rita Frost explains. "We advocate to policymakers regularly that wood pellet biomass production has environmental justice implications. At the end of the day, we keep going back to our starting point, though, and focus on frontline organizing, resilience, and non-extractive economic solutions."
The transatlantic wood pellet industry was borne out of a pledge by the European Union in 2009 to cut greenhouse gas emissions, urging European countries to shift to renewable energy, and classifying biomass as a source equal to solar and wind power.
The South capitalized on the new demand for wood, and almost a dozen companies opened up biomass facilities, including Enviva. The plants transform hardwood trees into compressed wood pellets, which are burned to generate energy. Burning wood is actually less efficient than burning coal however, and can release more carbon into the atmosphere – not to mention the process of transporting the pellets 4,000 miles across the ocean, and the destruction removing so many trees has on the ecosystem.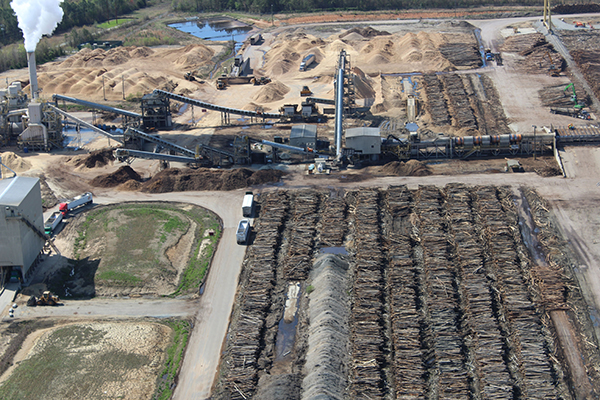 "Forest biomass for the purposes of producing electricity is dirty, destructive, and undermines the health of our communities," says Sami Yassa, NRDC's senior scientist who is leading the organization's climate and clean energy program. "It's dirtier than fossil fuels. It creates air pollution, causes a sweeping array of health harms, from asthma attacks to cancer. And the most dangerous of toxic materials in biomass is particulates which trigger asthma attacks and cardiovascular disease."
A 2019 study painted a grim picture of the industry, finding exposure to particulate matter is associated with increased illness and mortality.
Despite the health and climate impacts, energy companies receive huge financial incentives to build pellet production plants in the South. In 2019, Drax, a UK company, received $965 million in subsidies to purchase US-produced pellets. Between 2012 and 2016, Enviva and its subsidiary companies received $7.6 million in subsidies, including a $350,000 grant from Northampton County.
"Countries like the UK must wake up to the fact that they are literally paying to increase carbon emission in the atmosphere and pollute the air of vulnerable communities abroad, all in the name of supposedly addressing the climate crisis," Sasha Stashwick, a senior advocate at NRDC, says. "Without subsidies, this dirty and destructive industry simply would not exist."
For Joyner and her fellow activists, the battle wages on.
"Sometimes you get tired and you rest up a little bit, but then you get up and you keep the fight up," she says. "If we keep bringing attention to the things that are going on, eventually somebody might hear our story, and somebody might say 'this is not right'.
"There's nothing that can't be changed if you keep fighting. So... let's keep fighting."
To learn more about the fight for environmental justice and the global climate movement, sign up for our email activist list today.