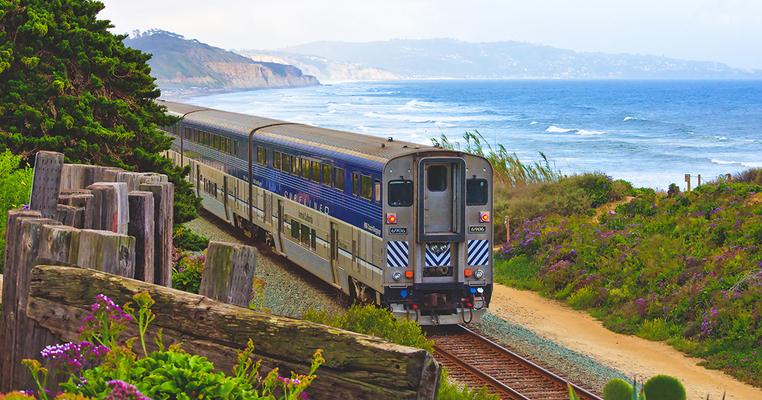 Getting on Board with Passenger Rail in the United States
The US was once a leader in passenger rail but now lags far behind other developed nations. Improving our rail system comes with numerous economic and environmental benefits.
So, you're planning a trip from, say, Chicago to New York, and you're weighing your transportation options. You could:
Fly, which on average costs around $267 roundtrip, but also, on a typical, delay-free day, takes less than four hours in total.
Drive the 796 miles. At around 12.5 hours each way, it's a pain in the neck (and back) but comes with a lower price tag than air travel and an at-times scenic route.
Take the train. It's the cheapest and cleanest option at about $180 roundtrip – but going just one way takes 22 hours. Unless you're in it for the train-travel experience itself, who has that kind of time?
Travelers across the United States have to make this same decision or one like it every day.
Trains in the US
Once a leader in passenger rail, the US now ranks among the lowest in train ridership compared to other developed countries. While other nations have been experiencing declines in ridership during the pandemic, the fall of passenger rail in the US has been a long time in the making.
The first mechanical passenger train in the US opened for service on Christmas Day in 1830. Over the next century, both passenger and freight rail exploded, laying the tracks for westward expansion and an economic boom. Passenger rail ridership began to see declines after World War I with competition from automobiles, but ultimately peaked during World War II when gasoline and tires were being rationed. This peak left nearly as quickly as it came, and ridership has been in a steady decline since the 1950s.
A combination of monopolistic practices and strict government regulations during the early 20th century rendered privately-owned railroad companies financially unprofitable and unable to compete with other forms of travel. The construction of the interstate highway system and rise of mass air travel in the 1950s dealt blow after blow to the railroad industry, with many companies declaring bankruptcy by the end of the century.
Sensing the imminent collapse of rail travel, the US government stepped in to create the thing Americans think of first when they hear "passenger rail": Amtrak.
While we can all thank Amtrak for revitalizing rail operations for the millions of passengers it serves, we also can't help but feel a little behind the times when we look at the remarkably fast and reliable passenger rail services offered in other nations.
Passenger Rail Abroad
Take Japan, the birthplace of the Shinkansen or "bullet train." Its high-speed rail (HSR) network was built to connect distant Japanese regions with Tokyo.
With an average speed of 145 mph the Shinkansen can take you from Tokyo to Osaka in under two-and-a-half hours.
That's about the distance from Boston to Philadelphia, which on Amtrak's fastest train, the Acela, would take twice the time.
The Shinkansen is also known to be extremely safe, operating without a single passenger fatality in 50 years, while carrying 477,000 passengers a day. And it's one of the most punctual modes of transport in the world, with the average delay being just 0.9 minutes. In fact, an apology was once issued for a train departing 20 seconds early.
This is a far cry from American Amtrak trains, which are on time only 71% of the time.
Our neighbors across the pond are no strangers to HSR either. Europe is home to three of the five most-extensive HSR networks globally, in Spain, France, and Germany, respectively, and offers several transnational routes beloved by tourists and residents alike.
Much like the current American rail network, prior to developing its HSR system, Germany had an extensive conventional rail network with a significant freight rail sector in place. To also facilitate the improved movement of goods, Germany began by upgrading existing lines. Incremental upgrades to conventional lines increased travel speeds just enough to be competitive with other modes of transit, while newly-constructed lines that are exclusively used for HSR are much faster.
While Japan and Europe have had several decades to perfect their HSR systems, another country in East Asia accomplished an arguably more impressive feat in just 12 years.
China's 23,550-mile-long HSR network, the world's largest, was nonexistent before 2008. By 2020, 75% of Chinese cities with a population of 500,000 or more have access to HSR, with plans to connect 100% of them by 2035.
The rapid development of this extensive network was kick-started in large part by the import of existing HSR technology and supported by centralized state funding, planning, and approval. Standardization of designs and procedures also brought cost of construction down by two-thirds.
Government subsidies and China's dense population allow some HSR lines to be both profitable and competitive with other forms of transportation. These services have been found to significantly decrease domestic air travel, particularly in the 300- to 500-mile range.
China can also thank its HSR system for saving an annual 12 million metric tons in net carbon emissions from passengers choosing the train over a plane.
Improving the US Rail System
The American track record for improving passenger rail services hasn't been as smooth of a ride, with plans for upgrades or expansions having been largely, well, derailed over the years.
It's definitely not because it's not a popular idea. If Amtrak's ridership and revenue growth aren't proof enough, polls show that improved Amtrak services are popular with Americans everywhere regardless of political leaning and it's not hard to imagine why.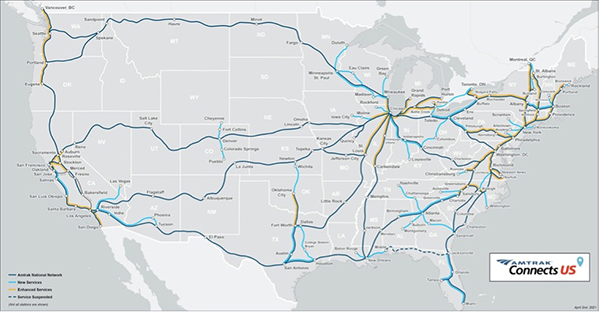 (Source: Amtrak)
This map is from Amtrak's ambitious Amtrak Connects Us proposal, which lays out a plan to expand its services to 47 of the top 50 metropolitan areas and connect up to 160 communities throughout the US by building new or improved rail corridors in over 25 states. Here are just some of the benefits this project would bring:
$30 billion in direct investments in communities;
Reduction of carbon emissions by nearly 50% when compared to automobile travel;
Lessened car congestion (the average commuter loses more than 40 hours per year to highway traffic delays);
Enhanced opportunities to historically underserved communities;
$8 billion in net economic benefits annually by 2035, with an additional $195 billion in economic activity generated by capital investments; and
26,000 ongoing permanent jobs.
Of course, a project of this size would not be possible without enormous support and investment. Well, $75 billion over the next 15 years, to be exact. That figure towers over the $2 billion in subsidies Amtrak currently receives annually – but it also pales in comparison to what some European nations are investing in passenger rail.
The bipartisan infrastructure bill currently being considered in Congress could help answer Amtrak's call for a more connected rail network.
The bill includes $66 billion in funding for passenger and freight rail to "eliminate the Amtrak maintenance backlog, modernize the Northeast Corridor, and bring world-class rail service to areas outside the northeast and mid-Atlantic."
And even though the rail service's Amtrak Connects Us proposal does not include plans for HSR, the bill does provide funding for it.
To reduce greenhouse gas emissions from our transportation sector in a big way, the US must get on board with passenger rail.
Other nations have shown us that with strategic development and substantial investments, we can provide Americans with a cleaner, faster, and cheaper way to get around.
While they're in the UK for the annual Conference of the Parties (COP), perhaps American leaders will get a taste of what better passenger rail looks like and return ready to do the work necessary to bring it to the US.
What You Can Do
While the bipartisan infrastructure bill could provide some of the largest investments ever made in passenger rail and other climate provisions in US history, it's far from what enough to get us to President Biden's goal of net-zero emissions by 2050.
President Biden's Build Back Better Act can help us get there – but only if we push our leaders to include bigger and bolder climate provisions.
Take action today and tell Congress to pass a strong, bold Build Back Better Act.