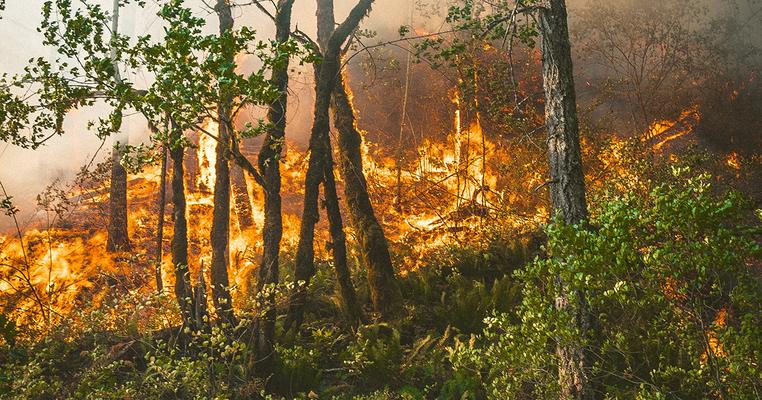 Global Wildfires by the Numbers
A breakdown of global wildfires from this past year, their links to the climate crisis, and how you can take action.
It's not just you: We are seeing more and more intense wildfires from California to Indonesia.
It's no secret why, either. Rising temperatures due to burning fossil fuels dries out vegetation, fueling bigger, more resilient wildfires. It's the climate crisis unfolding right in front of us. Right here and right now.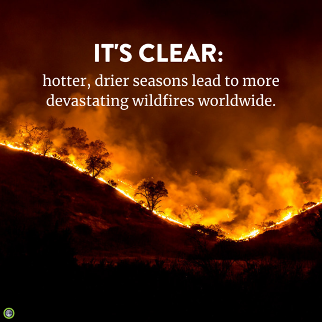 In the past year, we've seen some of the most damaging and extensive wildfires on record.
1. California, Washington, and Oregon – United States
In 2020, destructive and persistent wildfires on the West Coast of the United States burned over4 million acres in California alone, spreading to over 1million acres in Oregon, Washington, and other Western states.
While the White House seemed to dismiss these fires as just a problem for the West Coast, what burns in California doesn't stay in California. These fires have not only taken a toll on the environment and forests, but the smoke from these wildfires has a direct impact on public health. Smoke spread across the country, as far as New England, causing the sky to look hazy and orange thousands of miles away.
Worryingly, these fires are part of a larger trend. Seven of the most destructive wildfires in California's history occurred in the past 13 months. The frequency of these fires is not a coincidence – this is the climate crisis in action.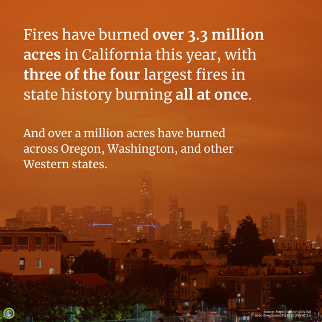 2. Amazon Rainforest – Brazil
Even when climate change isn't the primary cause of massive forest fires, these fires can have massive consequences for the planet.
The Brazilian Pantanal is the largest tropical wetland in the world and is also one of the most biodiverse ecosystems on the planet. This year, one-fifth of the Pantanal has been burned down by land-clearing fires, with NASA estimating that these fires spanned over 7,861 square miles.
Nor is the threat confined to the Pantanal, as the Brazilian Amazon rainforest also saw wildfires that burned large areas. Due to excessive drought and wildfires, research now shows that as much as 40% of the Amazon has reached a tipping point where it could be classified as a savannah, and not a rainforest. In September, 32,017 hot spots, or active parts of a wildfire, were identified in the Amazon, which was 61% more than same month in 2019. As the world's largest rainforest, the Amazon functions as an integral carbon sink, sequestering carbon in its dense vegetation system. Losing vast sections of this forest due to wildfires not only releases more carbon from the burning trees, but it also eliminates the capacity of carbon sink.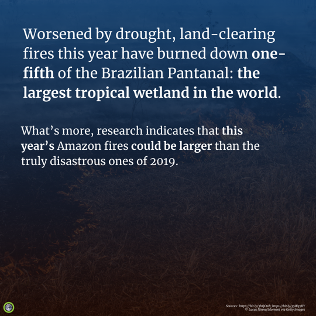 3. Siberia and the Arctic
If it sounds like a feature in a horror movie, the truth isn't that far off. Record fire seasons in the Arctic have uncovered the phenomenon of "zombie fires" burning the permafrost underground. "Zombie fires" are special in their ability to persist through cold seasons by burning and burrowing underground, beneath layers of ice, igniting peat and soil layers, and permafrost.
Most of the world's permafrost is located in the Arctic, as these fires thaw the permafrost, the organic material within begins to decompose, releasing carbon dioxide and methane into the atmosphere, and compounding the effects of climate change. Scientists estimate that permafrost in the Northern Hemisphere holds about 1.5 trillion tons of carbon.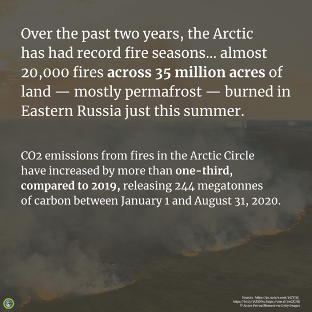 4. Indonesia
This year's Indonesian dry season has led to wildfires affecting more than 1 million hectares across six of Indonesia's provinces. These fires have been burning since May and are projected to last into late October and November. In 2019, the noxious haze from wildfire spread forced school closures and threatened the health of millions of Indonesians.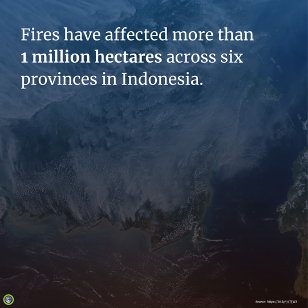 5. Australia
Earlier this year, bushfires ravaged 46 million acres in Australia, captivating global attention and making front-page headlines around the world. The fires displaced nearly 3 billion animals, and the Australian government found that 113 animal species were in danger after the bushfires. The World Wildlife Fund declared it to be one of the "worst wildlife disasters in modern history." The danger went beyond the flames, with experts estimating that the smoke from Australia's 2019–2020 fire season was linked to 445 human deaths.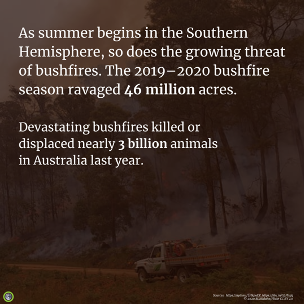 What can we do to take action and protect our planet from these devastating fires?
It's clear: this year's wildfires are an alarming wakeup call about the climate crisis. And it can feel frustrating and hopeless to hear about the deadly and widespread effects of wildfires.
But the reality is this: there are actions you can take to help raise awareness about these fires and support climate solutions.
That's why on October 10–11, we're partnering with TED for 24 Hours of Reality: Countdown to the Future. In two days of conversations about the climate crisis and its solutions, you'll learn how you can fight for a safer, healthier planet for all.
We hope you'll join us! To learn more about 24 Hours of Reality: Countdown to the Future, visit www.24hoursofreality.org
We also encourage you to share these graphics on Instagram – find our post highlighting these wildfires here!