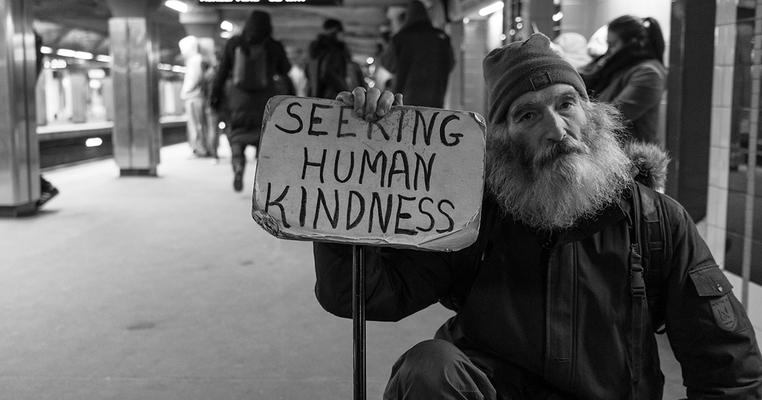 Homelessness and the Climate Crisis
Not only are rising temperatures a danger to individuals already experiencing homelessness, extreme weather events driven by our changing climate are leaving more and more people with nowhere to turn.
When the world gets warmer, it impacts real people's lives. Real people just like you are suffering right now because of our changing climate. And some are unfairly impacted more than others.
The elderly. Children. Communities of color. And perhaps most acutely, the homeless.
Individuals experiencing homelessness know what the climate crisis feels like. Unlike so many of us, they cannot turn to the comforts of home when temperatures soar to new heights or torrential rains fall or wildfire soot blankets the earth around them.
Clean drinking water is not always readily accessible. Nor are a dry pair of shoes. Things so many of us take for granted every day.
Rising Temperatures = Rising Dangers for the Homeless
This much is clear: With the climate crisis driving all kinds of extreme weather, those with the least among us often suffer its impacts disproportionally and unfairly.
We saw it just this summer as record-breaking heat baked the United States and Europe. Extreme heat can be deadly for anyone, but people living on the streets without access to air conditioning or cool drinking water are particularly susceptible to heat stress and even heat stroke.
Rising global temperatures also decrease air quality, in part, by increasing the formation of ground-level ozone, the main ingredient in city smog. Exposure to high levels of ozone can lead to shortness of breath, wheezing and coughing, chest pain, and temporary decreases in lung function.
Hotter temperatures also open the door to regions once less hospitable to biting warm-weather insects, known as vectors. And longer-lasting warm weather and milder winters extend the life and breeding cycles of many of these same insects, allowing them to move ever-poleward and increasing the number of places where they can thrive.
The homeless are less able than most of us to find respite from this polluted air. Less able to escape the mosquitos and ticks that carry a range of diseases, from the West Nile and Zika viruses to dengue fever and Lyme disease.
But the climate crisis isn't just making life harder for those already experiencing homelessness – it's also creating the conditions that leave many families with nowhere to turn.
The Climate Crisis Can Contribute to Homelessness Too
Carbon pollution from burning fossil fuels like coal, oil, and natural gas is warming our planet and driving climate change. It's throwing natural systems out of balance – to often devastating effect.
What does that mean for us? Events like floods, heatwaves, hurricanes, wildfires, and drought are becoming more frequent and/or intense. And in the worst case scenario, natural disasters like these can level homes and even entire communities.
And they're doing it at the same time that America is experiencing an affordable-housing crisis.
We know that frontline communities, particularly those of color and low-income families, experience many of the climate crisis' impacts first and worst. They're often more at risk than more affluent communities from extreme weather events and likely to live in urban heat islands, where days can be as much as 22 degrees hotter than surrounding areas.
Even worse, communities of color often live with substandard housing thanks to decades of discriminatory housing policies and poor city planning. And when extreme weather strikes, they're less likely to have the resources to relocate or fully rebuild their homes.
Earlier this year, the National Low Income Housing Coalition estimated there to be "a shortage of 7.2 million affordable and available rental homes for extremely low income (ELI) renter households, those with incomes at or below the poverty level or 30 percent of their area median income."
So when destructive, climate-exacerbated weather events like super-charged hurricanes, floods, and wildfires strike and people are forced from their homes and unable to return, low-income families face a shortage of options for next steps.
Houston, Texas, found itself to be ground zero for these dueling crises in the aftermath of 2017's Hurricane Harvey.
Harvey was a devastating storm. "Sea surface temperatures in the Gulf of Mexico that [were] 2.7 - 7.2°F (1.5 - 4°C) above average" helped power a category 4 monster that dumped more than 60 inches of rain over parts of southeastern Texas, resulting in catastrophic flooding and other storm damage.
The National Hurricane Center called the storm, "the most significant tropical cyclone rainfall event in US history."
Houston was bombarded with rain – and among those to suffer most were its low-income residents. According to NRDC, the storm wrecked "nearly 2,000 Section 8 and public housing units across the state, at a cost of more than $25 million. One in six families receiving assistance from the Houston Housing Authority saw their home battered or destroyed. And when these displaced families sought other accommodations, they found skyrocketing rents across the city."
Several months after the storm, the Coalition for the Homeless of Houston/Harris County reported that homelessness in Houston had grown 13 percent from the year before – and that 18 percent of those who'd become newly homeless blamed Hurricane Harvey.
What You Can Do
For people struggling to make ends meet, the climate crisis is a threat multiplier. Not only do they experience the worsening weather, the rising seas, the spreading infectious diseases, but they also must contend with the dread that accompanies one of life's most pressing questions: "What if?"
What if I lose my house to a flood?
What if a hurricane blows our roof off?
What if I can't afford to find a new place?
So what can you do?
Sometimes, the most important thing you can do is learn more about a problem. Only then can you play a part in its solution.