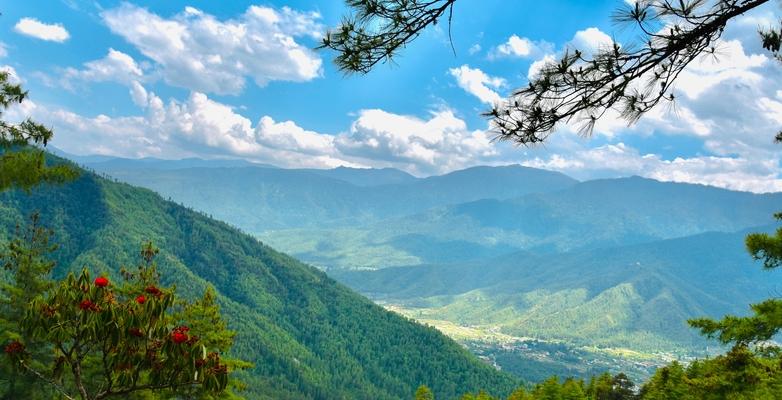 How Climate Change is Quietly Rewriting Bhutan's Future
By creating policies to tackle climate change and offering a path for sustainable living, Bhutan has done its part. The ball is now in the court of the rest of the world.
5 min read
By Srijana Giri, CSP Fellow at Climate Reality
Nestled in the Eastern Himalayas, Bhutan is a remarkably diverse and mysterious country that remained inaccessible to the outside world until the 20th century. It is famously known for its untouched mountains, rich biodiversity, and strong commitment to environmental conservation. Bhutan has always been on the other side of the divide, mopping up carbon emissions and being celebrated as the first carbon negative country.
But even this green nation is not immune to the impacts of climate change. From the rising threat of glacial lake outburst floods (GLOFs) to forest fires, the impacts of climate change in Bhutan are startlingly paradoxical and far-reaching.
Glacier Lake Outburst Floods (GLOFs)
Encompassing an area of 38,394 sq km, Bhutan is roughly half the size of the US state of Indiana. This small Himalayan country is home to 677 glacial lakes that are contained by natural rock and ice barriers called moraines. These lakes pose a significant risk; if the barriers fail, the released water can lead to devastating floods downstream. These events, known as glacial lake outburst floods (GLOFs), happen when the rapidly expanding lakes burst their banks and flood river systems. These floods can occur with little warning and can cause widespread damage to homes, roads, and farms, as well as loss of life.
Bhutan is one of the first countries in the world to make GLOF prevention a national priority. But still, Bhutan alone has recorded at least 18 GLOF events since the 1950s, the latest being a breaching in 2019. Due to its low economical capacity, Bhutan has been mitigating GLOF threats using manual labor.
Mudslides and Floods
Mudslides and landslides have become a threat, turning what used to be a rare occurrence into a common monsoon ordeal. Since 2016, Bhutan has experienced 32 extreme weather events, many of them flash floods and landslides triggered by incessant monsoon rains. These aren't just numbers; they are impacting the people living in the foothills over and over again.
Agriculture, Food Systems, and Human-Wildlife Conflict
The majority of Bhutan's population relies on agriculture, but climate change has dealt this sector a heavy blow. Weather patterns have become increasingly unpredictable, resulting in irregular rainfall and higher instances of s and diseases. This change is not only compromising food systems but also escalating human-wildlife conflicts. Animals like elephants are now straying into human settlements in search of food. People in Bhutan aren't just worrying about their harvest but also looking out for elephants trampling through their fields.
The Irony of Water Scarcity
Bhutan is a country with abundant water resources and yet suffers from water scarcity. It sounds like an oxymoron, but Bhutan lies on the Himalayas, where there is an abundance of water resources, yet people are suffering from water scarcity, as clean drinking water sources dry out or the extreme weather conditions burst out water storing spaces.
For farmers, irrigation systems are failing as extreme drought and extreme monsoon affects the way they grow crops and destroy their homes. The irony is bitter and reflects the cruel unpredictability of climate change impacts.
A Looming Health Crisis: More Than Just Human Lives at Stake
In a surprising turn of events, mosquitoes, known carriers of diseases like malaria and dengue, have been found in Lunana,  Previously, this altitude was considered too harsh for mosquitoes due to freezing cold temperatures and low rain levels. Their presence at such high elevations is a sign of changing environmental conditions due to climate change. The new mosquito habitat suggests a broader area is now at risk for disease transmission, complicating public health efforts in Bhutan, which is already fighting a battle against malaria and dengue.
Forests in Flames: Bhutan's Emerging Fire Crisis
Bhutan has experienced several forest fires in recent years, the scale and impact of which are growing. There have been more than 1,400 forest fire incidents in Bhutan in the last 10 years. With a huge coverage of forest in the country, these types of fires not only destroy endangered animals, bird, and plant species but also contribute to global carbon emissions, counteracting Bhutan's role as a carbon sink.
How Bhutan is fighting Climate Change
The constitution of Bhutan mandates that at least 60% of the country remain forested, a goal exceeded in recent years, with coverage reaching over 70% in 2020. According to the forestry statistics & other reports by the Department of Forest and Park Services under the Ministry of Energy and Natural Resources, Bhutan has a forest cover of 71%. Bhutan's approach to climate action is multi-faceted and deeply rooted in the principle of interconnectedness, considering economic, environmental, and social well-being as equally vital. Acting as a carbon sink, Bhutan utilizes almost 100% renewable hydropower for its electricity needs. Alongside this, it has committed to becoming 100% organic in its agriculture by 2035, introduced environmental science as an optional subject for middle and high school students, and has a national holiday called Social Forestry Day, which coincides with the birthday of the third king of Bhutan.
Bhutan measures its development differently from most countries. Instead of just looking at money (gross domestic product or GDP), it uses something called the Gross National Happiness (GNH) Index. This index considers not only economic factors but also cultural, environmental, and governance factors to get a more complete picture of how well the country is doing.
What's Next
The lesson from Bhutan is one of both inspiration and desperation. While its policies may inspire nations to prioritize sustainability, the desperation lies in its vulnerability—vulnerability to a crisis it didn't create but is forced to endure. Our failure to act decisively and globally on climate change has put this beacon of environmentalism in crisis. Now, more than ever, the world needs to embrace Bhutan's sense of urgency, before it's too late for all of us.
By creating policies to tackle climate change and offering a path for sustainable living, Bhutan has done its part. The ball is now in the court of the rest of the world. Will we act in time to protect Bhutan, and by extension, ourselves, or will we continue to let this Himalayan gem suffer the dire consequences of our collective inaction?
What You Can Do
Are you interested in joining a movement to protect our planet and ourselves? Learn how you can become a Climate Reality Leader by joining one of our upcoming trainings.