How Is the Climate Crisis Affecting Michigan?
Here are three ways the climate crisis has left its fingerprints on the so-called Mitten State.
Nearly 10 million people call Michigan home. It's where both the American auto industry and Motown music were born. And surrounded by four of the five Great Lakes, it has more freshwater coastline than any other state in the union.
Michiganders are also already feeling the impacts of climate change today. That's why Climate Reality and former Vice President Al Gore are headed to Detroit this August to train new leaders to make a difference on climate in Michigan and beyond.
Wondering exactly how the climate crisis is affecting the state? Read on to get the facts.
Temperature
Here's the climate reality: Michigan has gotten more than 2 degrees Fahrenheit warmer, on average, since 1900. Historically unprecedented warming is likely over the rest of this century, and urban areas like Detroit could be hit especially hard by extreme heat events.
Michigan is a state that has both warm, humid summers and very cold winters. Like much of the US Midwest, the Great Lakes State has seen the greatest departures from average temperatures in the winter and spring—whereas summers have not yet warmed quite as much.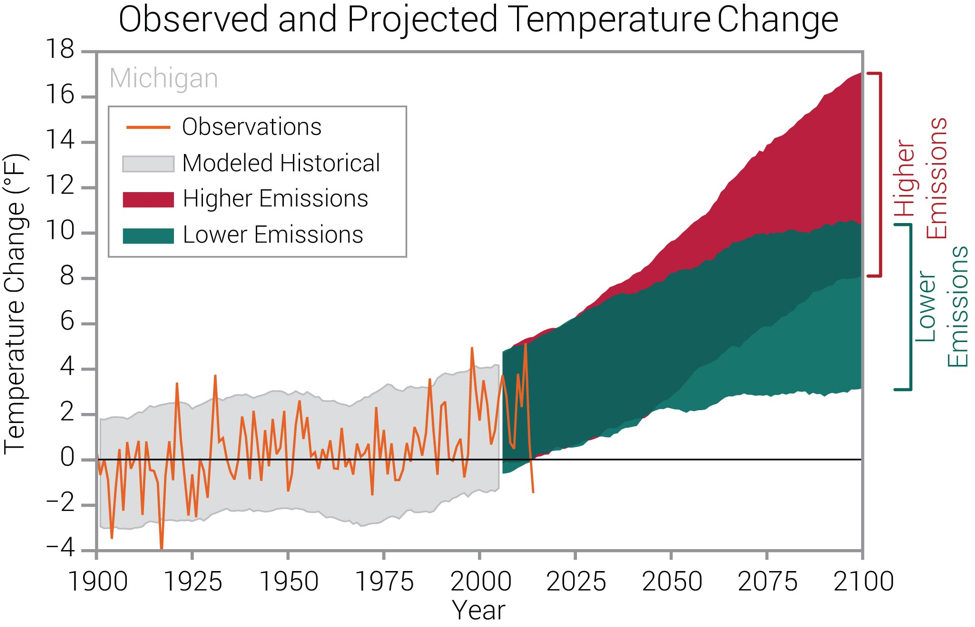 In 2012, Michiganders experienced their warmest year ever, with average temperatures almost 5 degrees Fahrenheit above normal. In March of that year, the state experienced a heat wave that lasted about nine days.
Extreme heat like this isn't just uncomfortable; heat waves can have huge economic impacts. The unseasonably warm weather caused fruit trees around the state to bloom early. When temperatures dropped below freezing the next month, "the budding fruit crop was destroyed, causing more than $225 million worth of damage, the worst losses to the state's fruit tree industry since 1945."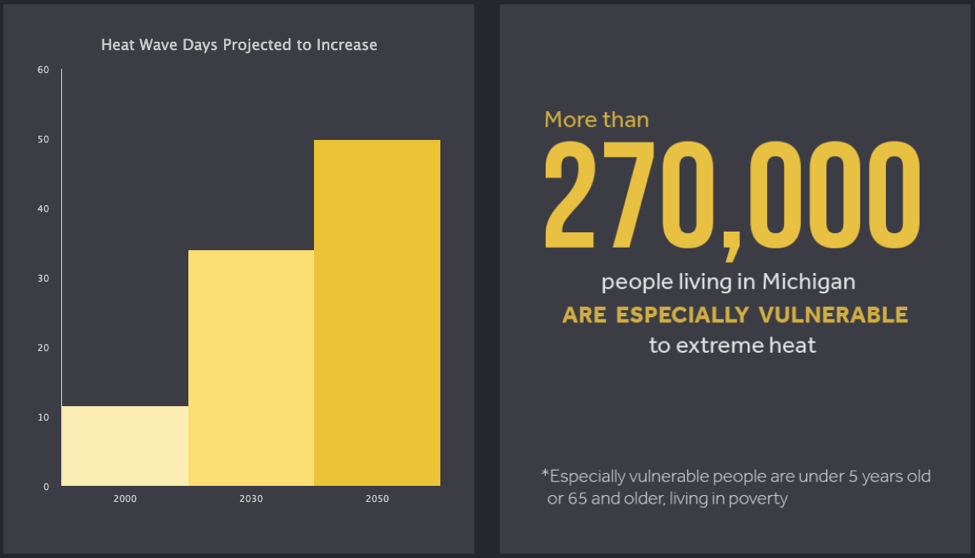 Graph and data courtesy of Climate Central.
Extreme heat is also incredibly dangerous for the human body. Indeed, it's actually more deadly than any other weather-related hazard—in the US, extreme heat causes more deaths every year than tornadoes, floods, or hurricanes (on average). That's because it challenges our ability to maintain a healthy internal body temperature, potentially sending us into heat exhaustion or even heat stroke.
>> Read more: Climate Change, Health, and Heatwaves <<
According to data from Climate Central, more than a quarter of a million Michiganders are especially vulnerable to extreme heat. These are people who are under five or over 65, as well as those experiencing poverty. Michigan is projected to have around five times as many heat wave days by 2050 compared to 2000. That's why we must act on climate change, in Michigan and around the globe.
Precipitation
Here's the climate reality: Climate change is expected to cause more snow and rain in Michigan, especially in the winter and spring. This includes more extreme precipitation events, which are likely to result in flooding that's more frequent and intense for the state.
In June of 2018, Michigan's Upper Peninsula experienced "catastrophic" flooding.
As reported by Michigan's local NPR station at the time, "Residents are beginning the process of recovery after flash flooding rocked the western Upper Peninsula Sunday morning, leaving dozens of sinkholes, impassable roads, and reports of damage to hundreds of homes in Houghton County. The rainfall that caused the flooding was the heaviest ever recorded in the area." (Emphasis ours.)

Drone footage shows roads and businesses in Houghton, Michigan, washed out by weekend flash flooding. Up to 7 inches of rain fell Sunday, with several sinkholes opening up. https://t.co/YzCTkaYRJw pic.twitter.com/P6KGlt2Wc1

— ABC News (@ABC) June 18, 2018

Events like this are expected to become more common in the state as our climate continues to change. In fact, according to climatologist and Michigan State University professor Jeff Andresen, "It's fairly clear that economically, our greatest single weather-related problem or challenge here in our part of the world [is] heavy rain events and flooding. That stands above everything else, and those types of events, unfortunately, are increasing over time."
Observed number of precipitation events in Michigan over time.
Climate change helps fuel extreme flooding because it puts the Earth's water cycle into overdrive. As temperatures become warmer and warmer, more water from the planet's oceans, lakes, rivers, and land evaporates. This, in turn, means more intense storms with heavier precipitation when all of that evaporated water falls back to the earth's surface.
>> Read more: Climate Change and Flooding <<
As Houghton County saw in 2018, floods like these disrupt lives and livelihoods. In addition to damage to infrastructure and homes, extreme precipitation is expected to have consequences for Michigan's agricultural industry.
To grow the food we all enjoy, farmers depend on a steady climate, including predictable precipitation patterns. In 2019, Michigan experienced one of its wettest years on record, resulting in a devastating 870,000 acres of agricultural land going unplanted that season. The wet weather made it harder for farmers to provide for their families and pushed corn prices up.
There's no doubt: Flooding linked to climate change makes our food supplies less secure.
"Seesawing" Great Lakes
Here's the climate reality: Michigan's climate and economy are tied closely to the Great Lakes. But thanks to the climate crisis, these lakes are changing in unpredictable ways.
Michigan is divided into two peninsulas, upper and lower. The lower (the so-called "mitten") is bordered by three of the five Great Lakes—Michigan, Huron, and Erie. The upper is sandwiched by Michigan and Superior. There's a reason, of course, why Michigan is called the Great Lakes State.
But big changes in temperature and precipitation have meant big changes in water levels for the Great Lakes. One local news station recently summarized what's happening well: "The Great Lakes water levels have gone from a record low to a record high in record time."

After several years of high water on the Great Lakes, residents and governments are scrambling to figure out what to do to combat Mother Nature's wrath that is gobbling up the shore. https://t.co/8ZRGA2C2NX

— Star Tribune (@StarTribune) June 23, 2019

It's like a seesaw. Between 1999 and 2014, lake levels were extremely low. But since then, communities near the lakes have experienced severe flooding and coastal erosion thanks to high water levels on Lakes Michigan, Huron, and Superior. As Wendy Leger, co-chair of the Great Lakes-St. Lawrence River Adaptive Management Committee, told the New York Times, "We need to be prepared for extremes [in the Great Lakes]. Whether it's extreme weather patterns, whether it's extreme water levels, whether it's extreme droughts and storms, we just need to be prepared for extremes."
Beyond physical climate risk, Michigan's economy is also closely tied closely to the Great Lakes, and unpredictability in water levels is not ideal for the state's economy. Economic activity on Lake Michigan alone "contributes more than $49 billion in wages to Michigan workers."
The lakes are also so vast that they impact regional weather. It's a positive feedback loop: As temperatures rise and precipitation patterns change, the Great Lakes change. In turn, the changed Great Lakes impact temperatures and precipitation around them.
But we should all care about the Great Lakes, whether we live in Michigan or not. Collectively, these five lakes hold 20 percent of the world's freshwater supply. And climate change is making that water supply insecure.
You Can Take Action, Wherever You Live
To change everything, we need everyone.
Are you ready to learn even more about how we can move together to end the climate crisis?
Sign up now to receive emails from Climate Reality with the latest climate science and news on this crisis, as well as ways you can get involved with the movement for solutions.