August 14, 2017 | 9:42 AM
How is the Climate Crisis Affecting the Mid-Atlantic?
When President Trump announced his intention to pull the US out of the landmark Paris Agreement, one thing he said stuck out to us: "I was elected to represent the citizens of Pittsburgh, not Paris."
This is true – which is why his dangerous reversals of critical environmental policies make so little sense. Pittsburgh, as well as the rest of the Mid-Atlantic region, is feeling the negative effects of the climate crisis right now.
It's for that reason that we're bringing our next Climate Reality Leadership Corps training straight to Pittsburgh on October 17—19, to train hundreds of citizens from around the world to effectively speak truth to power about the crisis and inspire action in their communities.
But first, let's dig a bit deeper into the Mid-Atlantic – an area of the contiguous US roughly composed of Maryland, Washington DC, Delaware, New Jersey, West Virginia, Virginia, New York, and (of course) Pennsylvania.
WATER
Bodies of water are a major part of life in the Mid-Atlantic.
For instance, every state in the region borders the Atlantic Ocean, is part of the Chesapeake Bay Watershed, or both. The Chesapeake Bay Watershed is absolutely massive, and covers almost 65,000 square miles spread across parts of New York, Pennsylvania, Delaware, Maryland, Washington DC, Virginia, and West Virginia. All the precipitation that falls in this area eventually drains into the Chesapeake Bay, which leads directly into the Atlantic Ocean. With climate change transforming the water cycle, the consequences for that watershed and the many others in the region are profound.
Why? A significant portion of land in the watersheds are used for agriculture. Increasing annual precipitation in parts of the region combined with heavier precipitation events – the heaviest daily precipitation events increased by 71 percent between 1958 and 2012 – may lead to more floods and runoff, which can carry increased sediment loads, pathogens, and nutrients from fertilizer directly into the bay. Not only does this negatively impact water quality, it also creates a more hospitable environment for harmful algae blooms.
Algae blooms are ecologically devastating. Dense blooms block sunlight from permeating the water and reaching aquatic plant life that depends on the sun for survival. Blooms also remove oxygen necessary for animal life from the water, creating massive "dead zones" – areas where the oxygen is so low that the water is inhospitable to life, suffocating large amounts of fish and crustaceans.
Future changes in air temperature and precipitation are also projected to change stream temperature, which will impact the health and habitats of local ecosystems – more than many people realize.
The image above is a representation of the entire Chesapeake Bay Watershed. The watershed covers most or part of every state in the Mid-Atlantic, except for New Jersey.
HEAT
If you've sweated through the current summer or suffered through sweltering temperatures across the region, you know that temperatures are rising in the Mid-Atlantic – and it's a major cause for concern well beyond a hot car ride.
Intense heat can have a serious impact on human health, and – thanks to the climate crisis – days of extremely high temperatures and poor air quality are only becoming more frequent. Worse, these days hit vulnerable populations in urban centers the hardest – specifically, babies, children, and seniors, as well as people who work outdoors or are already ill.
As heat-related stress becomes more common, we could also see mortality rates from related illnesses rise. As just one example, intense heat can aggravate existing respiratory issues and heart disease. It's not feeling the heat that's the only issue either, as higher temperatures can also lead to longer allergy seasons and greater amounts of allergens in the air. For instance, ragweed season has increased 13 to 27 days in northern US latitudes.
The bad news about more heat goes beyond what it does to us personally. Analysts expect increasing heat to interfere with local economies, influencing everything from farming to skiing. More heat and rain could also mean more weeds and shifting pest habitats, both of which will interfere with crop production. Cold water fisheries are also expected to suffer as water warm. And ski resorts from the Poconos to the Adirondacks could be looking at winters with a lot less white as precipitation falls more as rain than snow.
This image is the National Climate Assessment's projection for number of days per year over 90 degrees Fahrenheit relative to estimated trends in carbon emission levels. Image from NOAA NCDC/CICS-NC's Climate Change Impacts in the United States: The Third National Climate Assessment, page 374.
WHAT YOU CAN DO?
So this all sounds pretty severe, but don't worry – there's still hope.
If you want to do your part to help fight the climate crisis, then apply for a Climate Reality Leadership Corps training. You'll work with former US Vice President Al Gore, as well as respected climate scientists and communicators to get the science and media skills to mobilize your community for action at this critical time.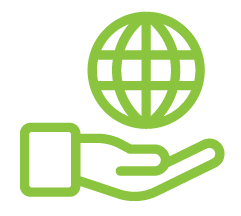 Before You Go
At Climate Reality, we work hard to create high-quality educational content like blogs, e-books, videos, and more to empower people all over the world to fight for climate solutions and stand together to drive the change we need. We are a nonprofit organization that believes there is hope in unity, and that together, we can build a safe, sustainable future.
But we can't do it without your help.
If you enjoyed what you've just read and would like to see more, please consider making a generous gift to support our ongoing work to fight climate denial and support solutions.