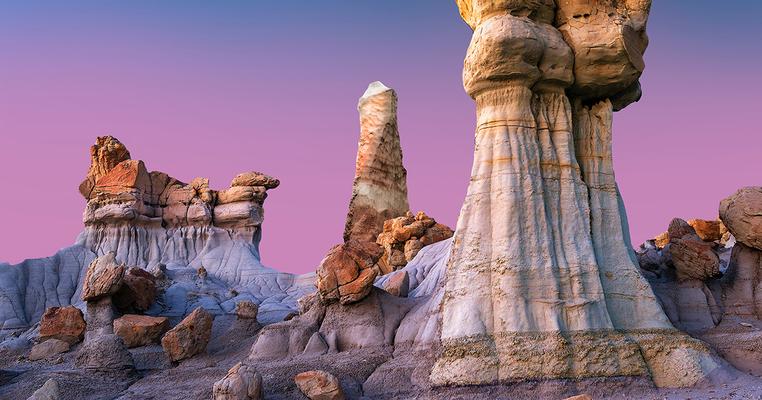 How Is the Climate Crisis Affecting New Mexico?
Here are three key ways that the climate crisis is impacting the Land of Enchantment and the people who live there today.
(Ed. Note: This post was lightly updated on March 17, 2022 to provide additional information on Climate Reality's upcoming, free, in-person climate advocacy training in Las Vegas, Nevada from June 11-13, 2022. For further information or to apply for the training today, click here.)
When you think of New Mexico, what comes to mind? Is it the so-called Roswell UFO incident of the 1940s? Or Walter White and Jesse Pinkman's life of crime unfolding on Breaking Bad? You might even be a fan of Georgia O'Keeffe's landscapes.
New Mexico is also a state that more than two million people call home, and there's no doubt it's called the Land of Enchantment for good reason. New Mexico has both rose-colored deserts and snow-capped mountains, and everything in between. But all this natural beauty could drastically transform under the pressure of a changing climate.
Luckily, the state is taking action to address the climate crisis. New Mexico is a member of the US Climate Alliance, which means it is committed to reducing greenhouse gas emissions and upholding the goals of the Paris Agreement at the state level. Governor Michelle Lujan Grisham also created a "task force focused on addressing the changing climate" that includes every state agency.
So what's at stake for New Mexico? Here are three key ways that the climate crisis is impacting the Land of Enchantment and the people who live there today.
Heat
Here's the climate reality: New Mexico is part of the southwest region—the hottest and driest part of the United States. And climate change is only making this region hotter and drier.
As humans burn more and more fossil fuels, we're releasing heat-trapping gases into our atmosphere—which means rising temperatures and more extreme heat events around the world.
Since the 1970s, New Mexico's average annual temperature has increased by about 2.7 degrees Fahrenheit, and without action to reduce greenhouse gas emissions, "historically unprecedented warming is projected [in the state] by the end of the 21st century."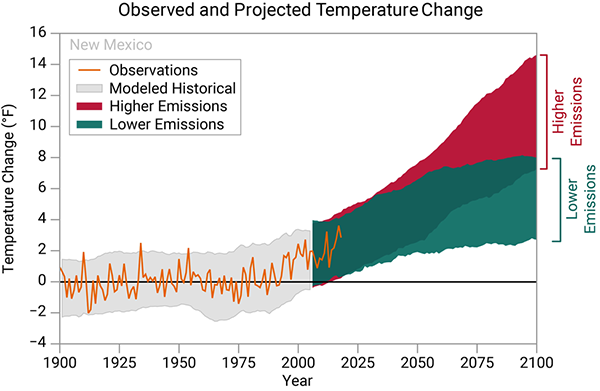 Even just a few degrees of warming can have a serious impact on every aspect of our lives, from how we get our food to the health of our families. In fact, New Mexicans are already experiencing more and more extremely hot days, when temperatures are at or above 100 degrees Fahrenheit.
Extreme heat is more than just a nuisance. It can be extremely dangerous to the human body, overwhelming our ability to regulate a healthy internal temperature. Today, the state has an average of about 20 days per year that are considered dangerous or extremely dangerous, heat-wise. That number could more than double by the middle of this century, with young children, the elderly, and low-income people most at risk.
Water Security and Drought
Here's the climate reality: Increasing temperatures in New Mexico mean shrinking water resources.
New Mexico is already parched, with many areas of the state receiving less than 15 inches of precipitation over the entire year. According to the Union of Concerned Scientists, changing precipitation patterns in the state due to climate change are expected to result in "more intense droughts and a greater proportion of precipitation falling as rain rather than snow." Both of these trends have serious implications for water security across New Mexico.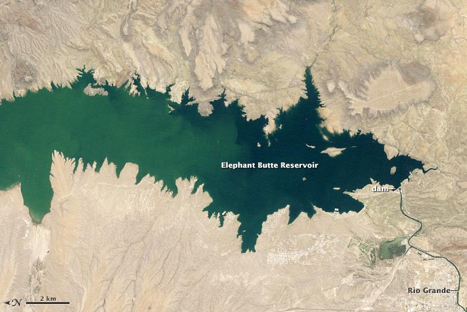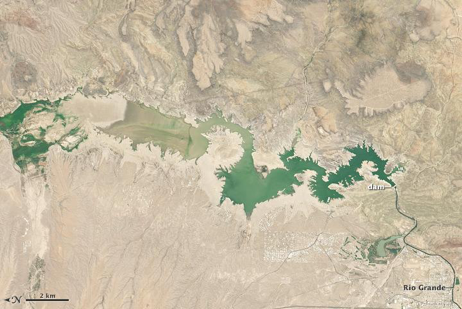 Elephant Butte Reservoir in 1994 versus 2013.
You don't have to look much further than Elephant Butte Reservoir on the Rio Grande to see the impact of climate change on New Mexico's water resources — and its farmers.
The Washington Post recently spoke with New Mexican pecan farmer Laura Hill on how the "unreliable" Rio Grande has put her farm and others in the region at risk. "The Rio Grande is sort of part of this region," she said. "So to see it without water is a reminder that things are drying up." She went on to say, "I don't know if in generations to come there'll be pecans growing here."

"This is the Rio Grande. It's not very grand right now, it's dry," says Laura Harper, farmer of Del Valle Organic Pecans.

"While some people in the Valley might not agree with me, I definitely think it's human related."https://t.co/pwg56WqedF pic.twitter.com/FXNM5y2dfY

— The Washington Post (@washingtonpost) September 27, 2019

As surface water, like the reservoir, becomes more and more scarce due to a changing climate, farmers like Laura have had to turn to groundwater resources by drilling wells. According to the Union of Concerned Scientists, in 2013 (when the reservoir reached a 40-year low), "farmers received less than 10 percent of their typical irrigation water." In fact, as reported by the Washington Post, "many of the farmers along the Rio Grande have had to rely so heavily on groundwater that" Texas sued New Mexico in 2013 over water resources.
The climate crisis has serious implications for New Mexico's water supply — and it's clear that water insecurity could have serious implications for its food supply, too.
Wildfire
Here's the climate reality: Rising temperatures and increasing drought in New Mexico are expected to mean more frequent and intense wildfires in the state.
The links between warmer temperatures, drought, and wildfire are clear. As we wrote in 2018:
"Warm weather is arriving earlier and earlier and lasting longer. It goes to figure that snowpacks are melting earlier, leaving less water available during the heat of the summer. Precipitation patterns are also changing. The result? Parching of the land and die-off of plant life. All these dead and dried-out plants then act as tinder, igniting when the heat soars and lightning strikes or a careless cigarette butt is tossed in the wrong direction."
According to data from the Union of Concerned Scientists, "The fire season in New Mexico has lengthened substantially over the past 40 years—from five months to seven—and fires of more than 1,000 acres occur twice as often."
In other words, on average, fire conditions can occur over a longer period of time each year and large wildfires in the state are becoming more frequent.
In 2011, New Mexico experienced the worst wildfire in state history up to that point, the Las Conchas Fire. Then in 2012, the record was broken again when the Whitewater-Baldy Complex Fire ate up twice as much land — nearly 300,000 acres. This is part of a dangerous new normal for wildfires in the American West, and the fingerprints of human-caused climate change cannot be ignored.
Here's What You Can Do
The need for action to confront the climate crisis and accelerate a just transition from fossil fuels to clean, renewable energy couldn't be clearer.
That's why – from June 11-13 in Las Vegas, Nevada – The Climate Reality Project and former Vice President Al Gore will host the 49th Climate Reality Leaderships Corps training for climate activists across the US Southwest.
This summer's Las Vegas event marks our first in-person Climate Reality Leadership Corps training since 2019. (Click here to review our COVID-19 protocols.)
And it comes at a critical time.
Across the US Southwest, people are feeling the effects of the climate crisis. Most noticeably, they're feeling the heat.
In recent years, summers in the region have become an endless series of record-breaking heat waves. And decades-long droughts are drying out rivers and reservoirs, creating thousand-acre tinderboxes just waiting for the next wildfire. All the while, the most vulnerable among us are suffering the impacts of this crisis first and worst.
But with vast, open desert spaces providing some of the nation's highest solar potential, the region can also be a major player in helping to power the just transition to a clean energy future.
The two-and-a-half day free Las Vegas training provides those ready to make a difference in the region with the tools, knowledge, and networks to mobilize communities and drive real action for climate solutions.
As we've long said here at Climate Reality: Give us three days. We'll give you the tools to change the world.