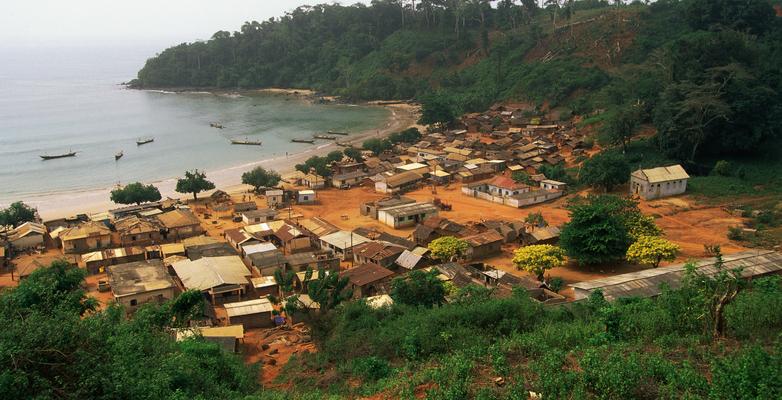 How the Climate Crisis is Impacting Ghana
Rising global temperatures are already driving weather extremes in Ghana. The lasting human impact could be dire.
Communities across West Africa are among the smallest contributors to global greenhouse gas emissions, but they are already feeling the effects of the climate crisis disproportionately. From droughts to floods, hunger to disease, climate change is ripening conditions for increased human suffering, violence, displacement, and economic collapse in the region.
With a growing populace, high poverty rates, and economic dependence on vulnerable industries like agriculture, Ghana is one such West African country at an increased risk of climate vulnerability. Extreme weather events and higher temperatures are already impacting the Ghanaian economy and human security landscape, shifting living conditions in turn.
Extreme Weather Conditions
Changes in the global climate are raising the heat in West Africa. Under a high emissions scenario, the number of dangerously hot days per year is projected to increase to 140 days by the 2060s – that's over one-third of the calendar year.
Such heat conditions can lead to flare-ups in chronic conditions and diseases, worsen mental health, and increase one's chances of having a heart attack, getting an infection, or being injured at work. Extreme heat also impacts labor productivity; at a 3-degree Celsius increase from 1990 levels, Ghanaians' manual labor capacity is projected to drop 11%.
Amid these heat waves, Ghanaians experience volatile rainfall patterns that dangerously affect their daily lives. While flooding impacts an estimated 45,000 Ghanaians every year, drought is also estimated to affect 13% of the country's population. These climactic disasters aren't just future projections for Ghanaian communities – they are daily realities.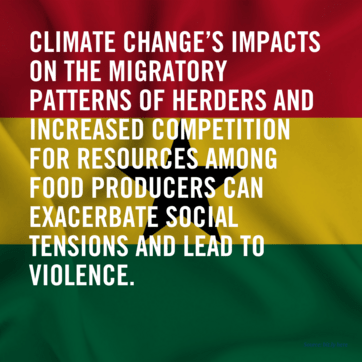 In 2020, the country's direct economic loss from drought was an estimated $95 million USD. Models predict that, thanks to climate change, rainfall could decline a further 12% from 2020 levels by 2050, causing an average direct economic loss of $325 million USD per year by 2050. Even with an overall decrease in rainfall, future precipitation events that do occur are projected to do so erratically. Heavy downpours will flood communities and devastate cornerstones of local economies, such as agriculture.
Agricultural Impacts
As of 2021, agriculture employs around 45% of the Ghanaian labor force and contributes roughly 21% of the national GDP. Most of these farm workers operate small, rain-fed farms, which are particularly vulnerable to erratic rainfall patterns influenced by a changing climate. Higher temperatures can also impact farmers' crops by decreasing yields and increasing the presence of pests and disease.
Increased CO2 levels have been found to decrease nutrient density in numerous staple food crops as well. Therefore, as CO2 levels rise, individuals may need to consume more food to receive sufficient levels of the same nutrients. This presents a significant challenge in an era of drought and flood-induced decreased food availability, coupled with anticipated population growth.
One of Ghana's top agricultural products – cocoa – is also vulnerable to rising sea levels. Ghana is the second largest cocoa producer in the world, with approximately 800,000 farm families contributing to the country's annual production. Most suitable areas for cocoa production exist along Ghana's coast, and are thus in danger of floods, soil salinization, and coastal erosion. These conditions, along with other agricultural impacts like drought, put the livelihood of hundreds of thousands of families at risk.
Ghana's food production industry also includes activities such as fishing and livestock herding. The fishing industry, which as of 2019 supported the livelihood of 10% of the Ghanaian population, is under stress due in part to the impact of warming water temperatures on the migratory and reproductive patterns of fish species. By 2050, climate change alone could deplete the Ghanaian fishing industry's catch potential by 26% or more.
The livestock industry, an agricultural subsector that contributed over 8% of the nation's GDP in 2020, is affected by heat stress and erratic rainfall patterns. Low availability of fodder and water driven by these climatic conditions has increased competition for resources and forced herders to change their mobility patterns.
Human Health and Security
Climate change's impacts on the migratory patterns of herders and increased competition for resources among food producers can exacerbate social tensions and lead to violence. Farmer-herder conflict over arable land, water, and crop damage caused by trespassing livestock can lead to destruction of property, armed robbery, ethnic marginalization, and violence.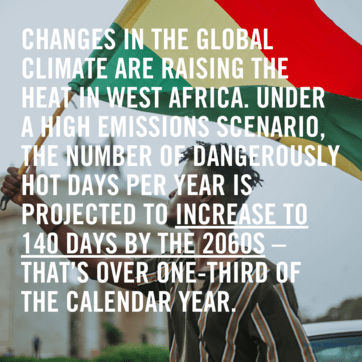 [ALT TEXT: Man waving Ghana flag. "Changes in the global climate are raising the heat in West Africa. Under a high emissions scenario, the number of dangerously hot days per year is projected to increase to 140 days by the 2060s – that's over one-third of the calendar year."]
Climate change also drives settled families to migrate, especially within their own countries from rural to urban areas. It is estimated that West African countries will have up to 32 million internal climate migrants by 2050 if climate and development actions are not taken. This displacement can lead to breakdowns of traditional familial and communal social structures, leaving migrants without support and thus increasingly vulnerable to poverty, violence, and discrimination. It can also present a security concern, as climate-driven rapid urbanization can heighten pre-existing stresses related to exclusion, governance, and poverty.
Migration is not the only climate-related factor that will increase poverty rates. Other consequences from climate shocks – including infrastructure damage caused by flooding and disrupted economic activities caused by extreme weather – are expected to push at least one million more Ghanaians into poverty by 2050.
Increasing poverty rates present a huge challenge in a nation already struggling with food security. As of 2020, 3.6 million Ghanaians were food insecure, including 1.6 million severely food insecure individuals – people who go an entire day without eating at times during the year. The impact of climate shocks on the country's means of food production will only raise this number, pushing more and more people toward acute food insecurity if urgent climate action is not taken.
What You Can Do
In the words of Ghanaian President Nana Akufo-Addo, "Our hope depends on the actions we take today."
Like President Akufo-Addo, we believe that each of us has the power to make a difference right now. Are you ready to join us in the fight for a better global future?
Start by signing up for our email activist list for the latest updates on how you can get involved in the movement for climate solutions.