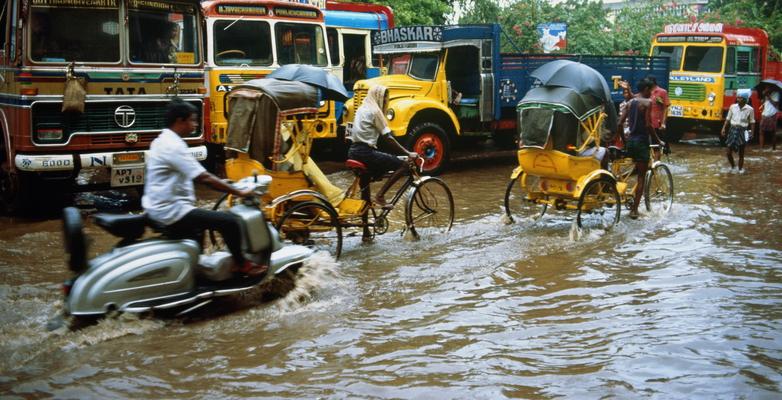 How the Climate Crisis is Impacting India
As global temperatures rise, we will continue to see India's poorest suffer the most as climate change destroys livelihoods and washes away communities. 
As India's prime minister, Narendra Modi, said last year during remarks at the UN's COP 26 climate conference in Glasgow, Scotland: "For many developing countries, climate change is looming large over their existence. We have to take big steps today to save the world. This is the need of the hour."
From heat waves devastating crop yields to torrential rains causing flooding that submerges entire communities, India is experiencing some of the most extreme impacts of the climate crisis. While India comprises a little over 17% of the world's population, it produces just about 7% of global emissions.
Here are a few major ways climate change is affecting India. 
INDIA IS HEATING UP
There's no denying it: India is heating up. Between 1901 and 2018, temperatures rose by 1.3 degrees Fahrenheit (0.7 degrees Celsius).
This might seem miniscule, but slight increases in temperature can throw our planet's natural systems out of whack, contributing to extreme weather like heat waves, drought, and flooding. These climate impacts also disproportionately affect working families and people of color.
In India (and all over the world), you can see the effects of rising temperatures everywhere you look as the climate crisis disrupts our daily lives – and critical sectors like our energy, agriculture, and transportation systems. This spring, India sweltered through its hottest March on record.
A heat wave lasting for weeks caused temperatures to soar above 110 degrees, with some areas hitting 115 degrees. Researchers found that between 2000-2004 and 2017-2021, India saw a 55% increase in deaths due to extreme heat. March's heat wave killed at least 90 people across India and Pakistan, contributed to forest fires, and devastated farms and India's wheat yield.
Before its agriculture industry was impacted, India was going to step in and help provide food relief to countries in need after the Russia-Ukraine crisis disrupted the global food system. But after the heat wave, India had to ban wheat exports to ensure its own people had enough to eat. One study found that climate change made the heat wave 30 times more likely.
FLOODING, DROUGHT, AND RISING TEMPERATURES
Like many countries around the world, India is facing water security issues, and at the same time, widespread flooding.
India's agricultural sector relies on monsoon season. However, over the last century, there have been more days with extremely heavy rains with longer dry spells in between. This has heavily impacted India's central belt running from western Maharashtra State to the Bay of Bengal, which has seen extreme rainfall events increase threefold over the last 70 years, but has also had a decrease in total annual rainfall.
The Himalayas, a long-time protector against drought in India, are at risk, too. A 2019 report predicted that by 2100, at least one-third of the glaciers in the region will be gone. Glacial melting as a result of rising temperatures has also exacerbated both flooding and drought, especially in agricultural mountain communities that rely on seasonal snowmelt.
Flooding impacts India's urban areas, too. This fall, torrential rain flooded Bengaluru, known as India's Silicon Valley, where it disrupted water supplies and left many stranded in their homes. In some areas of the city, rapid urbanization and a lack of sustainable infrastructure is thought to have contributed to the flooding.
In 2005, 37 inches of rain hit Maharasthra state in under 24 hours, flooding the city of Mumbai and killing almost 900 people. The heavy rain was traced back to warming in the Arabian Sea, which is thought to have contributed to the moisture surge. In the past decade, flooding attributed to extreme rain events resulted in losses of approximately $3 billion each year.
HOW YOU CAN FIGHT THE CLIMATE CRISIS
As global temperatures rise, we will continue to see the country's poorest suffer the most as climate change destroys livelihoods and washes away communities. Last year, Cyclone Yaas left an estimated 150,000 homeless in eastern India after destroying at least 25,000 homes.
In India, approximately 70% of households rely on agriculture for their livelihoods but are "struggling with lower yields" attributed to "frequent droughts and lower rainfall." Farmers are severely impacted by these unpredictable weather patterns, which has caused many to move on to urban areas, where extreme heat can make outdoor work dangerous. These are just a few ways the climate crisis hits India's most vulnerable communities the hardest.
The good news is that there's still time to turn things around. But only if we act now. Here at Climate Reality, we are fighting to bring real solutions to communities all over the world, and with support from activists like you, we're catalyzing the bold climate action that our planet desperately needs.
You can get even more involved in our work to forge a just, sustainable future by joining one of our upcoming trainings and becoming a Climate Reality Leader. You'll join a global community with the skills and knowledge to take on the climate crisis – and win. 
To stay connected with the fight for climate solutions around the world, sign up for our email activist list today.