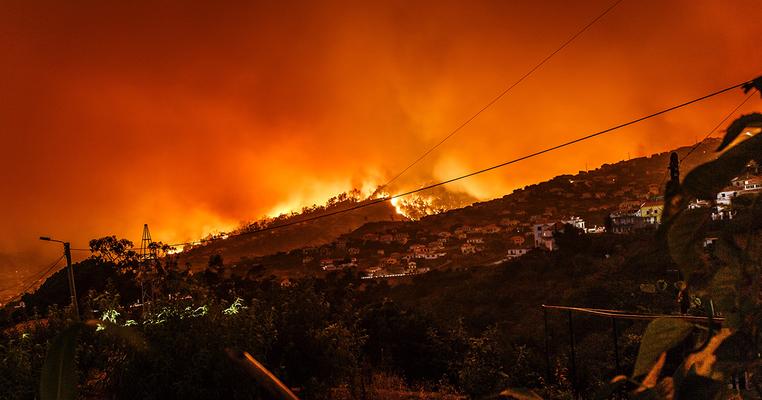 How Does Climate Change Affect Forest Fires?
Increases in average annual temperatures create conditions that dramatically elevate the risk and severity of forest fires.
When we talk about the many effects of the climate crisis, a few tend to take center stage.
We can easily understand why the Atlantic Ocean lapping down the streets of Miami is a problem. We can see retreating glaciers and bone-dry fields where crops used to flourish with our own eyes. We feel the pain of coastal cities ravaged by stronger and stronger hurricanes.
But we also shouldn't overlook the myriad of other – sometimes less obvious – ways that climate change is disrupting natural systems. The slow drying out of a Western forest and beetles marching one-by-one into the trees may not inspire a telethon, but over time they can devastate ecosystems and landscapes and set the stage for destructive forest fires that reduce entire communities to ash.
Climate Change and the Water Cycle: Four Big Questions Answered
National Wildlife Federation (NWF) notes that increases in average annual temperatures create conditions that dramatically elevate the risk and severity of forest fires, particularly in the American West. Here's how:
Long fire seasons: When warm weather arrives early, it leads to premature spring snowmelt and runoff. Many places are seeing their snowpack melt one to four weeks earlier than just 50 years ago…at the same time as unseasonably warm temperatures creep deeper into the fall. Keeping in mind that forests are considered combustible about a month after the snowmelt ends, the result is a much longer than usual period of time when forests are vulnerable to fire.
Dry conditions: Below-average rainfall in some areas – a result of the enhanced evaporation rates associated with warming and the climate crisis – naturally increases the probability and duration of a fire.
Infestations: Warm and dry conditions, particularly in months that were once cooler, allow some very destructive insects like the mountain pine beetle to survive winters and reproduce quickly. The beetles and other pests kill trees and brush, which then dry out, making them far easier to ignite.
Lightning: One major impact of climate change is increasingly severe storms. Severe storms carry a lot of energy, and NWF estimates that "lightning in the [American West] could increase by 12 to 30 percent by mid-century."
Taken together, the first three of the above effects create favorable conditions for a dangerous forest fire – and the fourth acts as a match. In pretty short order, a once thriving, vibrant forest is transformed into a massive tinderbox.
In the American West, fire season is now two-and-a-half months longer than it was just 40 years ago. Randy Anderson, a longtime firefighter and superintendent of the Snake River Hotshots (a Type I Interagency Hotshot Crew dedicated to wildland fire suppression), told our friends at Years of Living Dangerously, "You can't deny the fact that it's getting warmer and drier. And we're seeing it in the effects of the wildland fires."
Anderson went on to describe being awed by an over 20,000-acre fire when he first started fighting fires in 1987, but notes, "It blew our minds at that time, being a very large fire. And nowadays, we're seeing some 400,000-acre fires."
Watch:

Find out what weekly actions you can take to fight the climate crisis.
As Anderson explains, Western wildfires continue to worsen as the climate crisis accelerates.
In a 2016 study published in the journal Proceedings of the National Academy of Sciences (PNAS) of the United States of America scientists from the University of Idaho and Columbia University found that "observed warming and drying have significantly increased fire-season fuel aridity, fostering a more favorable fire environment across forested systems."
Why the Peoples Climate March Mattered
The study estimated that human-caused climate change contributed to the burning of an additional 10.4 million acres of forest from 1984—2015, nearly double what would have been expected without it. And of course, wildfires on this scale both release large amounts of carbon dioxide and decrease the number of trees available to absorb it, creating something of a dangerous feedback loop.
That's why it is so important that we break the cycle. Alternative facts won't halt rising temperatures, and burning more fossil fuels sure won't protect our planet. But clean energy and science will.
What You Can Do
Are you ready to make a difference for the future of our planet?
Across the country and around the world, everyday activists supporting sustainable solutions in their communities are making the difference in the fight against the climate crisis. With federal-level climate action stalled in the US and other parts of the world, our movement is working hard to effect change at the local level. That's why we invite you to learn more about our Climate Reality Leadership Corps.
Our next training event will be held March 8-10 in Las Vegas, Nevada, and later this year we will be in San Antonio, Texas (April 14-16, 2020); Raleigh, North Carolina (June 29-July 1, 2020); and Detroit, Michigan (August 11-13, 2020). Click here to learn more about joining the fight.