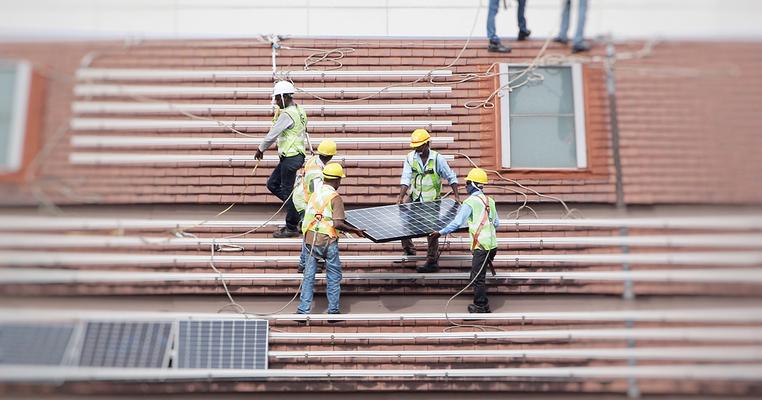 Making Home Solar Happen: Financing and Installation
Check out part two in our Making Solar Happen blog series, dealing with solar financing options and what you should look for in a home solar installer. (And be sure to sign up to be the first to get an alert when part three goes live.)
You've made the decision to go solar. You've determined that your house is a great fit for a home solar panel system. The next step is figuring out who you'll get to install it – and how you're going to pay for it.
Luckily, for part two in our home solar series, we have a few great tips for the former – and there are plenty of options for the latter.
You'll want to begin investigating these two things (financing and installation) in concert for one big reason: The installation company you decide to work with may have a financing product available.
Think about it like a car dealership – if you go to one to buy a car, you can also often get financing through the dealer. But also like a car dealership, you don't have to do it that way. We're just saying that since the two go hand-in-hand, you should consider investigating them that same way, which will help you in figuring out the best path forward for you.
But first up, we're going to start with some very good news:
Many states offer homeowners who install solar panels on their homes incentives to do so. These range from lower-interest loans and grants to tax credits, but the exact details of these incentives vary from state to state. You'll need to research your own state's incentive program to see what you qualify for.
There is, however, a big incentive at the federal level for everyone in the US – the solar Investment Tax Credit (ITC). The ITC has been instrumental in the successful expansion of home solar.
"The ITC is a 30 percent tax credit for solar systems on residential (under Section 25D) and commercial (under Section 48) properties," according to the Solar Energy Industries Association (SEIA). "The residential and commercial solar ITC has helped annual solar installation grow by over 1,600 percent since the ITC was implemented in 2006 – a compound annual growth rate of 76 percent."
There's a catch, though (isn't there always with taxes?): To get the full 30 percent tax credit, a project must begin this year. For home solar projects begun in 2020, the credit steps down to 26 percent. It drops to 22 percent for installations begun in 2021.
Now, on to your options for funding your home solar project.
HOW TO PAY FOR IT
Right up top, we have to state the obvious: If you plan to stay in your home for a while and have the ability to pay for your home solar system with cash, doing so will bring you the greatest and quickest return on investment. You'll begin to experience energy savings and lower utility bills immediately – and as soon as they add up to cover the cost of the investment, you'll go on to reap the benefits of likely decades of nothing-but-net utility savings.
If, like most people, you're not quite able to do that, no problem. There are many other financing options. Here's a quick overview:
Solar Loans
Solar loans are similar to most other home improvement loans used to complete upgrades or renovations, like re-doing your kitchen or bathroom.
However, there's one major financial benefit that solar loans have over traditional home equity-type loans: with a solar panel loan, you're purchasing an asset that also generates financial value. Over the lifetime of your system, you'll save anywhere from 40 to 70 percent on electricity costs (versus doing nothing) – which kind of makes you want to ask your kitchen renovation, "What have you done for me lately?"
It's important to note here that to qualify for the ITC mentioned above, you need to own your system outright. By funding your solar panels with a loan, you'll do just that. If you lease your system (more on that below), you won't be able to get any tax breaks or other incentives since you don't own the system.
These loans can be obtained from a variety of sources, including banks and even some solar installers.
Learn more about solar loans here:


Solar Leasing
For those without the up-front capital to buy a panel system outright or if you're unable to secure a solar loan, leasing your home solar panels is a great option.
With a lease, a third party owner will install your solar panels and you'll pay a fixed monthly lease payment, as part of "an agreement with the solar leasing company that entitles you to the benefits of the system (i.e., the energy that the solar panels generate) for the term of the contract, which is generally around 20 years," according to EnergySage.
Another benefit: Most leases include maintenance. If you own your system and something goes wrong, you're responsible for getting it repaired (luckily, solar panels are very dependable, rarely experience technical problems, and typically come with long-term warranties). If you lease your panels, you can call your provider. But since you don't own them, you won't be able to get the tax breaks or other state-level rebates mentioned above.
Power Purchase Agreements (PPA)
PPAs are very, very similar to solar leases. But there's one important difference: With a PPA, you agree to purchase the power generated by the system at a set per-kWh price, rather than pay a fixed monthly rent for the system itself. So you pay for the electricity you use, kind of the way you already do with your utility company, except it's solar and produced on-site.
But just like a lease, you don't own the system and will contact the leasing company for maintenance. Also like a lease, when your agreement ends, you can buy the system outright, leave it in place and renew the agreement, or have the leasing company remove it.
CHOOSING A SOLAR INSTALLER
Now that we've got you thinking about exactly how you'll finance your leap to solar energy, it's time to start thinking about who will make your dream a reality.
But where to start?
Choosing the right solar installer can be challenging. Should the installer be licensed and insured? Should I get quotes from multiple installers? What about references? Do I ask for those too?
Yes. Yes. And yes.
Like you would with any other home improvement project, it's important to do your research and shop around. This typically begins online with a little background digging. As the conversation transfers to the real world, here are 10 big questions you should ask prospective installers*:
Is your company properly licensed or certified and insured? (It should be.)
Is your company familiar with local permitting and interconnection processes? (They better be.)
Do you have experience working with my utility company? (In a perfect world, you'd like for them to.)
How long have you been in business? (The importance here is subjective, but knowing is important. Every new business needs customers to get off the ground, and supporting new solar business is vital to the growth of the industry. But if they are a newer installer, that may impact the number of references they can provide, the timeline of the project, and more.)
Can your company provide references from other customers in the area? (The correct answer here should also be yes.)
What is the warranty for your solar systems? (Most solar energy systems require little to no maintenance and often run without any problems for decades, but your installer should still have repair and replacement procedures in place in the – again, very unlikely – event that a problem does occur.)
How much will I have to pay up-front? (Solar offers and payment structures vary significantly from one installer to the next. But you should know that there are many loan, lease, and PPA options out there where you pay $0 down, as well as "in-between" plans allowing you to pay some amount up-front to save more down the road.)
If there are any problems with the system, who should I contact? (Ideally, this will be the installer themselves or an established, contracted repair service. But much like the question above about warranties, the point here is that in the unlikely event of a problem, there is a system in place to fix it.)
Does the company offer a production guarantee? (A production guarantee assures you are getting the amount of electricity you were promised by your solar installer. This is a great thing.)
Is there a fee for breaking the lease/contract (if applicable) early, say, because I need to move for work? (There are often fees for breaking a variety of leases, from vehicles to apartment rentals, and with solar that sometimes means paying the remainder of the lease if, for example, the person buying your home does not agree to take over the lease. So this is more of a "you need to know the terms" than a "there should or shouldn't be one" type of question.)
*This list is not meant to be exhaustive. Make sure you do thorough research on your solar installer, check the company's rating with the Better Business Bureau, and do your best to talk to others – especially those in your area, since solar regulations vary from place to place! – about their experiences with solar installation. For further detailed questions to ask about the solar installation process, visit EnergySage.
>> Making Home Solar Happen: Do Panels Make Sense for My Home? <<
At the end of the day, only you can know what solar financing option will work best for you and your family, and exactly what you need in an installer. But just like the car dealer we mentioned above, you should do your very best to seek out competent professionals – as well as people you actually want to be in business with over the long-term.
Financing and installation are easily the most involved parts of the home solar process. But once they are sorted out, you're in the home stretch.
Now, all that's left is turning your system on – though, there's a bit more to understand there too, including what net metering may mean for you – and keeping your panels up to snuff.
Excited to learn more?
Read the final blog in our home solar series, Making Home Solar Happen: Flipping the Switch and Maintaining Your System, now.