December 10, 2020 | 12:00 PM
Moving Forward: Five Years Closer to the Paris Agreement's Goals
This week, we celebrate the fifth anniversary of the Paris Agreement, when, in 2015, nearly every country in the world signed an agreement to limit global warming.
Such cooperation is unique in the history of humankind and demonstrates what can be accomplished if we work together towards a single goal. Of course, the Paris Agreement is not perfect and we still have a long way to go. But we can rightfully celebrate the initial results of this groundbreaking agreement and the commitments bringing us closer to the ultimate goal of keeping global temperature rise below 1.5 degrees Celsius above pre-industrial levels.
Below are some exciting examples of the results being achieved and the commitments being made by signatories to the Paris Agreement on different continents:
Africa

Ethiopia: Setting the Pace
Ethiopia is one of the few countries whose climate commitments and Paris Agreement targets have set them on the path to being "2˚C compatible," according to the Climate Action Tracker.
While the country is currently revising its nationally determined contribution, it issued its first ever 10-year economic development plan in June 2020. Under the title "Ethiopia: An African Beacon of Prosperity," the plan aims to build a green, climate-resilient economy. Ethiopia broke the world record in 2019 by planting 350 million trees in a single day, and it now plans to plant another 5 billion, although these plans may be delayed by the COVID-19 pandemic. Although the country has more ambitious targets than many worldwide, it is not yet on track to meet the 1.5 degrees target.
Ghana: Success at the Grassroots
Ghana is living proof that activism works! Climate Reality Leader Chibeze Ezekiel demonstrated the power of grassroots movements when his commitment to climate justice and advocacy for good governance prevented the coal industry from entering the country.
Chibeze spearheaded a four-year campaign that led to the Ghanain minister for the environment cancelling the construction of a 700 MW coal-fired power plant, which would have been the first in the country. Chibeze's campaign resulted in a stronger commitment to renewable energy on the part of the country's government, and he was awarded the 2020 Goldman Environmental Prize in recognition of his achievement.
Asia

China: Committing to Carbon Neutrality by 2060
Perhaps the biggest climate surprise of the year came in September 2020, when China updated its climate commitments. Despite currently being heavily reliant on coal, the country aims to hit peak carbon emissions by 2030 and to be carbon neutral by 2060. China is the second-biggest economy in the world, and when China steps up its climate game, others are bound to follow.
Oceania

New Zealand: Declaring a Climate Emergency
New Zealand Prime Minister Jacinda Ardern has called the climate crisis "one of the greatest challenges of our time" and has pledged to have a carbon-neutral government by 2025.
"This declaration (endorsed by the Parliament) is an acknowledgement of the next generation. An acknowledgement of the burden that they will carry if we do not get this right and do not take action now," she said.
North America

The US: Back in the Paris Agreement
Although President Trump pulled the US out of the Paris Agreement, President-Elect Joe Biden has already announced that the country will rejoin the agreement on his first day in office. This may be his first act towards combating climate change, but it certainly won't be his last. The president-elect has already announced a bigger commitment to solar and wind energy, a transition away from coal, and making buildings more energy efficient, for example.
South America

Chile: Aiming for 100% Renewable by 2050.
Chile is one of the world's fastest growing energy markets. Its solar market is on the rise, with nearly one-fifth of all renewable energy coming from solar PV. The Atacama Desert in the northern part of the country receives some of the planet's steadiest concentrations of direct sunlight, providing ideal conditions for solar power generation. Chile is taking advantage of this incredible resource with facilities like the 141MW Luz del Norte solar plant providing clean electricity to the country's grid and taking it closer to its goals of 60 percent renewable electricity by 2035 and 70 percent by 2050.
And finally, some exciting news from Europe:

UK: No Fossil-fuel Cars from 2030
The UK has brought forward its timeline for banning fossil fuels from 2040 to 2030, gaining 10 years in the fight against climate change. The move will greatly accelerate the transition to electric vehicles, since the purchase of fossil-fuel vehicles will become less appealing well before 2030. 
Another piece of good news is that, for the first time since 1790, the UK went for two months without burning coal. The fact that even a country that pioneered the industrial revolution can manage for an extended period without coal is an indication of the potential for a sustainable transition.
Portugal: Powered by 100% Renewables
For several days, Portugal powered its entire electric grid with 100 percent renewables, including hydro, wind, and solar. Portugal produces so much renewable energy that it sometimes has more than it needs. Although currently the grid still requires some fossil-fuel plants to stabilize the network, the country is aiming to be fully powered by clean energy by 2040.
Romania's wind power going strong
Romania increased its wind power generation by a staggering 21,600 percent between 2009 and 2016, from 14 MW to 3,028 MW. Its recognition as the country with the greatest wind potential in Southeast Europe has piqued the interest of investors from all over the world. In 2018, wind energy provided about 12 percent of Romania's electricity, and is expected to grow along with other renewables by 35 percent by 2030.
An eye to the future

The fifth anniversary of the Paris Agreement is a moment for both celebration and caution. Enormous progress has been made around the world, but we are not there yet. The devastating impacts of climate change are visible everywhere, and every single gram of CO2 emitted is a gram too many.
The bottom line is this: We need to do more, and faster. We must continue to put pressure on governments and big businesses and demand decisive action on all fronts.
With the holiday season approaching, one of the simplest and most effective things we can do is simply to talk about climate change, even at the Christmas dinner table! Surveys have shown that around 70 percent of people consider the climate crisis a major threat, but too few talk about it with their friends and family members. So share your concerns and inspire others to act!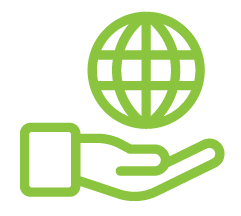 Before You Go
At Climate Reality, we work hard to create high-quality educational content like blogs, e-books, videos, and more to empower people all over the world to fight for climate solutions and stand together to drive the change we need. We are a nonprofit organization that believes there is hope in unity, and that together, we can build a safe, sustainable future.
But we can't do it without your help.
If you enjoyed what you've just read and would like to see more, please consider making a generous gift to support our ongoing work to fight climate denial and support solutions.