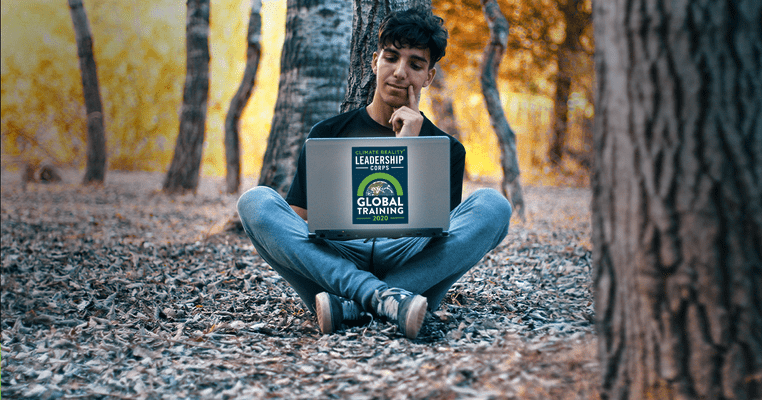 Our first-ever global training
We have some big news. This July, we will host our first-ever virtual climate advocacy training: a truly global gathering.
During this moment of physical distancing, we're excited to join together and raise our voices for change.
The COVID-19 emergency has shattered our sense of normalcy and forced us to grapple with the kind of world we want – and need – when this crisis is over.
We believe that together, we can create a world where we rapidly transition away from fossil fuels to end the climate crisis, safeguard our health, strengthen our communities' well-being, and ensure justice for those who have been marginalized in the past.
This intensive online event will bring together people like you from around the globe who are ready to make a difference.
During the training, you can expect to:
Hear from leading experts on strategies to implement practical clean energy and sustainability solutions around the world.
Gain an understanding of the road ahead for the climate movement and how we make a rapid transition to clean energy by promoting justice and equity.
Connect with other Climate Reality Leaders and become a member of our global network of activists.
Strengthen and build your skills in public speaking, advocacy, community organizing, and digital media outreach to be an effective activist and leader.
Our free event will take place virtually and feature one-to-two hours of programming each day between July 18-26, 2020.
At all Climate Reality Leadership Corps trainings, in-person or virtual, attendees gain the knowledge and tools to shape public opinion, inspire action, and lead the global fight for climate solutions.
While the outcome and level of commitment remain the same, in-person and virtual trainings differ in format and content. Climate Reality Leadership Corps in-person trainings are two-to-three-day immersive events tailored to have a particular focus on local and regional climate impacts and solutions. Attendees come from around the world, but the audience is primarily from the host state, country, or region.
The Climate Reality Leadership Corps Global Training is a series of live and on-demand sessions and learning exercises run throughout an extended week on a web-based platform. The content is global in nature with learning exercises and networking opportunities that will allow attendees to localize their experience to their geographic area.
Attendees who complete the Global Training requirements will join our powerful network of more than 20,000 Climate Reality Leaders in more than 150 countries around the world.
We hope you'll be part of our first-ever global training! Register today.