August 17, 2020 | 8:30 AM
Our Public Lands Should Be at the Forefront of Climate Solutions
Public lands comprise nearly one-third of the land in the United States. These vast, incredible spaces include national parks, grasslands, wilderness areas, and protected forests. And already, they are seeing the impacts of the climate crisis, from longer and more intense wildfire seasons to decreased snowpack and early runoff and so much more.
But many of these same natural wonders could have a big role to play in fighting the very crisis they are now enduring. Instead, however, more and more often, they are becoming an even bigger part of the climate problem.
The biggest reason why is pretty straightforward: The Trump Administration has been working hard to increase the extraction of fossil fuels and minerals from US public lands.
Our nation's public lands are not being used for their intended purpose, which is conservation as well as our enjoyment. Instead, they've become a major source of the nation's carbon emissions problem.
This is unfortunate for any number of reasons, but perhaps most particularly because, under the right circumstances, many of these lands could actually play an important role in fighting the climate crisis – largely by acting as carbon sinks and as areas for renewable energy growth, with the potential to create an awful lot of jobs along the way. Imagine these vast, protected spaces pulling carbon from the air and trapping it in the ground where it belongs, or offering up a little bit of that wide-open space to solar panels, rather than seeing their resources exploited to line the pockets of a select few.
How Our Public Lands Are A Part of The Problem

As of 2018, more than 25.5 million acres of public lands were under lease just for oil and gas drilling. Imagine the land area of the state of Virginia covered with oil and gas drilling stations and that would be close to how much public land is being used for oil and gas extraction.
The lifecycle emissions from the oil, gas, and coal extractions from public lands and waters were equivalent to more than 20 percent of total US greenhouse gas emissions in 2018. To put that in context: US public lands alone would rank as the fifth largest source of emissions in the world, ahead of Japan, Brazil, and Germany.
And the Trump Administration's focus on energy dominance on behalf of the few, and at the expense of a great many, has taken an already bad situation and made it much, much worse.
President Trump's Bureau of Land Management (BLM) has leased millions of acres of public lands to the fossil fuel industry with minimal public input and with little consideration for the climate and other ecological and cultural values associated with these lands.
Drew Caputo, an attorney for Earthjustice, said that the administration "almost treat[s] the public like an inconvenience that might slow down or get in the way of them passing out special interest favors to their friends in industry."
It's hard to not see his point.
The Bureau of Land Management issued an instruction memorandum in January 2018 aimed at speeding up leasing by streamlining environmental reviews and reducing the amount of time the public could comment on, and thus speak out against, arrangements to drill.
And to make our public lands even more attractive to exploration and development, the Trump Administration has also allowed these lands to be leased for as little as $2 per acre.
This reckless, unnecessary push to bring back the "glory days" of fossil fuels threatens our iconic landscapes and wildlife, and puts us firmly on a path toward climate catastrophe.
These lands are ours. They are part of our history, and they are being destroyed by greed – greed that is contributing to the climate crisis and which needs to be stopped now.

How Our Public Lands Can Provide Climate Solutions

But our public lands don't have to be part of the problem – they very much can instead be part of the solution.
Public lands can provide an excellent opportunity to put Americans to work conserving and restoring the damage already done.
Unemployment is at an all-time high. At the same time, 80 million acres of national forests need rehabilitation. Half a million abandoned coal and hard-rock mines and thousands of orphaned oil and gas wells need reclamation. And more than 12,000 species of at-risk wildlife, fish, and plants need conservation.
You do the math.
A new modern-day Civilian Conservation Corps could expand our recreational opportunities, increase resilience to extreme weather, and benefit our public land through planting trees and restoring soil that would sequester carbon dioxide emissions. And with 640 million acres of public lands, the potential for carbon sequestration is huge. 
Likewise, rather than focus public land use to benefit the coal, gas, and oil industries, we could instead use them to help us increase clean energy production and availability.
Drew McConville, senior managing director of government relations at The Wilderness Society says, "Our public lands have so much more to offer than yesterday's energy, which is fueling the climate crisis today."
Currently, less than 5 percent of the total US solar, wind, and geothermal capacity comes from projects on public lands. Yet, our public lands have the potential to provide about 20 million acres of largely untapped renewable potential for both solar and wind energy development.
It's hard to overstate the potential of our public lands as spaces to help us fight the climate crisis. From providing space to build out renewable energy capacity and creating jobs to deploying natural solutions like carbon sequestration, the sky's the limit. In fact, consider just these two facts about trees and carbon sequestration:
One mature tree absorbs carbon dioxide at a rate of about 48 pounds per year.
An acre of mature forest can, in the course of a year, absorb twice the CO2 emitted by the average car in that same timeframe.
Now, recall that just a few paragraphs ago, we stated that there are 80 million acres of national forests in need of rehabilitation.
Here again, we'll let you do that math.
What You Can Do

Are you ready to make a difference for the future of our planet?
Join the fight to protect the air we breathe and the forests and other public lands we treasure by signing up for our email list today.
Stay up to date on the latest from the movement for solutions to end the climate crisis and ways for you to get involved. Even as we're unable to gather together to organize in-person, the fight for climate solutions continues. Learn how.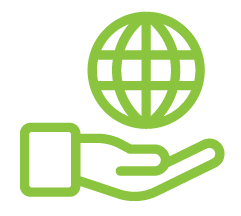 Before You Go
At Climate Reality, we work hard to create high-quality educational content like blogs, e-books, videos, and more to empower people all over the world to fight for climate solutions and stand together to drive the change we need. We are a nonprofit organization that believes there is hope in unity, and that together, we can build a safe, sustainable future.
But we can't do it without your help.
If you enjoyed what you've just read and would like to see more, please consider making a generous gift to support our ongoing work to fight climate denial and support solutions.