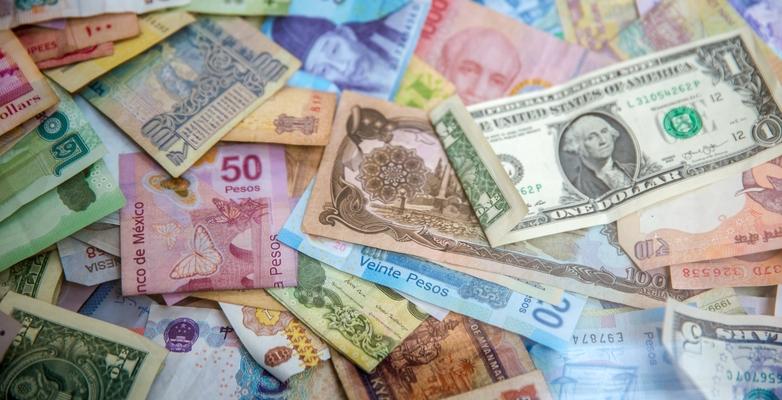 From the Perspective of the Climate-Vulnerable: Wins and Losses at the 2023 Annual Meetings Of the World Bank and IMF
The World Bank and IMF meetings in Marrakech offered a glimpse of hope, but more needs to be done to address the intertwined climate and debt crises.
6 min read
By The Climate Reality Project Philippines
Climate-vulnerable countries have lost an estimated $525 billion USD over the past two decades due to climate change stalling economic growth, hampering development gains and making it harder for communities to thrive. This daunting reality is compounded by rising external debt —a total of $686.3 billion in 2020 for 55 climate- vulnerable economies.
Despite already struggling to repay their existing debts, climate-vulnerable countries will need to spend more than $2.4 trillion USD every year starting in 2030 to address climate change and transform their energy systems. In developing countries like the Philippines, the climate crisis is a debt crisis. Without urgent climate action and debt reform, the cost of capital and debt will continue to rise to unsustainable levels.
In this context, climate advocates participated in the 2023 annual meeting of the World Bank and the International Monetary Fund (IMF) in the hopes of finding a path forward to address the intertwined climate and debt crises.
Here are a few highlights from the conference, including stories of wins and losses in our call for a global finance architecture that is aligned with our climate goals:
World Bank's New Vision
On October 12, the World Bank's Board of Governors endorsed the new vision for the bank: To create a world free of poverty on a livable planet. The bank also adopted a new mission to end extreme poverty and boost shared prosperity.
This is an excellent starting point, but these moves should be underpinned by policies aligned with the 1.5 degrees Celsius goal of the Paris Agreement.
In several dialogues during the conference, civil society actors reiterated the need to implement a comprehensive and robust policy that bans all direct and indirect financing of fossil fuel development, infrastructure, and promotion.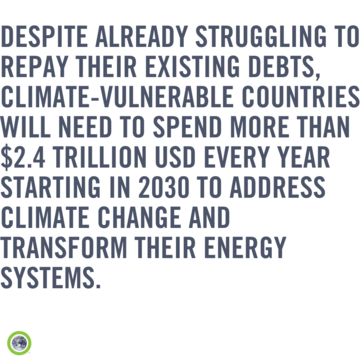 Building new fossil fuel infrastructure is not only a waste of resources. It may also leave Global South nations with expensive assets stranded by the net zero transition. We emphasized that the World Bank must further acknowledge the impacts of its energy investments, especially in reducing electricity costs as a means to vitalize economies.
However, in a townhall discussion with civil society organizations, the World Bank president defended the institution's continuous funding of fossil gas projects, citing its supposed role as a transition fuel to replace coal in baseload generation for underserved communities.
What he failed to recognize is that the rapidly changing energy landscape is demanding a move away from the outdated baseload model that relies on fossil fuels towards a more agile and responsive approach, powered by clean energy and energy storage technologies. A more flexible electricity grid, combined with demand response efforts, clean energy, and energy storage, is more resilient and affordable than a grid that heavily relies on baseload power.
The World Bank simply cannot illustrate climate change as a mere "trade-off" because climate-resilient and the low carbon transition safeguards economic and social development.
Making Debt Work for Climate
The V20 Finance Ministers, a dedicated, action-oriented, solutions-driven platform of finance ministers of 68 climate-vulnerable countries, emphasized that "aligning the financial system to serve the most vulnerable is not only pivotal for those least responsible and most exposed to the climate crisis but also imperative for global shared prosperity and stability."
In its 11th Ministerial Dialogue on October 15, attended by IMF Managing Director Dr. Kristalina Georgieva, officials of the World Bank and other multilateral development institutions, and finance ministers and high-level representatives of the V20, G7, and G21 countries, the group urged the immediate alignment of the global financial system with climate science and climate policy through the Accra-Marrakech Agenda while advancing other critical reform solutions in the Bridgetown Initiative 2.0.
Climate-vulnerable economies need to find ways to pay for the changes that need to be made to deal with climate change. We can't just cut spending, because that would hurt people and economies. Instead, we need to find new ways to raise money to make the changes we need to make without having to go into too much debt.
The V20 Finance Ministers called for the global financial system to move from conventional austerity-based approaches to resource mobilization-driven approaches that prioritize climate action, help countries overcome costly capital hurdles to low-carbon and climate-resilient investments, provide pre-arranged and trigger-based funds, and enable debt sustainability.
Financing Loss and Damage
Financing future loss and damage caused by climate change could amount to between $150 billion USD and $300 billion USD by 2030. It is critical to create a loss and damage fund that is fair, inclusive, fast, and responsive to the needs of communities that need it most.
As the United Nations Framework Convention on Climate Change (UNFCCC) Loss and Damage Fund take shape in the lead-up to the 2023 United Nations Conference of the Parties (COP 28), governments and climate advocates from vulnerable nations emphasized in Marrakech the role of the IMF in addressing loss and damage.
Given the IMF's mandate to maintain global financial stability and its macroeconomic expertise, the V20 Finance Ministers stressed the need for the IMF to integrate loss and damage into its surveillance functions, lending toolkit, and capacity development activities.
The Climate Reality Project Philippines, in particular, underscored that one good option to ensure the scale and access for the loss and damage fund through an International Development Association (IDA)-like window for loss and damage that can support delivery into social and financial protection systems.
Giving Vulnerable Groups More Seats at the Table
Another critical point of discussion in the conference in Marrakech was the need to transform the IMF's governance structure to better represent its membership.
Dr. Georgieva, herself, acknowledged this and talked about adding a third chair for Africa to the IMF Executive Board and the possibility of making the V20 Finance Ministers an official IMF group, alongside G7, G21, and G24.
"The V20 nations, while collectively accounting for more than one-fifth of the world's population and 44.7% share of IMF programs, find themselves underrepresented with just 5.3% of the institution's votes. [The] V20 ministries have considerable expertise that the IMF should benefit from given country experiences regarding the interconnections of climate, debt, and development," V20 Finance Ministers Chair and Ghana Finance Minister Ken Ofori-Atta said during the 11th Ministerial Dialogue.
While the official recognition of V20 Finance Ministers in the IMF is still up in the air, Ivan Machado Oliveira, deputy secretary of the Finance Ministry of Brazil and the chairperson of the G21 in 2024, invited the V20 Finance Ministers to have a seat, as a guest, to the G20 Sustainable Finance Working Group.
All Roads Now Lead to COP 28
The World Bank and IMF meetings in Marrakech offered a glimpse of hope, but more needs to be done to address the intertwined climate and debt crises.
For climate vulnerable countries like ours, merely surviving the climate crisis is not enough; the aim is to thrive in a rapidly warming climate.
We look forward to COP 28, where more discussions about the future of climate action will take place.
To learn more about climate finance, visit our Financing a Just Transition campaign. To learn more about The Climate Reality Project Philippines's work on finance and other areas, visit the branch site here.