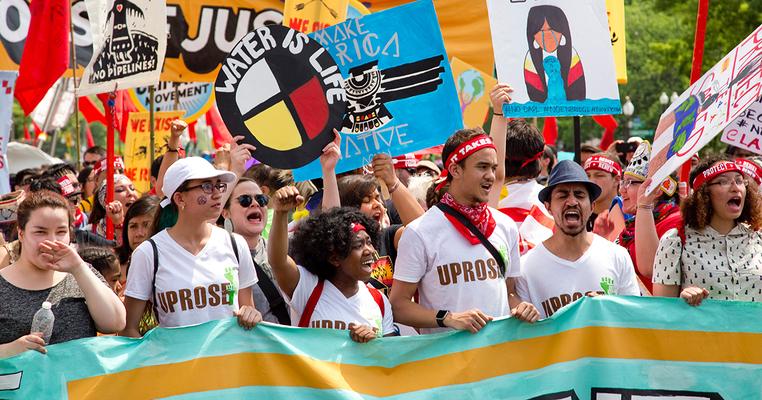 The Quest for Environmental Justice and the Politics of Place and Race
NOTE: With the COVID-19 pandemic disproportionately impacting communities of color, we are bringing this post by Dr. Robert D. Bullard, considered by many to be the "father of environmental justice," back to the top of our blog roll.
This post was originally published on January 28, 2019, and updated on April 17, 2020.
Today, hardly a day passes without the media reporting on some individual or community group fighting a landfill, incinerator, power plant, chemical factory, pipeline, or some other polluting industry.
This was not always the case. Before the environmental justice movement burst on to the national scene, pollution in communities of color and poor neighborhoods was largely ignored by the media, industry, government, and green groups. The fact that marginalized communities were overburdened with pollution was viewed as "collateral damage" and the price of doing business.
The environmental justice framework challenged this injustice and unequal treatment. The push for environmental justice did not originate with the Environmental Protection Agency but grew out of grassroots community struggles committed to a simple principle. That principle? That all people and communities are entitled to equal protection of environmental, energy, health, employment, education, housing, transportation, and civil rights laws and regulations.
Even before environmental justice had a name, though, it had a history. Back in 1968, Dr. Martin Luther King Jr. went to Memphis, Tennessee on an environmental and economic justice mission on behalf of 1,300 striking black sanitation workers. The strikers were demanding equal pay and better work conditions. Memphis was Dr. King's last campaign. He was assassinated before he could complete his mission.
A decade after Dr. King's death, another garbage dispute proved another turning point for the movement. In 1978, in Houston, Texas, African American homeowners began a bitter fight to keep a municipal landfill out of their suburban middle-income neighborhood. Residents and their attorney, Linda McKeever Bullard, filed a class action lawsuit to block the facility from being built.
The 1979 lawsuit, Bean v. Southwestern Waste Management Corp., was the first of its kind to challenge discriminatory siting of a waste facility under civil rights law. I was an expert witness on the Bean case. My 1979 Houston waste study found a clear racial pattern in the city's dumping: 82 percent of all solid waste disposed in Houston from the 1930s to 1978 was dumped in mostly black neighborhoods – even though blacks made up only 25 percent of Houston's population. This pattern occurred in a city without zoning.
The Houston case occurred three years before the environmental justice movement was catapulted into the national limelight over the siting of a toxic PCB chemical landfill in the rural and mostly black Warren County, North Carolina. The landfill siting ignited protests and over 500 arrests. It also provided the impetus for a 1983 US Government Accounting Office report and the United Church of Christ's (UCC) Toxic Wastes and Race report in 1987. Both reports found race to be the most potent predictor of where toxic waste facilities were located. Two decades later, UCC's Toxic Wastes and Race at Twenty report found 56 percent of residents living within a two-mile radius of toxic waste facilities were people of color.
Later studies would only confirm the connection between race and exposure to pollution. In 1990, Dumping in Dixie: Race, Class and Environmental Quality documented how environmental vulnerability mapped closely with Jim Crow housing segregation and discriminatory zoning and land use practices.
Four decades of environmental justice research reveal America is segregated and so is pollution. Millions of Americans have the "wrong complexion for protection." Race is still more potent than income in predicting the distribution of pollution. Even money does not insulate some Americans from elevated pollution assaults.
As one example, affluent African American households with incomes between $50,000 and $60,000 live in neighborhoods that are more polluted than the average neighborhood of white households with incomes below $10,000. African Americans are 79 percent more likely than whites to live where industrial pollution poses the greatest health danger. African Americans in 19 states are more than twice as likely as whites to live in neighborhoods with high pollution levels, compared to Hispanics in 12 states and Asians in 7 states.
The results of this disparity are clear. People of color breathe 38 percent more nitrogen oxide than whites. People of color in 46 states live with more air pollution than whites. More than 68 percent of African Americans live within 30 miles of a coal-fired power plant, compared with 56 percent of whites and 39 percent of Latinos.
These numbers mean that 76 percent of the 2 million Americans living within three miles of the top-12 dirtiest coal power plants are people of color. Nor is the threat restricted to coal. Half of the people who have the greatest cancer risk from oil refinery pollution are people of color.
Polluting industries such as toxic waste facilities, high-risk chemical plants, oil refineries, and coal fired power plants have turned many people of color and poor communities into environmental "sacrifice zones." The environmental justice movement is working day and night to eliminate these threats.

WHAT CAN I DO TO FIGHT BACK?
Knowledge is power.
Feeling inspired to learn more about the climate crisis so you can take action in your community? Become a Climate Reality Leader by attending our next Climate Reality Leadership Corps training.
Spend three days with former Vice President Al Gore and an all-star lineup of environmental justice leaders, faith voices, business visionaries, and climate science experts. Through wide-ranging workshops, panel discussions, networking events and more, you'll learn how fossil fuel pollution and climate impacts like heatwaves threaten low-income families and communities of color, and how to build the broad, inclusive, and powerful coalitions necessary to fight back.
As we like to say: Give us three days. We'll give you the tools to change the world.