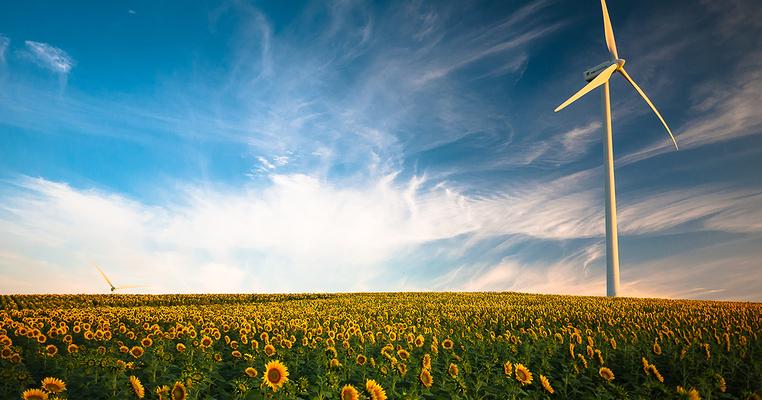 Renewable energy leapfrogging: the better way forward.
Emerging economies are increasingly meeting their energy needs with renewable energy that's as affordable and reliable as it is clean.
It's a fact: Without an abundant supply of energy, many of the necessities we often take for granted — education, housing, and food security, to name a few — simply would not be possible. No surprise then that increasing access to electricity is one of the most effective ways of improving lives around the world.
Another fact: Developed nations like the US, UK, and Germany developed largely by burning enormous amounts of the dirty fossil fuels now pushing the planet straight toward climate catastrophe.
Still another fact: Emerging economies are hungry to follow suit and give their own citizens the same quality of life they see in developed nations. The only problem is that the Earth simply can't afford another wave of fossil-fueled development. At least not without the kind of scorching heatwaves and droughts and punishing hurricanes that would send millions living in nations like Bangladesh and the Philippines – to name just a couple – into abject poverty.
It's not right. It's not fair. But it's where we are.
So what can developing nations do to give citizens a better life without destroying the planet?
It's a tough question. But fortunately, it's increasingly not a choice between one or the other. At least, not anymore.
With the price of renewables plummeting around the world, the potential for developing countries to "leapfrog" from traditional energy sources, such as wood and charcoal, directly to emissions-free renewables, such as wind and solar, has never been greater.
Today, we can already see that potential coming to fruition.
Countries like Morocco, Nicaragua, and Kenya are all already powering significant chunks of their economies using renewables. Not in spite of their cost or accessibility, but because of it. In other words, choosing renewable energy over fossil fuels today doesn't just make sense for the planet — it makes economic sense, too.
So, how is each one of those countries leading the charge to a clean energy future?
MOROCCO
Since 2009, the levelized cost of solar photovoltaic (PV) power globally has declined by nearly 90 percent. And over that time, global solar electricity production has grown more than tenfold.
This drop in price is so dramatic that, according to the International Energy Agency, today solar power offers the "cheapest…electricity in history." In most major countries, making it even cheaper than coal and gas.
Similarly, over the past decade the cost of wind power has declined by between 44 and 78 percent worldwide. Plus, over that time, wind capacity has grown more than 300 percent. Specifically, from 197.6 gigawatts in 2010 to 650.8 gigawatts in 2020.
Few places show the effects of these plummeting renewable energy prices as much as Morocco.
Since 2009, this African nation has developed an ambitious renewable energy program aimed at increasing the share of renewable energies in the national energy network to 42 percent by 2021 and 52 percent by 2030 — a rate it's well on track to achieve. This puts it significantly ahead of the global average renewables electrification supply of 30 percent.
So, how exactly is Morocco incorporating such impressive amount of renewables in its energy mix?
Projects like the Noor-Ouarzazate energy complex are one part of the answer.
Built on an area of more than 3,000 hectares, the size of 3,500 football fields, this concentrated solar farm produces a whopping 580 megawatts. That's enough electricity to power a city the size of Prague, and crucially, is saving the planet from over 760,000 tonnes of carbon emissions each year.
To date, it's the largest concentrated solar farm in the world.
Along with other solar and wind projects across Morocco, it demonstrates that today renewable energy means affordable and reliable energy.
NICARAGUA
The Central American country of Nicaragua is another excellent example of an emerging economy that's taking the potential of renewable energy to new heights.
As NPR wrote in 2016:
"Just a few years ago, Nicaragua was almost totally dependent on imported fuel oil to generate power. What's more, the country lacked thermal plants to turn that fuel oil into electricity. The result was rolling blackouts that damaged the economy and made daily life a grind… Renewables now generate nearly half of Nicaragua's electricity, a figure that government officials predict could rise to 80 percent within a few years."
That bold 80 percent renewables-powered electrification prediction made just four years ago? It's proving to have been a great estimate.
For the first 15 days of this past September, geothermal energy provided a whopping 33.5 percent of all electricity generated in Nicaragua, bringing renewable energy to an incredible 72 percent of the country's energy mix.
For Nicaragua, geothermal now represents nearly half of all renewable-fueled electricity generation, with wind reaching a 19 percent share, hydroelectric power 17.5 percent, and solar 1 percent.
A diversified, reliable mix of low-carbon energies is no longer a vision of the future. As Nicaragua shows, it can already be a reality.
KENYA
The World Bank estimates that climate change could internally displace up to 86 million people in sub-Saharan Africa by 2050, largely due to rising temperatures and crop failure. However, climate action today can still make a difference in helping avoid such a drastic scenario.
That's why it's encouraging to see various countries in the region — like Kenya, for example – laying the foundation to way to a clean energy future.
Like Morocco, it's had wind and solar rapidly integrate into its energy mix.
Kenya is the world leader in the number of solar power systems installed per capita. More than 30,000 small solar panels, each producing 12 to 30 watts, are sold in Kenya annually. This decentralized, grid-less solution has been paired with hundreds of megawatts of large-scale wind power. Together, significantly increasing access to electricity all around the country.
And like Nicaragua, Kenya has been making incredible use of its geothermal resources.
In fact, it was the first African country to use geothermal power, and still has the largest installed capacity of geothermal power in Africa at 745 MW. And with an estimated capacity to produce 10 GW of geothermal energy, Kenya's ability to expand its capacity shows fantastic promise.
By 2040, geothermal is expected to account for almost 50 percent of Kenya's power generation.
In light of the growth of these renewable energy resources, the International Energy Agency describes how "Kenya is on the cusp of reaching universal access to electricity" and how "Kenya has made notable progress in deploying renewables in large part because it has successfully attracted the necessary private investment for renewables projects. Further development of these resources would help it meet demand growth."
If continued to be harnessed, renewables could affordably help Kenya continue to power a clean-energy economy.
JOIN THE MOVEMENT FOR CLIMATE SOLUTIONS
Clearly, the question today isn't whether we should switch from planet-warming, polluting fossil fuels to clean, renewable energy. Instead, the question must be how we can support low-emissions energy and other solutions to the climate crisis. For our planet. For future generations. And for the wellbeing of communities everywhere, today.
If you're interested in joining the fight here in the US, then we invite you to learn more about Climate Reality chapters: a growing network of everyday Americans working together for practical climate solutions all across the country.
Together, these friends, neighbors, and colleagues are bringing clean energy to their towns, fighting fracking developments, and so much more — making a real difference for our climate at this critical time. Click here to learn more and join today!