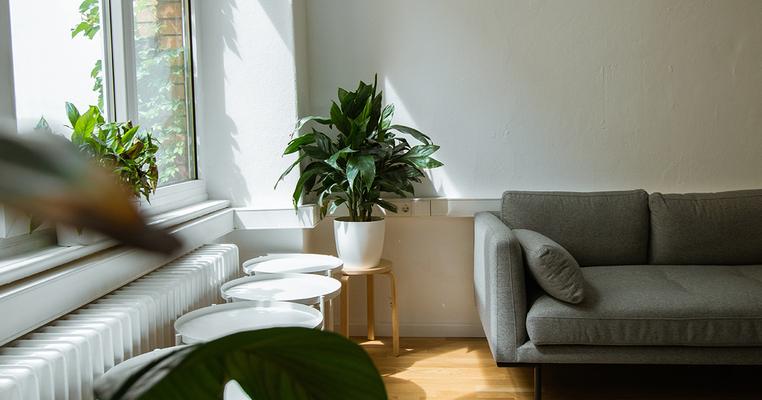 A Renter's Guide to Sustainable Living
We all want to do what we can to reduce our footprint and help the planet, but that can seem difficult, if not impossible, when you don't own your home or apartment. So, what can we do to improve our living environments, even when we rent?
The good news is that sustainable living for renters is easier than you think. Check out these seven easy tips to going green.
1. Talk to Your Utility about Renewable Options
One of the easiest ways to make a difference in your carbon footprint is to switch to renewable energy! Many big utilities providers have an option to switch to renewable energy that they generate with wind or solar.
Even if your utility doesn't operate any wind or solar facilities, many will effectively allow you to buy electricity from others that do through renewable energy certificates, or RECs. (To learn more about that, check out our blog post that explains them.)
Not only will switching to renewables help save the planet, but depending on where you live, it might actually help save you money, too. (And let's be real – who wouldn't want a few extra dollars?)
It's really easy to search to see if your current provider has a renewable, clean energy option – a lot of the time you can find it directly on their website or give their customer service line a call. All you have to do is ask.
If your current provider doesn't have a renewable energy or REC option, it's easy to search for a new one. The EPA recommends using this resource to search for a renewable energy provider – all you have to do is enter your state and select "Residential Renewable Electricity."
2. Location, Location, Location
A great, easy option is to think about where you're renting. If you're still looking for a place to rent or will be moving soon, think about your apartment or home's proximity to public transportation. Another question might be how easy it is to walk to businesses like grocery stores and services you use all the time (aka the Walk Score)?
You can even ask about the building itself. Is it LEED certified? Are there rooftop solar panels already installed or other renewable energy options?
If you live in a big city or urban area, a lot of the time, public transportation can not only be handy for those of us who don't own cars, but it's less expensive than parking and is an eco-friendlier form of transportation! Being close to public transport makes it a lot easier to reduce your carbon footprint and be more sustainable.
3. Think about Waste
One of the easiest things we can do as renters is to think about how much we consume and the trash we produce. From food scraps to recycling, making sure we're aware of how much we buy versus how much we're using, and that the waste we produce gets disposed of properly is an easy way to be sustainable. If you rent a house or somewhere with an outdoor area, it's easy to use the yard to have a compost system for food waste, but there's options for apartment renters, too!
Many cities have local food waste or compost drop-offs, including at farmer's markets or around the community. Instead of sending food scraps to a landfill, let them decompose naturally – which produces smaller amounts of methane emissions and helps create fertilizer for the planet or nutrient-rich, healthy soil.
Want to see if there's a compost drop-off near you? Check out this helpful resource that sorts locations by state.
Reducing your waste can be as easy as making sure you recycle correctly and follow your city or town's recycling rules. This ensures that your trash is actually recycled, and not sent to a landfill. With a quick internet search, you can find the rules that you should follow when recycling, to make sure everything is sorted properly.
Other easy ways of reducing your waste include bringing reusable bags with you when you shop. Many states have already started a single-use plastic-bag tax, so not only does bringing your own bag save you money, but it reduces your plastic usage when shopping!
4. Go Green Indoors
We all love a little greenery! Buying houseplants and having your own little forest inside your home not only is great décor, but it also helps the environment (and our mental health!)

Having houseplants helps purify the air, which is always a plus in our book! We all know that plants absorb carbon dioxide and toxins in the air through pores in their leaves in a process well-known as photosynthesis, and then release oxygen, filtering the air. Having them in our home is an easy way to make a positive contribution to fighting off pollution.
Owning plants is an easy way to improve your apartment and you don't need your landlord or management company's permission to put a little greenery around the house! And what's more beautiful than décor that helps clean the air we breathe?
5. Look at Your Home Technology
From TVs to lightbulbs to showerheads, what we put in our homes makes an impact on the environment. If you have the resources to consider it, there are many simple changes or low-cost purchases that can make rentals a little more sustainable.
The first place to look is how much electricity our technology uses and – if you're able – choosing the most energy-efficient options. Some utility companies provide free energy audits, and if you're a fan of DIY projects, check out how to do one yourself. By doing so, we're not only reducing the amount of power we use, but our bank accounts will thank us too.
After all, even when electrical devices like TVs aren't turned on, they can still use energy if they're left plugged into a standard outlet. Using power strips with timers or energy management systems can help. So can looking for appliances or technology that are ENERGY STAR certified.
One of the best methods to save the planet and some money? Making sure to program your thermostat or turn it off when you're not at home. Many thermostats allow you to customize settings to turn off when you leave home every day and turn on before you get home, so you walk into a cool (or warm, during the winter) home after a long day!
If you don't have a programmable thermostat, remembering to manually turn off your air conditioning or heat as you leave home is an easy fix. This reduces energy use, which is just another easy step to be sustainable as a renter.
Sustainability doesn't stop with electricity and heat. Looking at your shower head can also make a difference. Low-flow showerheads can reduce the amount of water you use (and heat) without compromising pressure or comfort. If you can't switch-out showerheads, keep an eye on how much water you use when showering or even running the sink when you brush your teeth!
6. Talk with Your Landlord or Management Company
Want to make a bigger change or see what else you can do to be sustainable and fight the climate crisis? Talk with the people who manage your rental about any concerns or ideas you have. If there's an idea that can save the planet and the owner of your rental some money, it's a win-win on both ends.
The most effective way to do this? Explain how energy-saving methods or renewable energy can save them money in the long run AND improve the property.
Whether you're asking your landlord or management company to consider putting solar panels on your rental or asking for more efficient heating and cooling systems, approaching it from a stance of savings and benefits to them will give you the best shot of success.