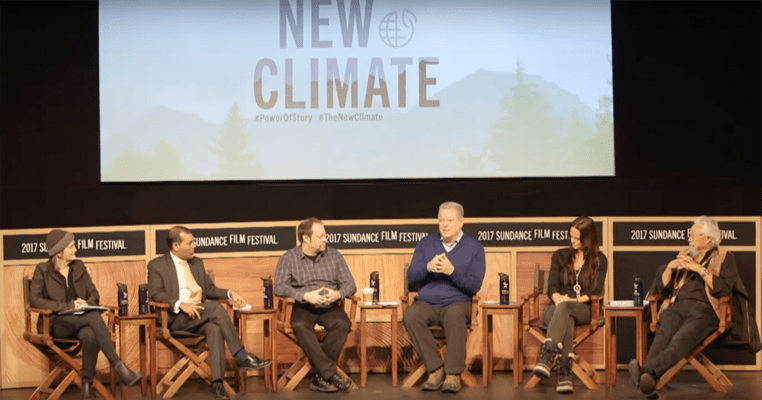 The sequel to 'An Inconvenient Truth' premieres to raves at the Sundance Film Festival
After the premiere of 'An Inconvenient Sequel: Truth to Power', Al Gore joined David Suzuki, Amy Goodman, and more to talk about the intersection of filmmaking, storytelling, and activism.
The Climate Reality Project Founder and Chairman Al Gore recently attended the Sundance Film Festival in Park City, Utah, for the debut of An Inconvenient Sequel: Truth to Power. The film earned a "rapturous response" at its opening-night premiere screening on January 19.
At the festival, Vice President Gore joined an esteemed panel of climate innovators to discuss the role of storytelling in the climate movement. Vice President Gore described how engagement and inspiration through storytelling can encourage climate action alongside Jeff Skoll, founder and chairman of The Skoll Foundation, scientist and broadcaster Dr. David Suzuki, and Mohamed Nasheed, former president of the Maldives.
Check out the panel discussion below, and read more about the hotly anticipated sequel to the influential, Oscar-winning documentary An Inconvenient Truth here:
Watch the "Power of Story – The New Climate" panel:
Feeling inspired? Sign up to be notified first about future Climate Reality Leadership Corps trainings. Led by Vice President Gore, you'll learn how you can use your storytelling skills to communicate the facts of the climate crisis and motivate action at this critical time. You'll also find out how you can use social media, powerful storytelling, and personal outreach to inspire audiences to take action and solve the climate crisis.
Give us three days, and we'll give you the tools to change the world.