July 31, 2017 | 1:10 PM
So You Saw An Inconvenient Sequel: Truth to Power. Here's What to Do Next
Former US Vice President Al Gore's new film, An Inconvenient Sequel: Truth to Power, has arrived to sound the alarm on the climate crisis at a critical moment. Even as the rest of the world is moving forward in cutting greenhouse gas emissions and choosing clean energy alternatives, the White House is stuck in reverse, prioritizing the interests of fossil fuel corporations over the health of our planet. 
The good news is that millions of Americans are fighting back and An Inconvenient Sequel: Truth to Power reminds us what can happen when regular citizens take a stand. As one way for citizens to make a difference, the film showcases our  Climate Reality Leadership Corps trainings, where people from all walks of life come to work with Vice President Gore and other experts, learning how to lead their communities in the fight for climate solutions. But if the film left you wondering what you can do to help this fight, here are a few ways that you can take action. 
Use Your Voice 

When you talk, your friends and family listen. That's why it's so important that every climate activist use their voice to spread the truth about the climate crisis. Download our I Am Still In action kit, which will teach you how to build support for clean energy and other climate solutions in your community. 
There are many ways to use your voice, and whether you write a letter to the editor of your local paper or call your representative or talk to your neighbors, you can make a difference in sharing the truth and shaping public opinion right when your planet needs you.  
Use Your Choice 

By using renewable electricity, you can help reduce the carbon emissions driving the climate crisis. And the good news is that options for renewables are growing each day. From solar panel roof tiles to residential wind turbines, there are hundreds of ways to embrace renewable electricity. 
But you don't have to stop at your own home. Join our 100% Committed campaign and help your town or city, college or university, or local businesses make the transition to 100 percent renewable electricity.  
Use Your Vote 

With 2018 around the corner, everyday Americans hold the power to decide the direction that our government takes by getting behind representatives and officials who support cutting emissions and expanding clean energy choices.  
We need policymakers on all levels – from city councils and mayors to state senators and governors all the way up to Congress – who will prioritize solving the climate crisis and you can help make that happen. Every voice counts, so make yours heard. 
Still want to do more? 

Apply to attend a Climate Reality Leadership Corps training.  Just like you saw others do in An Inconvenient Sequel: Truth to Power, you'll work with Vice President Gore himself along with a host of field-leading experts and activists to learn the facts about the climate crisis and how we can solve it together.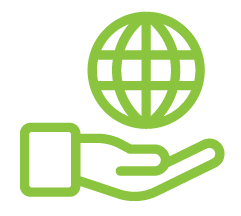 Before You Go
At Climate Reality, we work hard to create high-quality educational content like blogs, e-books, videos, and more to empower people all over the world to fight for climate solutions and stand together to drive the change we need. We are a nonprofit organization that believes there is hope in unity, and that together, we can build a safe, sustainable future.
But we can't do it without your help.
If you enjoyed what you've just read and would like to see more, please consider making a generous gift to support our ongoing work to fight climate denial and support solutions.