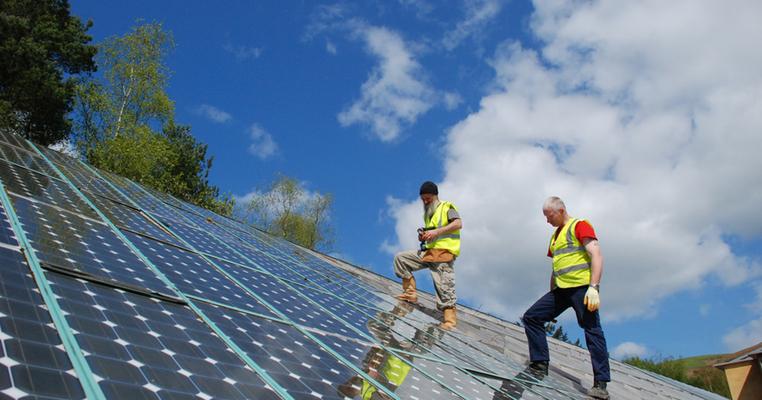 The Solar Industry Is Creating Jobs Nearly 17 Times Faster Than the Rest of the US Economy
In 2016, jobs in the United States solar industry increased nearly 17 times faster than the rate of the overall economy. This was part of a global trend of jobs growing in renewable energy.
Republished from Futurism. Licensed under CC by NC 4.0/Desaturated from original.
The data shows it: We don't have to choose between good jobs and the future of our planet. A new report released by the International Renewable Energy Agency (IRENA) reveals that solar jobs in the US (and around the world) are expanding rapidly.
As of November 2016, the American solar industry employed 260,077 workers – an increase of 24.5 percent from 2015. When you crunch the numbers, that means the solar industry is growing just shy of 17 times faster than the American economy as a whole. That's incredible progress.
In 2012, renewables employed 5.7 million people worldwide. In 2016, it was up to almost 10 million people! Retweet if you have #ClimateHope. pic.twitter.com/m3blDovb5A

— Climate Reality (@ClimateReality) June 7, 2017
So in what areas of the industry are these jobs? The lion's share (241,900) were in solar photovoltaic (PV). According to IRENA, the worldwide growth in solar PV jobs had to do with "declining costs and supportive policy frameworks in several countries around the world [that] led to a record year for solar in 2016."
In addition to photovoltaic, an additional 13,000 American solar jobs were in solar heating and cooling, and the remaining 5,200 were in concentrated solar power (CSP).
In terms of job function, more than half of all solar jobs in the US were in installation. Another 15 percent were in manufacturing, with 13 percent in project development, 12 percent in sales and distribution, and a final 6 percent in other areas, including research and development.
It's important to remember: Not only is the solar industry booming – but the jobs pay well, too. As costs for materials continue to drop, solar jobs remain a well-compensated area for blue-collar workers. Bryan Birsic, CEO of Wunder Capital, said, "It seems to be one of the few areas of high-paying, blue-collar jobs – and you don't have to learn to code."
Another sign of improvement? The solar labor force is becoming more diverse, with the number of women workers at 28 percent in 2016, up from 19 percent from 2013. This means more women have jobs in solar than in the conventional energy industry, although women in solar still lag behind their representative 47 percent of the US economy.
A Renewable Future
Solar isn't the only thriving industry in the US economy right now – the wind industry put about 102,500 people to work in 2016. In fact, wind turbine technician is the single fastest growing occupation in the United States. IRENA projects the industry will grow to 147,000 jobs by 2020.
"Saying you'll bring coal plants back is the past. It's like saying you'll bring Blockbuster back, which is the past. Horses and buggies, which is the past. Pagers back, which is the past."

Arnold Schwarzenegger
Former Governor of California
Here's the reality: jobs in dirty energy are on the decline as fuel sources become more scarce and less expensive options become available. But people laid off from the fossil fuel industry can find safer, well-playing jobs in clean energy. And as prices continue to drop, all of us can expect to see more and more jobs in clean energy. That's good for our economy and for our planet.
Take Action Now
The US president recently announced that the US would begin the process of withdrawing from the Paris Agreement. We're disappointed, but more determined than ever. It's clear that the renewable energy revolution is already underway. Here's how you can help support both clean energy and the Paris Agreement:
© 2011 Centre for Alternative Technology/Flickr cc by 2.0