Water and the US Southwest
The Colorado River system is a vital source of water for several US states… and it is drying up.
The Colorado River system is a vital source of water for agricultural and urban areas across Arizona, California, Nevada, Colorado, New Mexico, Utah, Wyoming, and Mexico. It supplies drinking water to 40 million people. It irrigates around 5 million acres of farmland that feed people around the world. It generates electricity at dams on Lake Mead and Lake Powell. It supports a $26 billion tourism economy.
And it is drying up.
After a more-than-two-decade-long drought, states are finally taking action to conserve water, but will it be enough as the climate crisis continues to warm and dry out the US southwest?
Striking a Deal
In May, Arizona, California and Nevada reached an agreement to take less water from the Colorado River to keep it from "falling so low that it would jeopardize water supplies for major Western cities like Phoenix and Los Angeles as well as for some of America's most productive farmland," according to the New York Times.
The agreement, which runs through the end of 2026, will see the three states restricting water by 3 million acre-feet (an acre foot of water is about as much water as two to three households use in a year). Most of the cuts – 2.3 million acre-feet of them – are expected to come from water districts, farm operators, cities, and Native American tribes, which will take less water to qualify for federal grants offered under the Inflation Reduction Act (IRA), totaling about $1.2 billion. The remaining 700,000 acre-feet of restriction will come from the states, though exactly where they will be made has yet to be decided.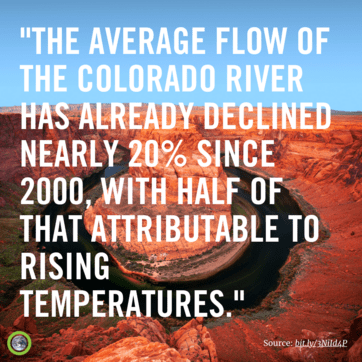 California, the state that uses the largest share of the Colorado River, "has pledged to shoulder a large share of the reductions — about 1.6 million acre-feet through 2026," the Los Angeles Times reports.
The proposed cuts, however, amount to only about half of the reductions federal officials had initially called for. Under previously discussed scenarios, cuts of as much as 2 million acre-feet per year were considered.
Beyond even that, water rights to access the Colorado River themselves remain an ever-contentious issue in the US Southwest. The Navajo Nation, for example, has been fighting for access to the Colorado for decades, with a case currently before the US Supreme Court.
The smaller cuts were made possible following a major infusion of water following a winter season that saw California and the Rocky Mountains blanketed by heavy snow. After years of declining snowpack, snowfall from the 2022-23 winter season is likely to lead to runoff into the river's reservoirs that will be 149% of average, allowing the depleted reservoirs of Lake Mead and Lake Powell a slight reprieve.
But this year's snowmelt is more of an anomaly than a trend, as the Colorado River basin has been gripped by drought for decades and is likely to see less precipitation annually as our world continues to warm.
A Warmer, Drier Southwest 
The Southwest is already feeling the impacts of climate change, and these impacts are expected to get worse in the future – unless we take action now to reduce the greenhouse gas emissions driving this crisis.
Average temperatures in the Southwest have been rising for decades. From 2000 to 2020, regions in the Colorado River Basin experienced average temperatures 1-2 degrees Fahrenheit higher than the long-term average (1895-2020), and this warming is expected to continue.
"Temperatures have risen faster in this region than anywhere else in the lower 48 United States. Portions of the Basin have warmed more than double the global average," the Nature Conservancy writes. "The average flow of the Colorado River has already declined nearly 20% since 2000, with half of that attributable to rising temperatures. Temperatures in the Basin are predicted to rise another 2–5 degrees Fahrenheit by 2050, which could reduce river flows by another 10 to 40%."
The Southwest is already a dry region, and climate change is making droughts more frequent and severe. The Colorado River basin, which again provides water for millions of people and irrigation in a number of key agricultural areas, is particularly vulnerable to drought.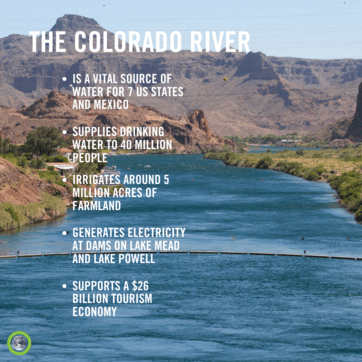 Even with the influx of water from this past winter, the Colorado River basin is still in the throes of a severe, decades-long drought, the worst in over a thousand years. The drought is caused by a combination of factors, including increased water demand and decreased water supply. But the primary driver of the drought? Climate change.
The Colorado River is a snow-fed river, and the amount of snowpack in the Rocky Mountains has been declining in recent years. Because of warming temperatures, less snow is accumulating in the Rocky Mountains, leading to less melt when spring and summer temperatures arrive.
This, in turn, has led to the river's flow falling by 20%.
Warmer temperatures are also causing the snowmelt that does occur to happen earlier in the year.  This reduced snowpack and earlier snowmelt are leading to the reduced streamflow in the Colorado River, which is reducing the amount of water available for storage in reservoirs.
At Lake Mead, water levels as of May 2023 were at 1,054.28 feet above sea level, 164.72 feet below its full capacity of 1,219.0 feet. Because of this year's snowmelt, this is an improvement over last summer, when the reservoir's water level dropped to a historic low of 1,040.71 feet, nearly 14 feet lower than its current level.
With the expectation that the US southwest will likely continue to warm and continue to dry out, the deal struck by Arizona, California, and Nevada through 2026 begins to look like a band-aid on a wound that requires stitches.
It's likely that if warming trends continue as expected, further cuts will need to be made to preserve the Colorado River in the years to come.
What You Can Do
With a certain amount of additional temperature rise already baked in, the Colorado River is likely to decline more in the near term, wreaking havoc on the millions who rely on it for fresh water and electricity. But it doesn't have to be this way – not in the long run, that is.
Because we can turn this all around if we work hard to phase out the fossil fuels driving the climate crisis and transition to clean energy.
We have the solutions to this crisis; we only need the political will to enact them.
Ready to do your part?
Learn more about how you can take climate action by joining Climate Reality's email list.
We'll keep you up to date on the movement for climate solutions and all the ways you can take action to support a better, more sustainable future for all.