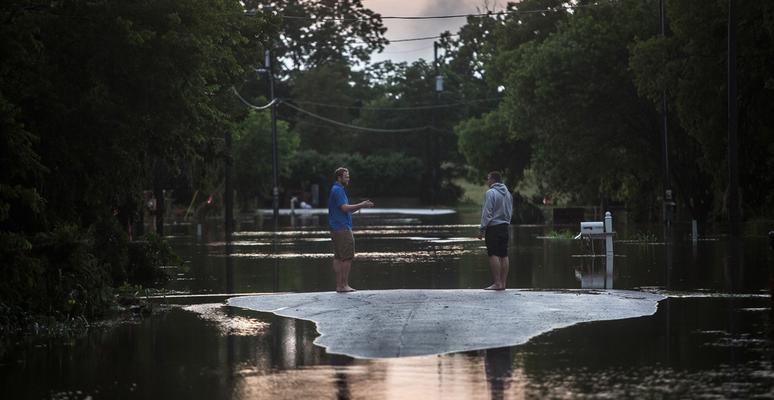 What Does Climate Change Mean for Texas?
You know the saying. "Everything's bigger in Texas."
(Ed. Note: This post was lightly updated on March 17, 2022 to provide additional information on Climate Reality's upcoming, free, in-person climate advocacy training in Las Vegas, Nevada from June 11-13, 2022. For further information or to apply for the training today, click here.)
Unfortunately, it applies to climate change in Texas as well. With a super-sized state, the impacts of climate change are bigger and badder than in the other 49. In fact, Texas experienced 75 weather and climate disasters between 1980 and 2015, each of which produced at least a billion dollars in losses (across the states in which they impacted), more than any other state.
Here's what global warming means for the Lone Star State. In other words, "Houston, we have a problem."
1. Drought

In 2011, Texas experienced its hottest (until 2012)and driest summer on record, culminating in the worst single-year drought in recorded history. Water levels were at historical lows, and as the land and plant life dried up, acres upon acres lit up with wildfires. The heat and extraordinarily dry weather of 2011 was part of a larger period of drought in the state that extended from 2010 to 2015, resulting in approximately $8.7 billion in agricultural losses. Sadly, it's unlikely that was the end of the story. As the climate continues to warm, more multi-year droughts are expected with devastating impacts to the state's agriculture sector and drinking water.
Related: The Facts About Climate Change and Drought
2. Heat Waves
Since 1970, average summer temperatures in the South have risen by as much as 3.3ºF – with many of the fastest-warming areas in Texas. Presently, Houston experiences about five days each year over 100ºF. By 2100, the city could expect some 70 days over 100ºF under a high-emissions scenario, and an average summer temperature increase of 5.7ºF. Think that's a far-off scenario? During the 2011 drought, many locations in Texas experienced more than 100 days over 100ºF.
Houston isn't the only city likely to be feeling the heat in years ahead, either. To see how hot your summers could become, type your city in to the interactive map above.
Related: See Earth's Temperature Spiral Towards 2ºC
3. Flooding and Heavy Downpours
After several years of extreme drought, the dry spell ended for Texas with a splash in 2015. Well, it was less of a splash, and more of a biblical-style deluge.
May 2015, as many Texans will not soon forget, saw record-level rainfalls and was the wettest month in the state's history. An average of 8.81 inches of rain statewide swamped the previous record set only in 2004 – by two full inches. By the end of 2015, the year went down in the record books as Texas' wettest ever.
So, just how much rain fell last year? This will put it in perspective: the volume of rain that fell in Texas in just the month of May 2015 could supply the world's drinking water for 27 years.
While the rain did end the drought, it truly was too much of a good thing. In May 2015, some areas saw up to around 19 inches fall in just 24 hours, producing flash floods that damaged homes and businesses, washed out roads and bridges, and resulted in 27 deaths across the state. Flooding rainfall impacted central and eastern portions of the state again in 2016. Rainfall and/or flooding was the equivalent of a 500-year (0.2 percent annual chance) event in some locations in 2015 and 2016.
Due to climate change, extreme downpours and unpredictable rains are on the rise. According to a Climate Central analysis, McAllen, TX leads the nation in the percentage increase of heavy downpours. Since 1950 the city has experienced a 700-percent increase in heavy downpours. Houston, meanwhile has seen a 167-percent rise in heavy downpours.
As one rice farmer put it, "[W]e just need normal rainfall patterns to come back. It's been so long since we've seen normal; I don't know what normal is anymore. It's either too wet or too dry."
Related: How Is Climate Change Impacting the Water Cycle?
4. Sea-Level Rise
With a warming atmosphere, our oceans are expanding and our glaciers are melting, causing sea levels to rise. The largest sea-level rise in the US is anticipated in the western Gulf of Mexico, where Texas occupies 367 miles of coastline and the equivalent of over 3,359 miles of tidal shoreline.
With much of the state's population living near the shore, $30 billion in Texas coastal property is likely to be flooded at high tide by 2050. And as strong storms increase due to climate change, average storm-related losses caused by climate change may increase by up to $222 million per year by 2030.
What will that look like? Port Isabel, Texas, for example, saw 15 days of coastal flooding in 1955—1964. By 2005—2014, the city experienced 121 days of coastal flooding, with a huge increase since 1995. Select more cities in the interactive above to see how coastal flooding due to climate change is on the rise.
Help Texas – or Your State – Confront the Climate Crisis
You don't need to be a NASA rocket scientist to understand the problem. Yet despite all the Texas-sized impacts, the Lone Star state does have one huge thing going for it: Texans. They're not afraid to speak their minds, tough as nails, and fiercely independent – so there's good reason to believe Texans can help speak out for energy independence and support climate action in their own backyard.
Join us for our next Climate Reality Leadership Corps training
The need for action to confront the climate crisis and accelerate a just transition from fossil fuels to clean, renewable energy couldn't be clearer.
That's why – from June 11-13 in Las Vegas, Nevada – The Climate Reality Project and former Vice President Al Gore will host the 49th Climate Reality Leaderships Corps training for climate activists across the US Southwest.
This summer's Las Vegas event marks our first in-person Climate Reality Leadership Corps training since 2019. (Click here to review our COVID-19 protocols.)
And it comes at a critical time.
Across the US Southwest, including Texas, people are feeling the effects of the climate crisis. Most noticeably, they're feeling the heat.
In recent years, summers in the region have become an endless series of record-breaking heat waves. And decades-long droughts are drying out rivers and reservoirs, creating thousand-acre tinderboxes just waiting for the next wildfire. All the while, the most vulnerable among us are suffering the impacts of this crisis first and worst.
But with vast, open desert spaces providing some of the nation's highest solar potential, the region can also be a major player in helping to power the just transition to a clean energy future.
The two-and-a-half day free Las Vegas training provides those ready to make a difference in the region with the tools, knowledge, and networks to mobilize communities and drive real action for climate solutions.
As we've long said here at Climate Reality: Give us three days. We'll give you the tools to change the world.