December 11, 2020 | 9:00 AM
What the US Rejoining the Paris Agreement Means
You've got to give US President-elect Biden credit for not waiting around.
After all, on November 4, President Trump and fossil fuel CEOs finally got their wish, with the US formally leaving the historic Paris Agreement and abandoning its commitment to climate action on the global stage.
And with votes still being counted in Arizona, Wisconsin, Michigan, and Pennsylvania, and the country on a knife edge, the president-elect had something to say.
 
Today, the Trump Administration officially left the Paris Climate Agreement. And in exactly 77 days, a Biden Administration will rejoin it. https://t.co/L8UJimS6v2

— Joe Biden (@JoeBiden) November 5, 2020

For those without a calendar handy to count down to Inauguration Day, this was a promise to rejoin the agreement on Day One of the Biden Administration.
So why does this matter? The promises each country made in 2015 to cut emissions and aggressively embrace solutions (known as "nationally determined contributions" or NDCs) were not enough to hold global warming to the agreement's goal of 2 degrees Celsius, much less the more ambitious target of 1.5 degrees.
Plus, progress toward these goals by the countries and parties still in the agreement (also known as "the world") in the five years since has been, well, mixed at best. And if we're honest, to your average person on the street, global climate agreements feel a distant, murky symbol that's great and all but doesn't really touch their lives. And to those of us in the movement, Paris has the feeling of a car capable of going 0 to 60 in 7 seconds or less that's still stuck in Park.
So does Biden's promise and the prospect of the US quickly rejoining the Paris Agreement actually mean anything.
Yes. A whole lot. Here's why.
Re-entering Paris on Day One Sets the Tone for COVID Recovery

It's no secret that for 99.9 percent of Americans, the first crisis on their mind is the economic and public health disaster left by COVID-19. It's no secret that the first order of business of the new administration has to be containing the pandemic and beginning to rebuild a country where millions are unemployed and struggling and the economy is adding fewer jobs than at any point since the spring.
The $900-plus billion dollar question is how we do it.
Granted, to some, asking the country to think about the climate and racial justice crises we face when we're in the midst of a pandemic can feel like asking you to worry about the hole in your roof when there's a guy with a gun outside your door.
But the hole is there and as the line goes, winter is coming.
The good news is there's a way to tackle all three existential threats together. It starts with a recovery package that rebuilds the country with clean energy and green jobs. A recovery package that aims to replace the coal plants and gas lines literally poisoning families of color across the country with renewable alternatives that ensure all Americans have clean air, safe water, and a sustainable future to look forward to. And puts millions to work along the way.
Re-entering the Paris Agreement and improving on the current US pledge to cut emissions up to 28 percent from 2005 levels by 2025 gives us a firm target to aim for. It puts our recovery and our commitment to the world and the future firmly in lockstep. Exactly as it should be.
Because every percentage point there translates into investment into jobs building new clean energy facilities, infrastructure ready for the stronger storms ahead, and energy efficiency measures that save renters and homeowners alike money from Day One.
Yes, this is massive federal investment to rebuild the nation and build us better for the future ahead. But let's be clear: The country needs it and there is no other way forward that can put so many Americans to work and begin to bring real equity to communities across the country.
To put it simply, this is our chance to begin to make good on the promise of liberty and justice for all and the values enshrined in our constitution. All while averting a devastating recession and confronting the single greatest threat in our future.
The US Re-committing Sends a Signal

With the benefit of years passing, it's easy to forget that reaching the Paris Agreement and getting nearly 200 countries to sign on was never a done deal.
Imagine, for a minute, that you're the prime minister of a smaller developing nation still working to give your citizens the same standard of living you see in the West and your nation hasn't been dumping greenhouse gas pollution into the atmosphere like it was going out of style. Imagine that you hear calls to commit to low-carbon development and climate solutions that feel like sacrifices when others have given so little.
Imagine too, that the world's biggest polluters – say, the US and China – aren't stepping up with commitments equal to their contribution to this pollution. Are you going to step up with an ambitious NDC?
No way. Why should you be a drop in a bucket with all kinds of holes?
That picture changes, however, when the world's top polluters get serious. It sets a tone for action with every nation doing its part and every nation's actions adding up in a truly meaningful way. It says that climate action is the way the world is going – and it's time to get on board.
That's exactly what happened in 2014 when the US and China put aside their differences and reached a stunning bilateral agreement to cut emissions and begin big steps toward a low-carbon future. The US followed it up a year later with a similar deal with Brazil, the world's seventh-largest polluter.
It's hard to imagine the Paris Agreement becoming reality without the world believing the planet's top polluters were jumping in with both feet (or at least, one and a half).
Without the Trump Administration withdrawing the US from the agreement, the pressure on other nations to do their part goes away and we've seen the results in Brazil, Australia, and other countries.
The Biden Administration signaling a new commitment to the agreement, however, tells the world that we're back and we mean business. Yes, there's a whole lot of trust to rebuild. But it brings new energy and the force of the US economy to drive progress toward a net zero future, right when countries are supposed to be ramping up their NDC commitments by the end of the year, or at the very latest at the upcoming COP 26 climate conference in Glasgow in fall 2021.
The Bottom Line: Green Jobs at Home. New Energy Abroad.

It all comes down to this: Re-joining the Paris Agreement on Day One is a statement of real purpose from the Biden Administration.
It says to Americans that we see the climate crisis clearly. And it says we're going to rebuild this country from COVID in a way that creates green jobs, brings justice to all our communities, and puts us on the path to the net zero economy we need to avert climate catastrophe on a global scale and open the door to an equitable and healthy future for all.
It also says to the world that we're here to do our part in this truly planet-wide effort. That we're ready to roll up our sleeves in this decisive decade and get to work too. Most of all, it says that together we can solve this crisis. And together we will.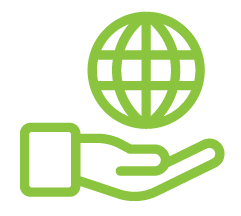 Before You Go
At Climate Reality, we work hard to create high-quality educational content like blogs, e-books, videos, and more to empower people all over the world to fight for climate solutions and stand together to drive the change we need. We are a nonprofit organization that believes there is hope in unity, and that together, we can build a safe, sustainable future.
But we can't do it without your help.
If you enjoyed what you've just read and would like to see more, please consider making a generous gift to support our ongoing work to fight climate denial and support solutions.