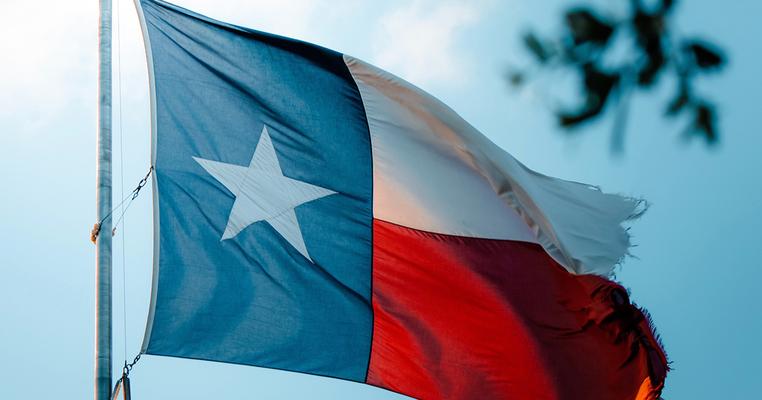 What We Can Learn from the Tragedy in Texas
Let's rebuild right so that tragedy doesn't repeat itself.
Watching the human tragedy unfolding across Texas – as millions shivered without power through the cold and now scramble for safe water – invites one searing question?
How could this happen in the richest nation on Earth?
Contrary to Fox News and climate denier claims, the answer lies in a perfect storm of extreme cold that may have been unleashed, perversely, by a warming Arctic and just bad planning. If we're smart, the events of this week are a wake-up call with lessons we can learn from as we prepare for a future of more extreme weather.
Because if this week has shown us anything, it's that we're not ready. Not by a long shot. And even if we don't know the exact when and where of the next polar vortex – or climate-fueled hurricane or flood, for that matter – we do know that climate change means they're coming.
So now that the lights are (thankfully) back on, what can we learn from the tragedy in Texas?
Lesson One: Climate Denial and Poor Planning Have Human Consequences
We're just coming off a year that was effectively tied as the joint-hottest on record. In the hottest decade on record. And the science is clear that rising temperatures lead to more extreme weather across the board – including, a growing body of research linking warming temperatures in the Arctic unleashing frigid air and brutal cold snaps onto regions below.
Somehow the planners at the Electric Reliability Council of Texas (ERCOT), the independent electric grid that serves about 90 percent of the state, missed the message. In any case, ERCOT sure wasn't planning for climate change.
To be fair, the state was hit by historic snowfall that led to all kinds of downed lines and distribution issues. Plus, before the snow hit, Texas was experiencing a methane gas shortage – in a state where methane gas is the primary fuel for electricity – and high demand because of cold temperatures. .
Notably, 80 percent of the lost generation capacity came from gas and coal plants. So all those claims from fossil fuel allies like Governor Greg Abbott about downed wind turbines and solar panels are just, well, hot air. Wind actually outperformed expectations in some cases.
The bottom line is that more extreme weather is coming to all 50 states – and we need a resilient grid with smart planning to be ready.
Lesson Two: We Need to Think Bigger and Build Smaller
One of the major factors in the power failures is ERCOT – like Texas – largely goes it alone. That means that unlike other states, the electricity grid is mostly self-contained. Which means that when significant generating capacity went down, ERCOT couldn't draw backup power from other grids unaffected by the storm.
Let's remember that this polar vortex isn't the first climate-fueled event to hit Texas. After all, in 2017, Hurricane Harvey dumped more than 50 inches of rain on some parts of Houston and other parts of the state, swamping residents and inflicting $125 billion in damage. The list goes on.
With more extreme weather in the forecast, the ERCOT model just isn't sustainable. We need a system of grids connected across the country to enable any climate-affected state to draw power from other areas when necessary. Plus, connecting grids enables us to maximize the power of renewables that produce more at certain times and less at others.
It's not just about thinking big. It's about creating resilient systems at the local level. We need to invest in microgrids so that key facilities – office complexes, universities, or hospitals can generate renewable electricity, store it and operate independently during an outage.
Similarly homes and commercial buildings can invest in solar plus storage so they can operate even if the grid goes down. This is especially important for first responder facilities or heating and cooling centers to have.
Lesson Three: We Need to Rebuild Clean, Green, and Resilient
Disaster like we see in Texas means rebuilding. But if we just rebuild the same old fossil fuel plants and 20th century infrastructure that got us here, we're basically just inviting more disaster.
There is another way forward. A way to rebuild that not only helps us cut emissions but also builds communities better able to deal with climate events.
It goes like this. Often, after major storms, states ask Congress for a supplemental appropriations bill to help them rebuild. When storms and climate events hit, the Biden Administration and Congress should of course help with these requests and get families back on their feet. But they should also require that – as part of getting assistance – states rebuild using clean energy and green infrastructure that creates jobs and resilient communities. Think of it as the virtuous and forward-thinking version of "with strings attached."
Naturally, some of the states where fossil fuel interests sit in the governor's mansion and/or capitols will be less enthusiastic about this requirement. But this is where the federal government gets to be, well, the federal government and play hardball for the good of the nation.
What does that mean? It means insisting on commonsense solutions that not only rebuild communities, but lower emissions and increase resilience in order to save lives and lower costs over the long term. It means taking every opportunity we have to build back our communities to be even better than before disaster struck.
And seriously, who can argue with that?
This kind of real federal leadership could ensure that as we rebuild, we rebuild for the future. It could accelerate the just transition to clean energy we need to wean the country off the fossil fuels driving climate change and poisoning communities of color right now.
We have the tools in place to rebuild right. It's not a tough call here. After all, otherwise, we're just rebuilding the same old systems that got us here and all but ensuring that disasters like we saw in Texas just keep coming. And coming and coming and coming.
Make a Difference When It Matters
We know what's at stake here. We know what the government has to do. You can make it happen.
Yes, really.
Register for the Climate Reality Leadership Corps US Virtual Training beginning in April and join thousands of other activists learning how to mobilize your community and push Congress to act now on ambitious climate solutions that create jobs and healthy communities across the US.
This is the moment we've been working for. This is our year to drive change. You're ready to make a difference. Register for the Climate Reality Leadership Corps US Virtual Training and learn how.