September 21, 2020 | 1:00 PM
What We Learned From Our First-Ever Virtual Global Trainings
It's been a year like no other. Like many of you, we started this year with big plans – only to have them turned upside down by events outside of our control.
But when the COVID-19 pandemic hit and we had no choice but to postpone our in-person Climate Reality Leadership Corps trainings scheduled to be held in cities across the US, we did what schools, churches, business, and families across the world have done: we moved our efforts online.
This year, for the first time ever, we held our signature activist training series via an online platform with our Climate Reality Leadership Corps Global Trainings. It was new to all of us at Climate Reality, and new to many of the training attendees. But in a year that's been full of ups and downs, we couldn't be more grateful for the incredible Climate Reality Leaders that emerged from our first virtual Global Trainings.
Here's what we learned:
1. This movement is strong – and growing stronger. When we announced our first virtual Global Training in the spring, we weren't sure what to expect. The response blew us away. We increased capacity for the training, and scheduled a second virtual Global Training for August just to meet the demand. If there was any doubt that people around the world were ready to step and fight for their future, the response to these trainings gave us our answer. All in all, more than 9,700 newly trained Leaders joined the Climate Reality Leadership Corps this summer.
2. Good things happen when you collaborate across borders. One of the most inspiring outcomes of our trainings moving online was the international nature of the event. Attendees came from 149 countries worldwide, and each brought their own unique perspective. Through networking opportunities and RealityHub, our exclusive online center for Climate Reality Leaders, activists from around the world have been able to collaborate and really engage with one another.
3. There is real passion for climate solutions. Training attendees heard from global leaders – including our founder and chairman, Vice President Al Gore – about the solutions to this crisis already at our disposal. And the enthusiasm for these solutions was easy to see. In table work small-group sessions and on social media, we heard the sense of empowerment that comes with knowing what you can do to help solve the climate crisis today.
4. Leaders come in all forms. Our Global Trainings had attendees ranging in age from 13 to 89. There were artists and activists, businesspeople and educators, retirees and college students. Some were taking their first steps into the climate movement; others were seasoned veterans looking to learn something new. But the one common thread was a desire to see the type of action that's needed to confront the climate crisis.
We don't know what the future holds, but we know that we can make a difference fighting for just and sustainable climate solutions online. If you want to play a role in shaping the future, join us for 24 Hours of Reality: Countdown to the Future. Request a live, virtual presentation from a trained Climate Reality Leader for your community, school, faith group, workplace, or organization, and hear how we can all help build the future we want.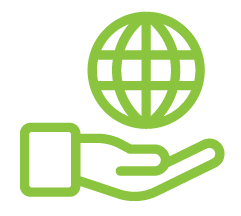 Before You Go
At Climate Reality, we work hard to create high-quality educational content like blogs, e-books, videos, and more to empower people all over the world to fight for climate solutions and stand together to drive the change we need. We are a nonprofit organization that believes there is hope in unity, and that together, we can build a safe, sustainable future.
But we can't do it without your help.
If you enjoyed what you've just read and would like to see more, please consider making a generous gift to support our ongoing work to fight climate denial and support solutions.