February 09, 2021 | 8:00 AM
What We Mean By 'Disproportionate Impacts'
No conversation about the climate crisis is complete without considering how it disproportionately affects low-income communities and communities of color.
Low-income households and Black, Brown, and Indigenous communities are more likely than more-affluent and whiter communities to live in proximity to polluting industries like oil refineries and pipeline infrastructure, leading to greater exposure to pollution from burning fossil fuels and chemicals leaching into the water table. And because of discriminatory policies and poor city planning, these same communities are often hit first and worst by climate-exacerbated events like extreme drought, major floods, wildfires, and urban heat islands.
All while many Americans never even know it's happening.
This isn't a new phenomenon, either – these communities have been bearing the brunt of our warming world for a long time. It's part of a larger pattern of injustice, one that systemically targets specific social and racial groups.
>> Take action now: Call on President Biden and Congress to make the first 100 days of this new administration historic for climate action. <<
Check out – and share with your social networks – the graphics below that detail just a few of the ways communities of color experience the impacts of fossil fuel pollution and climate change more than others.
Environmental Racism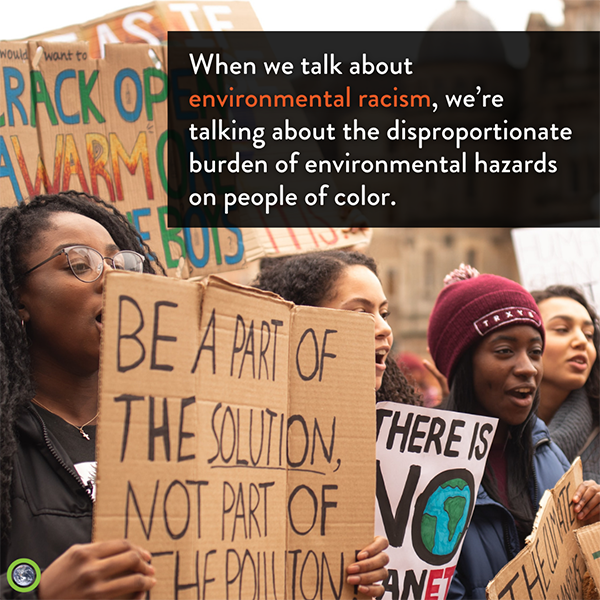 [Share on Twitter, Facebook, and/or Instagram.]
Proximity to Pollution

Community wealth often plays a central role in determining environmental policies, particularly regarding land use, zoning, construction permits, and regulation enforcement – leaving low-income families of every color exposed to more pollution than their more-affluent peers.
But even when wealth is taken into account, researchers still find a greater correlation between race and exposure to environmental hazards.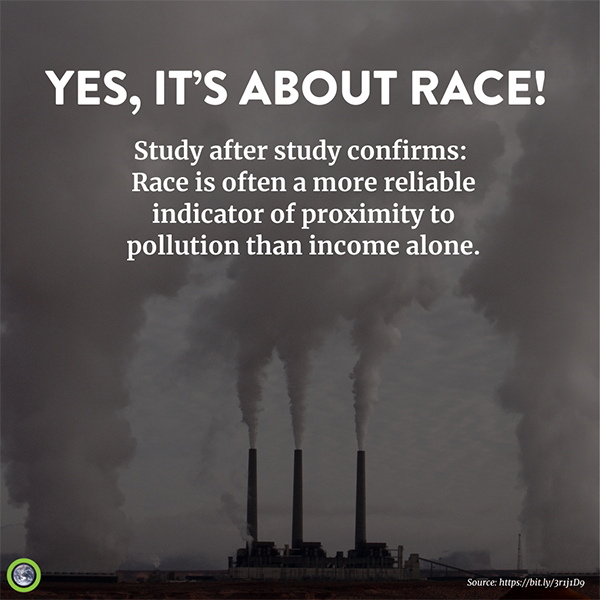 [Share on Twitter, Facebook, and/or Instagram.]
With a coal or natural gas power station, major highway, pipeline, petrochemical plant, or other polluting facility so close, residents are exposed to a variety of harmful pollutants at a higher rate than whiter, higher-wealth communities. This leads to far greater rates of serious health problems, from cancer to lung conditions and heart attacks.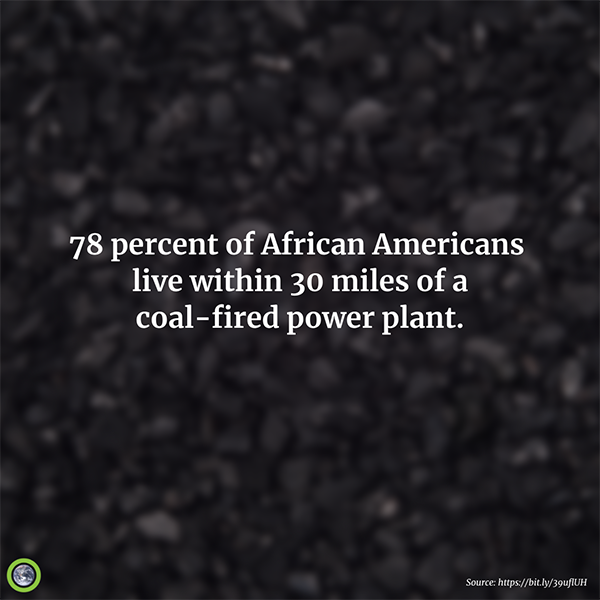 [Share on Twitter, Facebook, and/or Instagram.]
Health Impacts

When the world gets warmer and more polluted, the results impact real people's lives. It's a truth that too often gets lost amid data points and science jargon, late-breaking news, and heated political handwringing. But we must not let it.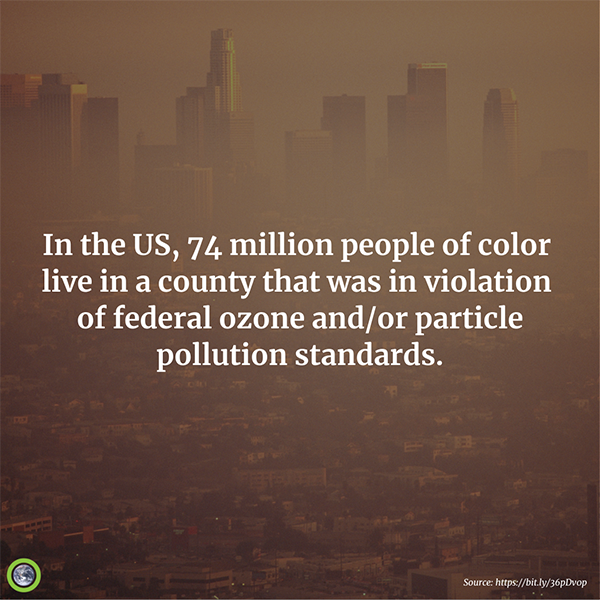 [Share on Twitter, Facebook, and/or Instagram.]
Communities sited near fossil fuel infrastructure frequently experience higher prevalence and severity of asthma, lower birth weights, and greater incidence of high blood pressure than those further away.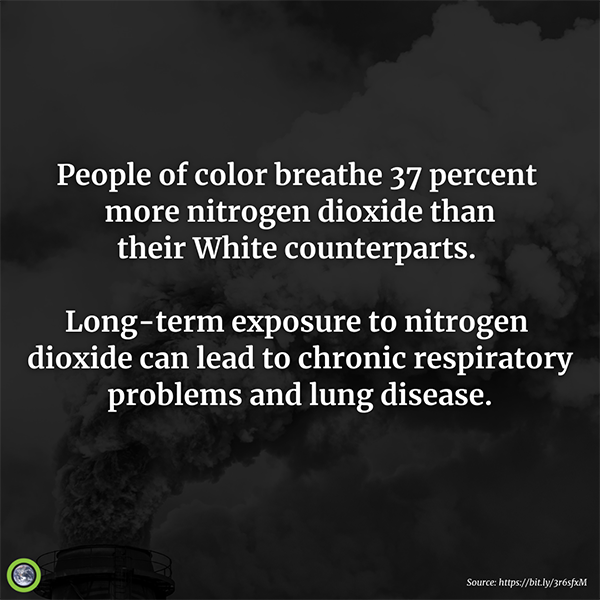 [Share on Twitter, Facebook, and/or Instagram.]
Children, in particular, are especially vulnerable to both the immediate and long-term impacts of pollution and climate change.
Their immune systems are still developing, leaving their rapidly growing bodies more sensitive to disease and environmental pollutants. They breathe, eat, and drink more for their size than adults, spend more time outdoors, and may not be emotionally mature enough to understand the things happening around them.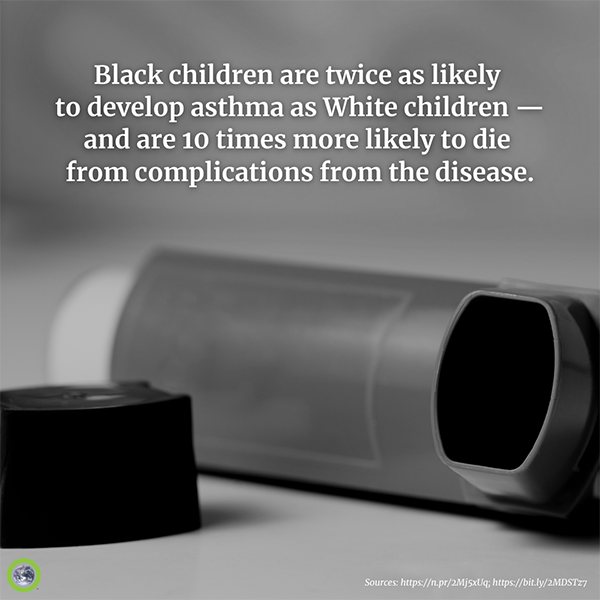 [Share on Twitter, Facebook, and/or Instagram.]
What You Can Do

It's clear that the impacts of fossil fuel pollution have unique and alarming repercussions for communities of color in the US and around the world.
That's why, as a movement, we have an obligation to act to dismantle the systemic structures subjecting people of color disproportionately to environmental health hazards – many of them the very same pollutants driving the climate crisis.
Learn more about the intersection of climate solutions and racial justice by attending one of our virtual Climate Reality Leadership Corps training events this year.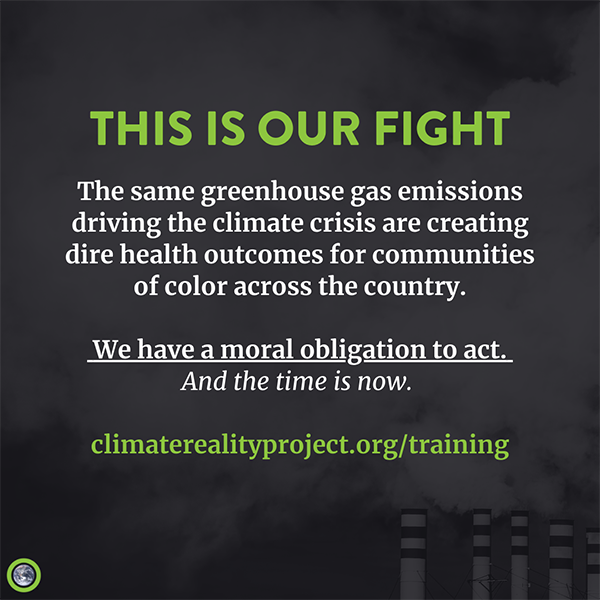 [Share on Twitter, Facebook, and/or Instagram.]
The first, set to begin on Earth Day, April 22, will focus on climate science and opportunities for action in the United States. In July, we will host a training centered on Latin America and the unique challenges it faces because of the climate crisis.
And later this year, we will host a global training that will offer a broader look at the planetary problem we face – and the ways we can act as a global community to fight it.
If you live in the US, register for our US virtual training today.
If you live outside of the United States, sign up to receive more information about when registration begins for our Latin America and global trainings.
We're excited to fight together – in 2021 and beyond – for a better, more sustainable future for all!
Learn more now: Check out our SPOTLIGHT ON: ENVIRONMENTAL RACISM webinar to the hear about the origins of environmental racism, how environmental racism manifests in communities of color, and ways to be an ally to these communities.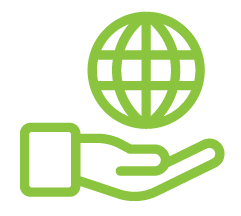 Before You Go
At Climate Reality, we work hard to create high-quality educational content like blogs, e-books, videos, and more to empower people all over the world to fight for climate solutions and stand together to drive the change we need. We are a nonprofit organization that believes there is hope in unity, and that together, we can build a safe, sustainable future.
But we can't do it without your help.
If you enjoyed what you've just read and would like to see more, please consider making a generous gift to support our ongoing work to fight climate denial and support solutions.