May 24, 2019 | 8:40 AM
Why Is Marine Energy the Wave of the Future?
Say "renewable energy" and most people think of wind and solar . . . and stop there.
But today, there are a host of exciting new developments happening in renewables that go beyond the big two and promise big steps forward to a future without dirty fossil fuels.
One of these emerging fields is marine hydrokinetic (MHK) energy, which is poised to become a major part of the renewable revolution.  Once a story of great potential and immature technology, MHK has coming a long way in this decade alone, with several tests and demonstrations yielding very promising results for a technology just coming out of infancy.  
What Is Marine Energy?

"Marine energy" (also known as "ocean energy") refers to the renewable energy that can be generated from the world's oceans and seas. All that kinetic energy (i.e. motion) in waves and tides? That's energy we can use to generate electricity.
It doesn't end there either. Surface water stores heat we can harness to generate electricity. And ninja-level researchers have even worked out ingenious ways to take advantage of the natural difference in pressure between saltwater and freshwater (known as "the salinity gradient") to generate electricity.
The technology we use to capture all this heat and movement generally falls within four major categories: wave energy converters, tidal energy converters, ocean thermal converters, and salinity gradient technologies. The good news is that these devices can capture energy and deliver electricity that is reliable, predictable – and sustainable.
Plus, the potential here is huge. Experts project we could develop 748 gigawatts (GW) of ocean energy by 2050 worldwide (which is a huge amount of energy – for reference, in 2013, the US Energy Information Agency reported that the US needed 786 GW of capacity to meet peak demand). That level of capacity could make a huge dent in climate-changing global emissions, saving 5.2 billion tons of CO2 emissions.
MHK Rhymes with "USA"

While this technology isn't cost-competitive at the utility scale yet and there are no functioning arrays in the United States, it has hit several milestones in recent years:
MHK Goes Global

If these developments have you quietly feeling "USA, USA" in a good way without the hate (really, it's ok), well, Europe has seen even more promising MHK developments in recent years.
Established in 2003, the European Marine Energy Center created the world's first grid-connected wave energy test site off the coast of Orkney, Scotland. In addition to supplying electricity to the grid, the project also uses excess electricity to split water, making hydrogen gas as a fuel. This fuel is transported by ship to a fuel cell, where it makes electricity on demand.
If that sounds cool to you (and let's be clear, it is), you're not alone. The project has gained interest from large companies including Microsoft, which is now in the initial stages of dropping an underwater datacenter off the coast. Through this project, Microsoft is exploring both the cooling factor the chilly waters provide and opportunities for colocation with marine renewable energy to provide electricity.
Innovation has not been only limited to Scotland. The Netherlands has 14 private companies developing marine energy, with a few companies nearing full rollout. More recently, the Sustainable Energy Authority of Ireland is leading a three-year project named the Ocean Power Innovation Network (OPIN), aiming to accelerate the ocean energy sector. The €2.6 million initiative will consist of a partnership between the UK, Belgium, France, Germany, the Netherlands, and Ireland to encourage cross-sectional partnerships and bring proven expertise into the ocean energy sector. OPIN plans to support over 100 companies over the lifetime of the project.
The promising stories go beyond Europe. Canada has also established a marine energy technology team to research resource characterization, mooring and foundation designs, and deployment procedures, among other research areas.
What's in the Way: Market Factors

Despite all these exciting opportunities, there are still technical barriers to truly bring MHK technologies to a global market.
For one, technology costs remain high and the industry hasn't necessarily settled on an optimal device design. Then there's the fact that the high risk of new innovation and long payback periods make financing for these projects difficult. There are a few additional barriers including skills shortages, supply chain constraints, insufficient grid infrastructure, and uncertainties regarding the environmental impact of marine devices.
While disappointing, there's also reason for hope in this list. These barriers are similar to the one's faced by wind energy 25 years ago, where industry experts were not in total agreement on its future. In the past quarter of a century, the wind industry has converged on a single design and is now a major player in the energy industry. MHK researchers have learned from the evolution of wind and expect the technology will reach maturity in a much shorter period of time.
What's in the Way: Environmental Concerns

Another potential stumbling block is the fact that we don't fully understand the potential harm to marine life from MHK technology.
The 2016 State of the Science report completed by the Department of Energy's Pacific Northwest National Laboratory identified collisions with marine animals and noise pollution as the highest risks associated with marine energy devices. Despite an elevated risk, marine life collisions have not occurred as of 2016 and tidal turbines operate at lower speeds than those of tradition hydropower and even ship propellers, thus lessening the potential for collisions.
Encouragingly, the report concluded that "there is no evidence that marine animals are likely to suffer injury or death from encounters with the devices." Furthermore, a literature review of existing studies that examine noise from wave and tidal devices in relation to wildlife indicate that there is little reason to expect serious injury or mortality of fish from underwater sound generated by these devices.
The Fundy Ocean Research Center for Energy, a Canadian research center, corroborated these results in its 2018 annual report. The organization has completed over 400 hours of hydro-acoustic fish surveys, 2,600 marine mammal monitoring days, 42 seabird surveys, 11 lobster surveys, and more to determine the effects of tidal devices on marine life. The organization's annual report concludes that there have been no significant changes in the distribution or behavior of fish, seabirds, or marine mammals in relation to their turbine deployments.
The bottom line here is that we'll better understand the science of marine behavior as more MHK devices are installed, but experts project they'll likely result in minimal impacts.
The Future of MHK

The potential of ocean energy is enormous, with estimates for generation ranging from 100 – 400 percent of the global energy demand. Industry experts generally view marine energy as a complement to existing renewable sources, providing stable and predictable generation in order to mitigate spikes in energy demand.
While there is uncertainty surrounding the ultimate path for MHK, there has been tremendous support for development among governments across the world. We're confident that MHK can follow the wind industry's footsteps and become a major player in our renewable energy future!
You're busy, but you want to stay connected with the latest in climate solutions. Sign up for our email list today and we'll keep you updated with what you need to know.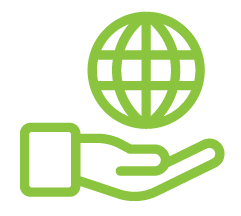 Before You Go
At Climate Reality, we work hard to create high-quality educational content like blogs, e-books, videos, and more to empower people all over the world to fight for climate solutions and stand together to drive the change we need. We are a nonprofit organization that believes there is hope in unity, and that together, we can build a safe, sustainable future.
But we can't do it without your help.
If you enjoyed what you've just read and would like to see more, please consider making a generous gift to support our ongoing work to fight climate denial and support solutions.