August 26, 2021 | 3:31 PM
Why the US Needs a Clean Energy Standard
If you've been paying even the slightest bit of attention to the headlines on climate this summer – or if you're one of the millions who've been sweating through one heatwave after another in the hottest July on record – you know we're in a race against time.
The bottom line is this: Cut global greenhouse gas emissions basically in half by 2030 or we'll see global warming rise above 1.5 and even 2 degrees, pushing us past a series of tipping points unleashing devastating and irreversible changes across the Earth.
There's no mystery to how we do this. Stop burning fossil fuels. Fast.
TAKE ACTION: TELL CONGRESS – GO BIG ON CLIMATE ACTION
How we do that while transitioning to clean energy alternatives like wind and solar fast enough to keep the lights on and the planet fed is where things get a little less clear cut. There is no one silver bullet when it comes to solving climate change.
After all, this entails fundamentally transforming the global economy and replacing not just thousands of coal plants and millions of internal combustion-engine cars, but hundreds of millions of gas-fired homes and ovens amongst other emitters, with cleaner electric alternatives. All fast enough to halve emissions by the end of this decade and get us to a real net-zero by mid-century.
So while proposed and real initiatives like the Civilian Climate Corps and reducing food waste are really great on their own, they're not going to get us to the system change and massive emissions cuts we need to see by 2030.
Going from Silver Bullet to Silver Buckshot Solutions

The good news here is that the list of policy steps that can – or at least get us a good chunk of the way there – is actually pretty short and simple. That is, there might not be a single silver bullet that alone will solve climate change, but there is a silver buckshot that we can use.
Top of that list: a clean energy standard (CES) that gets the US power sector to 80% renewables by 2030.
With Congress now working on a budget bill that is in effect our last chance to go big on climate legislation in time to make a difference, a clean energy standard has to be top of the priority list.
In fact, you might say we're cooked without it.
Using Carrots, Not Sticks

A CES wouldn't be the federal government's first attempt at transformative energy policy, with the most recent being the Clean Power Plan the Obama Administration introduced back in 2015.
The thinking behind the plan was actually pretty simple: Give each state its own target for reducing emissions based on current levels and realistic capabilities – and then let them decide how to reach it.
One of the challenges this approach faced was the mandate part, with numerous states taking issue and suing the Obama Administration's EPA to block the plan, before the Trump Administration ultimately rolled it back in 2019.
A CES essentially takes the opposite approach. Rather than penalizing polluting behavior by states, a CES would give utilities financial incentives to switch to clean energy sources at the scale and pace necessary to hit the 80% renewable by 2030 target. Carrot, not stick.
The genius of this structure is that it rewards utilities for making what is already the smart, and lowest cost choice by switching to renewables in a world where solar and wind are now beating fossil fuels on cost in more and more parts of the world. To put it another way, it gives utilities a way to financially have their cake and eat it too.
The advantages don't stop there. As Climate Reality Energy Policy Adviser Jack Andreasen notes, " The policy, at its base, provides a financial incentive for utilities to buy or build clean energy. The most important facet of the CES, is that the cost of the policy is paid through the tax base, not customer rates. This avoids regressive rate hikes on energy bills and favors the mostly progressive tax code. We need a progressive, nation-wide, clean energy policy. The CES is that policy."
Sending a Signal

The importance of Congress passing a CES in the coming budget deal go beyond our borders.
As the world's largest economy – and one of its top polluters – the US plays a critical role in shaping energy policy and climate action across the planet. And that's not just our American egos talking. After all, US emissions have had a huge part in causing climate change. Cut those significantly and the door to the kind of future we actually want to live in opens a little wider.
So when President Biden announced a new commitment to cutting emissions at least 50% by 2030 in May, it marked the return of the US as a leader in the global climate fight – and was a not-so-subtle challenge to other nations to up their game. The announcement also helped open the door to the possibility of nations reaching a stronger Paris Agreement at the UN's COP 26 climate conference in November, one capable of actually meeting the accord's target of holding warming to 1.5 degrees Centigrade.
But as the line goes, talk – especially from the White House – is cheap. The world needs to see that Congress can back up the president's commitment if other economies – particularly developing countries – are going to have the confidence to increase their own commitment to reducing emissions.
Just as important, Congress passing a CES sends a clear signal to the international business community that the US economy is electrifying, incentivizing continued research and development in clean technology and other practical solutions. The result is something of a virtuous cycle that creates the public-private partnership to accelerate a just energy transition in time to prevent climate catastrophe.
Key Takeaways

We have less than a decade to halve global emissions if we want to prevent global warming from unleashing catastrophic and irreversible changes across the Earth.
One of the most critical steps the US can take in this fight is pass a clean energy standard that brings the US power sector to 80% renewables by 2030.
Congress has to include and pass a clean energy standard as part of the budget bill coming up for a vote this fall.
The budget bill may be our last chance to pass bold climate legislation in the US in time to make a difference.
Now It's Up to Us

The ball – and the future of the planet – is now in Congress' court. With an election year looming and political changes on the horizon, the budget deal in the House and Senate represent our last chance for the kind of bold climate legislation big enough to jumpstart rapid energy transition and cut emissions quickly enough.
That's it. Chances are, we won't get another.
Which means it's up to us to make sure Congress seizes this moment. Do your part by telling your members of Congress to go big on climate this fall. While we still have the opportunity. While we still can.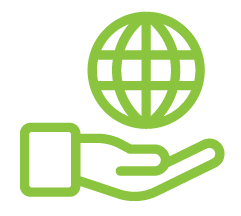 Before You Go
At Climate Reality, we work hard to create high-quality educational content like blogs, e-books, videos, and more to empower people all over the world to fight for climate solutions and stand together to drive the change we need. We are a nonprofit organization that believes there is hope in unity, and that together, we can build a safe, sustainable future.
But we can't do it without your help.
If you enjoyed what you've just read and would like to see more, please consider making a generous gift to support our ongoing work to fight climate denial and support solutions.