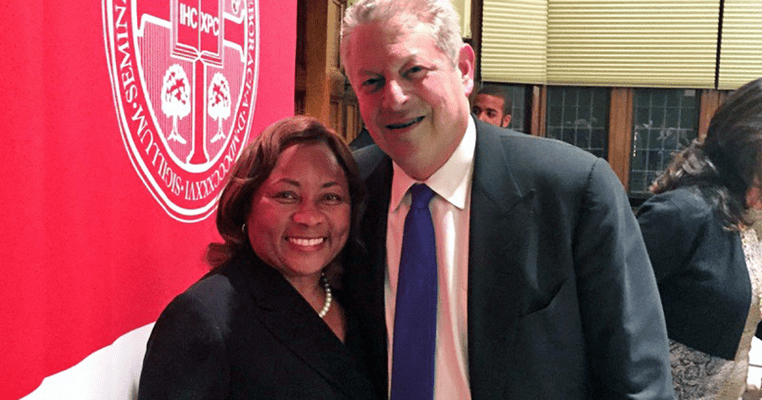 Women Climate Champions Spotlight: Catherine Coleman Flowers
From negotiating with the Alabama state government to serving as the Rural Development Manager for Equal Justice Initiative to being an active Climate Reality Leader and Climate Speaker, Catherine Coleman Flowers has become a powerful force for change.
Meet Catherine Coleman Flowers. She's fighting for climate solutions and social justice together by addressing the severe impacts of pollution and the climate crisis on poor and rural areas of the United States. A Lowndes County, Alabama native, Catherine works to address common issues like poor infrastructure and high energy costs in her home state to confront some of the root causes of poverty.
Catherine is the founder and executive director of Alabama Center for Rural Enterprise, Inc. (ACRE) which "promotes sustainable initiatives to strengthen the infrastructure of families in rural and impoverished communities through participatory involvement." But her work doesn't stop there. From negotiating with the Alabama state government to serving as the rural development manager for Equal Justice Initiative to being an active Climate Reality Leader and Climate Speaker, Catherine has become a powerful force for change, both in her home state and beyond.
"Catherine is a shining example of the power individuals have to make a measurable difference by educating, advocating, and acting on environmental issues." –
Al Gore, founder and chairman of The Climate Reality Project
Most recently, Catherine has been working as the 2017 Franklin Humanities Institute Practitioner in Residence at Duke University. She has been involved in authoring a study with the National School of Tropical Medicine at Baylor University that addresses the basic human right to clean water and sanitation and the health impacts that poor infrastructure has on vulnerable communities right here in the US. Instead of shying away from unsexy issues like the consequences of raw sewage for public health, Catherine has fought to bring widespread attention to an issue that has plagued her home county.
"The United Nations recognized the Human Right to Sanitation in 2010. In Lowndes County many of the residents do not have access to sanitation. When I began this work more than 15 years ago, I thought that it was just in Lowndes County. Now I realize that Lowndes County is symbolic of poor rural communities across the United States that are experiencing the same injustice," Catherine said in an interview with Duke Today.

Prominent in the environmental justice world, Catherine is drawing attention to the health impacts of the climate crisis as well, participating in a panel at the Climate & Health Meeting in Atlanta, GA in February with public health and climate science professionals from across the country. Her forthcoming study shows that tropical parasites like hookworm are gaining a foothold in some poverty-stricken Southern communities, where poor living conditions combined with increased rainfall and rising average temperatures due to climate change have created the ideal breeding ground.
Watch Catherine's Climate & Health Meeting Panel
Catherine also frequently works with the Climate Speakers Network, organizing events in several Southern states and joining former US Vice President Al Gore as an active Climate Reality Leader at events like the People's Climate March and serving on Climate Reality's board of directors.
Focusing on extreme weather and its impacts on vulnerable communities, Catherine has worked with citizens across the globe to work for climate solutions. At a recent Climate Speakers Network event, her organization joined several in the state of Alabama to form the Renew Alabama Coalition, working for a clean and healthy environment for all Alabamians.

If you – like Catherine – know that the climate crisis is affecting the health and wellbeing of our families and our planet, take action today. Apply to be part of the vital ongoing fight for a better tomorrow. Become a Climate Reality Leader!
As a member of the Climate Reality Leadership Corps, you'll receive resources and training from former US Vice President Al Gore and field-leading experts on how you can use your voice to spread the truth about the climate crisis. There are thousands of Climate Reality Leaders around the world already working toward a better, more sustainable future for us all. Will you join them? Learn more now.