July 13, 2011 | 1:47 PM
Past African droughts linked to air pollution
Disastrous droughts are making headlines again this week. Read More →
July 11, 2011 | 9:23 AM
Reality. It's not an opinion.
Our world is changing. Rivers are overflowing their boundaries. Carefully tended crops have failed due to drought and severe storms. Forests are turning into tinder.  Massive glaciers are melting at an alarming rate. Read More →
January 18, 2011 | 10:00 PM
Solar A Go-Go
Traditional solar panels have a large upfront fee that many people cannot afford. IndiGO, on the other hand, acts as a pay-as-you-go solar service that makes access to clean energy less expensive. Read More →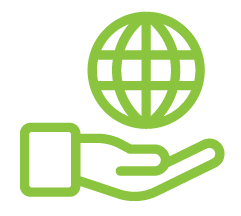 Before You Go
At Climate Reality, we work hard to create high-quality educational content like blogs, e-books, videos, and more to empower people all over the world to fight for climate solutions and stand together to drive the change we need. We are a nonprofit organization that believes there is hope in unity, and that together, we can build a safe, sustainable future.
But we can't do it without your help.
If you enjoyed what you've just read and would like to see more, please consider making a generous gift to support our ongoing work to fight climate denial and support solutions.