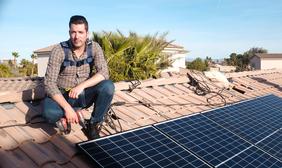 The simple, undeniable fact is this: The sun can provide more energy in an hour than all of humanity uses in a year. We're talking about an inexhaustible supply of clean, safe, reliable power that people and countries across the planet can access to power their lives and economies.
Even still, fossil fuel utilities continue to make billions of dollars from dirty energy monopolies – while the rest of us pay the consequences.
But we can flip the script by taking bold action.
That's why Climate Reality has teamed up with HGTV's Property Brothers co-host and solar energy advocate Jonathan Scott for Knowledge is Power, a new e-book about the incredible benefits of solar energy and the deceptive tactics fossil fuel utilities are using to protect their bottom lines at the expense of every person on the planet.
The benefits of solar don't end with lower power bills. Cutting carbon pollution? Check. Empowering communities? Check. Providing energy independence? Check. Creating good jobs? Check and check.
Learn more about this incredible resource – and how together we can take control of our energy future – by getting your free download of Knowledge is Power today.