October 09, 2018 | 9:17 AM
Al Gore Endorses New Congressional Candidate "Earth"
New campaign from Climate Reality™ and TBWA uses humor, state-of-the-art animation to encourage young people to vote
Washington D.C. (Oct. 9, 2018) – Today, Climate Reality Chairman and former US Vice President Al Gore announced his support for a new breed of politician: a Congressional candidate and emperor penguin named Earth. A strong supporter of green initiatives and a clean energy economy, Earth is urging voters to get out and vote before our planet finds itself on thin ice.
"Earth knows that young people have the power to change the world," said former Vice President Gore.  "I'm so inspired by the passionate and dedicated young leaders who are getting involved and making their voices heard. It's crucial that this energy is translated into votes this November."
The Earth for America campaign is a partnership between The Climate Reality Project, MAL\FOR GOOD, TBWA\Chiat\Day and The Mill, using youth-oriented humor and state-of-the-art animation to create Earth, the candidate who puts our planet first.
Actress, Host & Digital Content Creator Liza Koshy is featured as the voice of Earth, including in the campaign's official announcement video. Renowned artist Shepard Fairey's Studio Number One designed Earth's official campaign portrait in his signature style.
"As a young, registered voter, Earth's perspective, message and relatable tone resonates with me," said Koshy. "She stands for issues that hit home (literally) for us all. I encourage everyone to use their platform, as Earth does, to ensure their voice is heard. You don't have to be a cute penguin running for Congress, but you DO have to VOTE."
Earth for America aims to encourage young people to register and vote this November for the future they want. While Earth herself will not be on the ballot, the important issues she stands for – such as renewable energy, clean energy jobs, fighting the climate crisis, land conservation, health, and clean air and water – will be. When young people turn out to vote, their impact can be decisive. Encouragingly for Earth, young Americans of all backgrounds and parties recognize that protecting the planet we share isn't a partisan issue.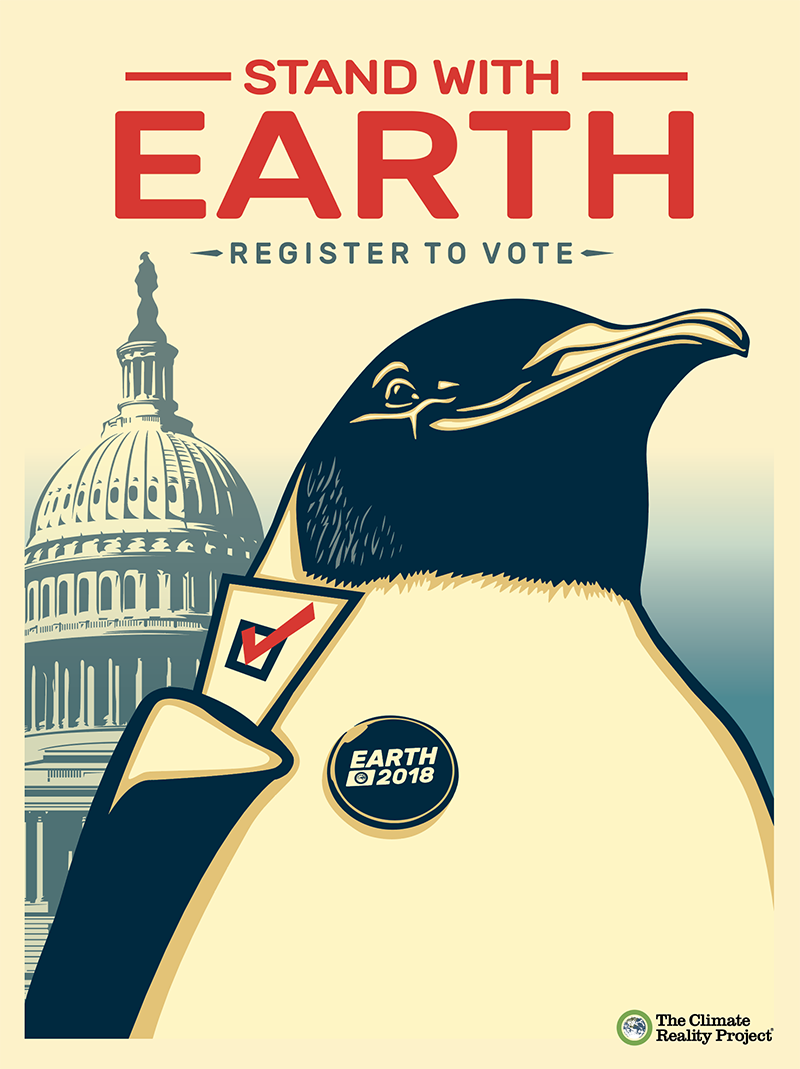 "I urge each and every one of you to get out and vote to make your voices heard," said Earth. "While I do hope you'll support important issues like energy security and clean air and water, the best way to make a difference is to vote, no matter the issues or candidates you support. Your vote matters!"
For more information about Earth's candidacy, please visit www.earthforamerica.com or follow her on Instagram, Facebook and Twitter @earthforamerica.
ABOUT THE CLIMATE REALITY PROJECT   
Founded by Nobel Laureate and former US Vice President Al Gore, The Climate Reality Project is working to catalyze a global solution to the climate crisis by making urgent action a necessity across every level of society. With a global movement more than 5 million strong and a grassroots network of trained Climate Reality Leader activists, we are spreading the truth about the climate crisis and building popular support for clean energy solutions. For more information, visit www.climaterealityproject.org or follow us on Twitter at @ClimateReality.
ABOUT TBWA Worldwide 
TBWA is The Disruption® Company: the cultural engine for 21st-century business. One of the world's most innovative and creative companies, TBWA uses trademarked Disruption® methodologies to develop business-changing ideas for brands. A top-ten-ranked global advertising agency with 11,300 employees across 305 offices in 98 countries, TBWA includes brands such as Auditoire, Digital Arts Network (DAN), eg+ worldwide, The Integer Group®, TBWA\Media Arts Lab and TBWA\WorldHealth. Global clients include adidas, Apple, Gatorade, GoDaddy, Henkel, McDonald's, Michelin, Nissan, Pernod Ricard, Pfizer, Standard Chartered Bank, Singapore Airlines and Vichy. 
ABOUT MILL MASCOT
Mill Mascot is a product that combines real-time animation and game engine technology with motion sensors; enabling a digital puppeteer to control animated characters through hand gestures. This gives directors, creatives and clients the ability to 'direct' CG character performance live and make creative decisions on the fly. This is the perfect solution for quick-turnaround animated social media content, as well as live performance and episodic entertainment.