Al Gore Honors New Jersey Climate Activist Harriet Shugarman
Pittsburgh, Pa. (October 19, 2017) – Former US Vice President and Climate Reality Founder and Chairman Al Gore awarded New Jersey climate activist Harriet Shugarman The Climate Reality Project's Green Ring Award at this week's Climate Reality Leadership Corps training in Pittsburgh. The Green Ring Award is given to an outstanding Climate Reality Leader who has demonstrated an exceptional commitment to their role as a climate communicator and activist.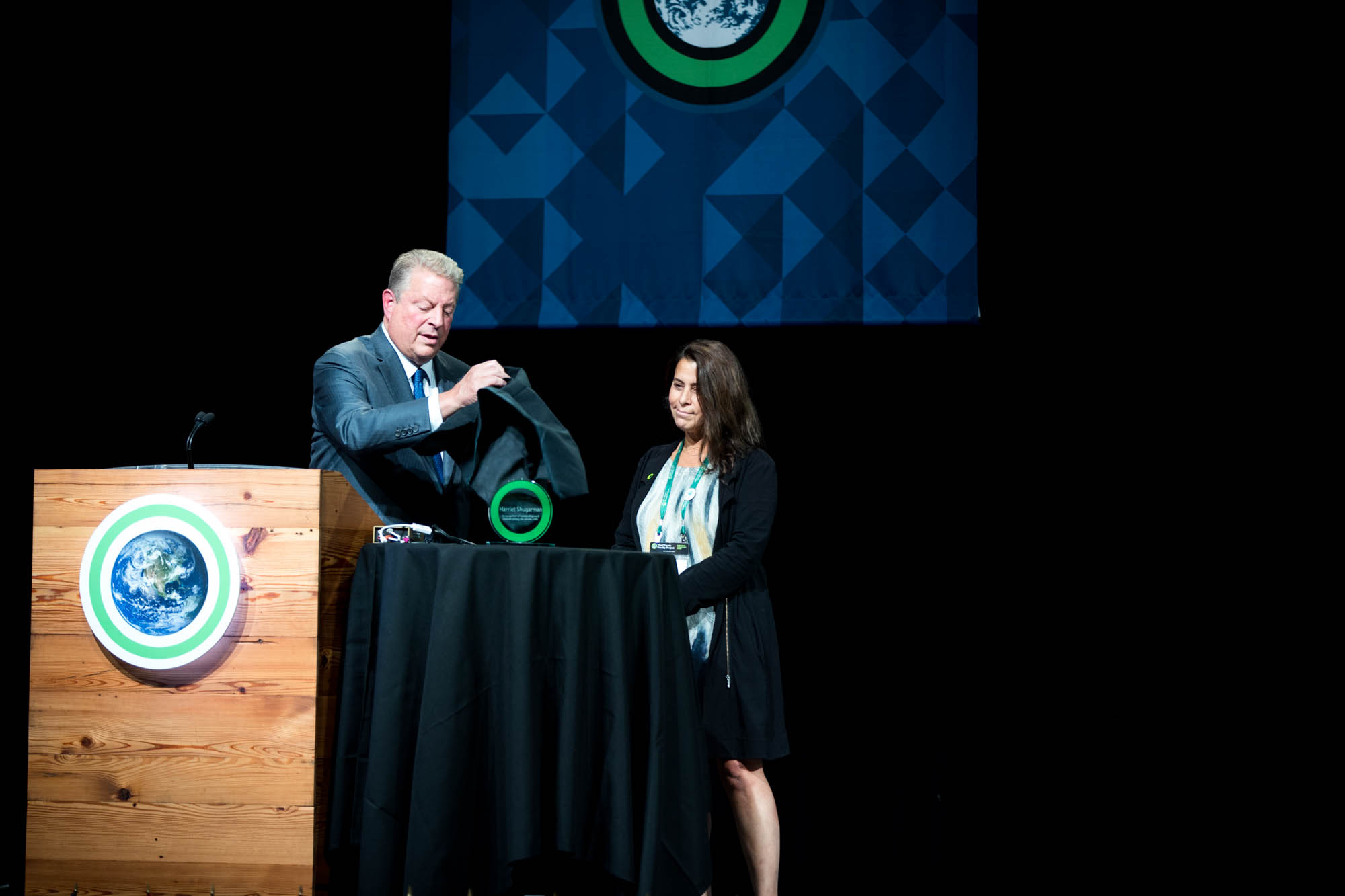 In 2007, Shugarman was one of the very first Climate Reality Leaders to be trained by former Vice President Al Gore in his hometown of Nashville, Tennessee. Since then, she has dedicated her life to climate activism as the founder and executive director of Climate Mama, a nonprofit organization that educates parents about the climate crisis and inspires them to act to create a safe and healthy future for their children.
"Throughout her life and career, Harriet has shown an unwavering commitment to her role as a Climate Reality Leader," said Al Gore. "I want to thank Harriet for her tireless work and her compassion for all those affected by the climate crisis. Her dedication and determination to solve the climate crisis for our children and grandchildren exemplifies what it means to be a Climate Reality Leader."
Shugarman is a committed environmental activist, sitting on the boards of numerous local, regional, and national environmental groups, and she recently served as a national organizer for the climate justice contingent of the 2016 Women's March in Washington, DC. Prior to being trained as a Climate Reality Leader, she worked as an economist and policy analyst at the United Nations and International Monetary Fund, where she was involved in organizing the first Earth Summit.
Over the past three days, world class scientists, communicators, and climate experts joined Vice President Al Gore in Pittsburgh to train citizens to become Climate Reality Leaders. These newly minted Climate Reality Leaders have emerged from the training equipped with the knowledge and tools to build public awareness of global climate challenges, share the good news about the practical solutions in our hands today, and strengthen public support for leaders at all levels of society taking action.
Shugarman was on hand to mentor new Climate Reality Leaders through the training, a role she has played many times over the past decade.
"I am so thrilled to be the recipient of the Green Ring Award and to have played a part in training an amazing group of new Climate Reality Leaders in Pittsburgh," said Shugarman. "Seeing a group of trainees so ready to change the world is such a source of energy to continue my work as an activist, and I'm looking forward to seeing the consequential work these new Climate Reality Leaders go on to do on behalf of our planet."
ABOUT THE CLIMATE REALITY PROJECT
Founded by Nobel Laureate and former US Vice President Al Gore, The Climate Reality Project is working to catalyze a global solution to the climate crisis by making urgent action a necessity across every level of society. With a global movement more than 5 million strong and a grassroots network of trained Climate Reality Leader activists, we are spreading the truth about the climate crisis and building popular support for clean energy solutions. For more information, visit www.climaterealityproject.org or follow us on Twitter at @ClimateReality.