Top Wind Energy Facts E-book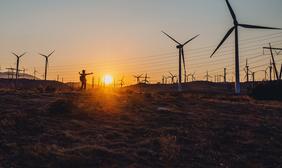 There's a lot of good news about wind energy these days. Costs keep falling. The sector keeps putting more and more people to work. And growing numbers of cities, states, countries, and companies around the world are embracing wind as a powerful tool to cut emissions and create a sustainable future.
Naturally, fossil fuel companies aren't happy about these trends. And thanks to Big Polluters, there's a lot of misinformation out there. In this e-book, we deliver the facts so you know what's really happening the next time you hear Big Polluter talking points.
In the free e-book, we set the record straight about:
How wind energy affects economies and job creation
The role subsidies play in wind energy
Wind energy's impact on wildlife
The reliability of wind energy
And more