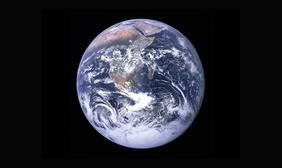 We are living through the last years still left to prevent permanent and catastrophic climate change. The planet's future – humanity's future – is in our hands.
Act now in the last years we have left, and we have a shot at actually holding warming to 1.5 degrees Celsius and averting the worst of the climate crisis.
Fail to act with sufficient urgency and boldness, and well, the result could be truly disastrous for all of humanity. The science is crystal clear that unprecedented ecological and human tragedy awaits if the world doesn't change course on emissions – fast.
What does all that mean?
As world leaders prepare to gather in Glasgow, Scotland for the UN's COP 26, learn what's at stake at the conference and beyond with our latest free e-book, "The World is Watching."
In this downloadable PDF, you'll discover why we're fighting so hard to rapidly reduce greenhouse gas emissions to keep global warming to the Paris Agreement-targeted 1.5 degrees Celsius (2.7 Fahrenheit), as well as the value of a globally just transition and the importance of accountability in the climate fight. You'll also learn about the many solutions available to us right now and ways to take action with Climate Reality.
Download our free e-book now to get started!